Experience the Stories That Move Us at Singapore HeritageFest 2023
The annual festival returns to celebrate its 20th edition with a slew of immersive programmes anchored on the themes of Singapore's sporting and public transportation history
The 20th edition of Singapore HeritageFest (SHF) returns over four weekends from 1 to 28 May 2023. Presented by the National Heritage Board (NHB), SHF 2023 invites everyone to uncover the lesser-known stories about our unique history and heritage with a dynamic line-up of over 80 programmes.
📅 1 to 28 May 2023
📍 Various Locations
SHF 2023 will celebrate Singapore's vibrant sporting and public transportation history, which is fitting as this year concurrently marks the 50th anniversary of SBS Transit and SportSG, the 40th anniversary of Singapore Sports Museum, the 35th anniversary of the launch of the MRT system and the 30th anniversary of NHB, among other national milestones. This year's programme line-up includes heritage and cultural trails, hands-on workshops, tours, talks, exhibitions and film screenings that illuminate the evolution of sports and public transport in Singapore.
SHF Festival Director David Chew said, "It has been a rewarding two decades of SHF. The festival has grown and evolved over the years, much of it thanks to the unwavering support of our community partners. As we celebrate its 20th milestone this year, we encourage everyone to get out and about to experience Singapore's rich sporting and public transportation history, two aspects that Singaporeans commonly encounter in their daily lives. In the coming years, we hope that Singaporeans will continue to uncover the lesser-known stories of our nation's heritage through SHF, and certainly look forward to creating even more meaningful heritage touch points with our community."
Exploring Singapore's rich sporting, public transportation history, and more
This year's SHF brings heritage and culture to the fore with programmes that festival-goers can enjoy in person. The festival involves more than 60 community partners this year. New partners include Children's Museum Singapore, Football Association of Singapore, Land Transport Authority, SBS Transit, Singapore Mass Rapid Transit (SMRT), Singapore Silat Federation, Sport Singapore, The Kalari Academy, and the different community festivals (e.g. Singapore Hokkien Festival, Ho Yeah Festival etc.) which are presenting a plethora of exciting activities, with something suitable for Singaporeans of all ages and interests. Festival-goers can:
• Look forward to a number of returning festival favourites
In celebration of NHB's 30th anniversary, this year's Homeground installation brings together 10 of NHB's well-loved heritage trails in one jam-packed experience at the National Museum of Singapore. Set in an immersive, vibrant shophouse designed in collaboration with local artist Sadiq Mansor, festival-goers can look out for artworks featuring elements of the 10 heritage trails, as well as take part in storytelling sessions, craft activities and quizzes.
• Uncover the untold stories of everyday Singaporeans
Join Matthew Tay, Singapore's youngest bus driver turned bus captain, and Muhd Naz Farihin, a bus enthusiast, at A Showcase of Public Transport Memorabilia where they will be sharing their passion for buses from different angles, that of having pursued the career path of a bus driver as well as having a large personal collections of items relating to public transport.
Through a series of tours, meet Benjamin Chee from the Equestrian Federation of Singapore on Wheels on the Bus: Horses & Heritage, and a representative from the Football Association of Singapore for Behind the Turf: An Exclusive Tour of the Jalan Besar Stadium to learn more about how these sports have evolved over the years in Singapore.
Join the co-author of Secret Singapore, Jerome Lim, and discover the rich history of Singapore's public transportation network through a series of tours and talks – Fast Forward: Dhoby Ghaut's Journey from Horses and Carts to the MRT, The "OG" Downtown Line, and Movement of the People – Key Moments in the Evolution of Public Conveyance in Singapore.
Meet Lim Hai Yen, playwright and producer of Changing Shift, a light-hearted play inspired by real stories that revolve around the experiences of transport workers, and explore the challenges faced and lessons learnt on a daily basis by old and new transport workers.
• Jump onboard and discover Singapore's public transportation history
Embark on a journey to discover uncommon sights in Singapore's urban cityscape through a variety of trails and tours to sites that will open one's eyes further into the rich history of public transport.
In addition, SHF 2023 will also feature a series of workshops and programmes that will unlock other public transport stories such as Letterpress Guided Tour – Remembering the Bus Ticket for a hands-on experience of how printing bus tickets was done back in the old days, and Perth, a film starring an ageing, angry ex-Navy veteran who struggles to make a future as a taxi driver.
• Delve into Singapore's sporting history
Take a closer look at the stories behind iconic sports-related landmarks in Singapore such as Katong Pool, Jalan Besar Stadium and more through a series of tours and trails: Wheels on the Bus: Horses & Heritage, Have You Been to the Katong Pool?, Behind the Turf: An Exclusive Tour of the Jalan Besar Stadium, and Learning Journey at Singapore Sports School.
Festival-goers can also dabble in a series of sports through immersive experiences and workshops like Silat Cultural Open House 2023, where participants can experience hands-on training from experienced practitioners, witness demonstrations, and immerse themselves in the artistic and physical aspects of Silat; Indigenous Indian Arts: Silambam, a one-hour workshop that introduces the basic techniques of popular Indian martial art, Silambam; and Sports Inclusion – Introduction & Try-Outs, a half-day interactive session that begins with a sharing session followed by a try-out session of parasports like Goalball, Para Canoe and more.
Join us at the Closing Weekend Sports Day which invites festival-goers to come decked in their PE attire to participate in a series of nostalgic sports and games as well as high-energy showcases from experts.
Other festival signatures to look out for
SHF is presenting a symposium for the first time, in conjunction with the festival's 20th anniversary. Titled Festivals for the Future – What Makes a Heritage Festival?, festival-goers can peek into the makings and the evolution of both SHF and the various community festivals held in Singapore across the years, and how they have developed over time, by hearing from the festival's director, David Chew, as well as a panel of guest speakers representing the various community heritage festivals.
The festival's signature Ride & Discover programme will also return this year, to accompany Singaporeans on their daily commute with informative content panels sharing titbits on the festival's two themes of Singapore's sporting and public transportation history. Available at four different MRT stations, these everyday spaces will be transformed to tell the stories of Singapore landmarks that we know and love.
Festival-goers can also look forward to the third edition of Cinema Reclaimed: DRIVING, KICKING, AND PUNCHING! which spotlights how sports and public transportation have been glimpsed in the cinema of Singapore, from the post-war studio era right through to the 2000s.
SHF 2023 programmes will be open for registration from 20 April 2023, noon. Members of the public may visit here for more information on the programmes, and how to register.
---
June School Holiday 2023
It is the June school holidays. Do check out our compilation of Things To Do This June School Holidays in Singapore 2023.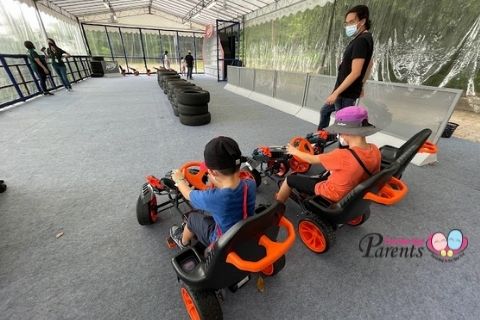 For other upcoming events, visit Events in Singapore.
---
It's the weekend and are you looking for things / activities to do? Check out our weekly roundup of Things To Do This Weekend In Singapore.
* * * * *
Stay in touch! Subscribe to our Telegram here for our latest updates.
Like what you see here? Get parenting tips and stories straight to your inbox! Join our mailing list here.