Important Update 20 Dec 2022:
Due to limited capacity, visitors are strongly encouraged to book tickets online in advance, or they may not be able to enter if the museum is full.
Adults must be accompanied by a child.
Tickets for December 2022 are sold out. Tickets for January 2023 onwards are available for booking 30 days in advance.
---
Singapore's first museum dedicated to children kicks off its opening with a Birthday Bash on 10 and 11 December, where an exciting line-up of performances, games, and more are in store.
Formerly the Singapore Philatelic Museum, the new Children's Museum Singapore sports a colourful facade and an equally invigorating interior.
(Image credit: Children's Museum Singapore)
Enter a world of wonder at the National Heritage Board's new Children's Museum Singapore (CMSG), the first museum in Singapore dedicated to children who are 12 years old and below. From 10 December, children can take a voyage back in time to olden day Singapore, discover the wonders of nature, explore how our local communities celebrate birthdays and more, when the museum opens its doors.
Guided by its tagline "Start with Wonder", CMSG will function as a 'starter museum' to introduce young visitors and their families to the museum-going experience, sustain and nurture a sense of curiosity to explore, experiment, and facilitate a conducive environment for learning through play. Its curatorial approach is supported by educators and industry professionals, who gave inputs on the museum's pedagogical strategies for the development of life skills. CMSG will also work with interested researchers on the value of play for children, and will organise educational programmes in collaboration with educators throughout the year to cater to children of different age groups and abilities.
Mrs Wai Yin Pryke, Museum Director of CMSG, said, "Children's Museum Singapore is uniquely positioned as Singapore's first museum built for the children. Our vision – "A place of wonder and joyful learning for all children to engage with Singapore and the world" – embodies our aspiration of becoming a museum that children can call their own, where they learn through play in a safe environment. We also envision our museum to be an inclusive space for children of different ages and abilities, planting the seed for all children to enjoy visiting museums to learn about our rich heritage and culture."
Learning through play in an imaginative and creative space
By inviting children to get hands-on with interactives, stories and everyday objects, the museum is full of enriching opportunities to learn about Singapore's heritage and culture, and spark discovery about themselves and the world around them. It features a permanent exhibition that spans four galleries on the ground floor and three special galleries on the second level that will be refreshed regularly. Each gallery is designed to stimulate the senses, evoke curiosity and motivate learning.
Permanent Gallery: A Voyage Back In Time
CMSG's mascot from the future, WonderBot, and the Captain, a virtual companion who will assign children tasks to complete during their time travelling adventure.
(Image credits: Children's Museum Singapore)
The journey unfolds with the introduction of WonderBot, CMSG's mascot from the future who helps to 'teleport' visitors through different time periods in Singapore, and the adventurous sea-faring Captain, a virtual companion who will assign tasks for visitors through this experiential voyage through time. As visitors make their way through the four galleries – Hidden Chamber, Ahoy Singapore!, The Marketplace and My Neighbourhood – they will be met with multimedia interactives, artefacts from the National Collection, and more to deepen their insight into Singapore's early history as a port city, to become a modern-day metropolis.
Promising a unique museum experience like no other, CMSG invites children to get hands-on with the exhibits, as they set out to complete the Captain's tasks such as tying a reef knot, or activating a water pump. Designed to evoke the senses, children will also catch a whiff of aromatic spices on board the Captain's ship, or figure out what is causing the musty smell in the ship's cargo hold. Woven into the exhibits are also the stories of Singapore's early migrants and settlers who persevered through difficulties and overcame hardships to build Singapore, imparting to children the value of resilience and unity to forge a new nation.
The final gallery, which catapults visitors into a present-day setting, pays tribute to the Singapore Philatelic Museum with a recreation of a post office. Here, children are introduced to a modern neighbourhood with the post office taking centre stage. They can enjoy displays of stamps, or even design their own and watch it come "alive" in a stamp parade!
Special Galleries: Imagine A Garden, Play Pod and Happy Birthday!
As visitors make their way to the second level, they will continue their adventure into three special galleries – Imagine a Garden, featuring life-like paper sculptures of birds and flowers by Colombian artist Diana Beltrán Herrera; Happy Birthday!, which explores various cultural birthday practices in Singapore and values associated with familial love and gift-giving;
and Play Pod, a safe space for toddlers ages two to four to learn more about fruits and vegetables through active play.
Opening Weekend Birthday Bash
MSG's grand opening will kick off to the public with an Opening Weekend Birthday Bash. Families can look forward to being among the first to experience CMSG's galleries, as well as an exciting line-up of dance, music and theatre performances throughout the day at the outdoor stage. Visitors also have a chance to win attractive prizes through carnival activities and game booths. The full list of programmes for CMSG's Birthday Bash can be found on CMSG's website.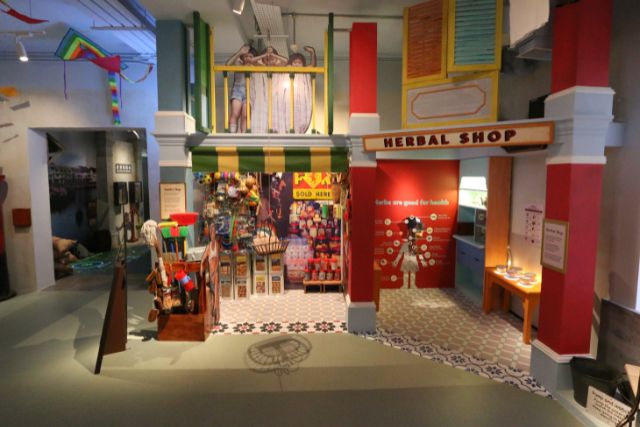 (Image credits: Children's Museum Singapore)
With its focus on interactivity and hands-on experiences, museum-goers are required to pre-book tickets here in order to secure general admission slots and carnival tickets for the Opening Weekend Birthday Bash.
Opening Weekend Birthday Bash (10 & 11 December 2022): Entry is free for children aged 12 years and below, while accompanying adults must purchase a ticket at $10 per adult.
General admission: Free entry for all from 13 December 2022 onwards until 31 March 2023.
As part of the opening special, CMSG will also be presenting workshops on 17 and 18 December 2022 with some of its partners. These include specially curated craft sessions and activities that invite parent-child bonding. Registration will open from 9 December 2022. More details on the workshops are available here.
---
It's the weekend and are you looking for things / activities to do? Check out our weekly roundup of Things To Do This Weekend In Singapore.
* * * * *
Stay in touch! Subscribe to our Telegram here for our latest updates.
Like what you see here? Get parenting tips and stories straight to your inbox! Join our mailing list here.