Singapore Chinese Cultural Centre launches inaugural permanent exhibition to uncover our distinctive Chinese Singaporean identity
Join us for an immersive experience at SINGAPO人: Discovering Chinese Singaporean Culture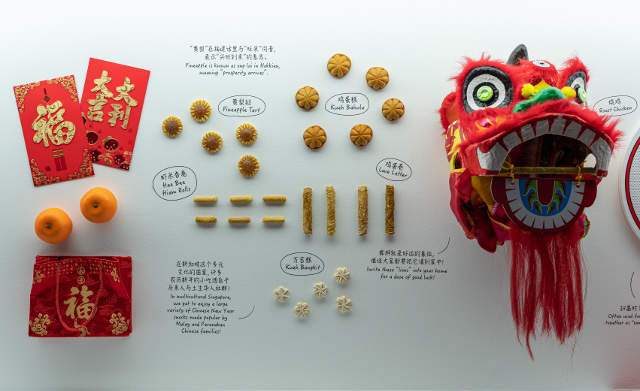 Laksa is one of our most iconic dishes – did you know that each bowl is a marriage of the rich heritage of the Chinese, Malay and Peranakan communities in Singapore? From food to music; popular culture and language; and festivals that we celebrate; Chinese culture in Singapore has evolved in a way quite unlike other communities around the world. No matter who you are, discover (and rediscover) what it means to be a 'Chinese Singapo人' at the Singapore Chinese Cultural Centre's inaugural permanent exhibition.
Featuring important loans from iconic personalities like Stefanie Sun and Anthony Chen, interactive multimedia to immersive exhibits with contributions from the community, SINGAPO人 casts a refreshing spotlight on how Chinese heritage, cultural interactions, and public policies have shaped Chinese culture in Singapore, and led it to evolve in ways which are different from other Chinese communities in the world.




Interactive experiences to uncover distinctive traits of Chinese Singaporean culture
Spread across five specially curated zones, SINGAPO 人: Discovering Chinese Singaporean Culture brings visitors on an exciting journey. The exhibition starts by looking at traits that originated from China which continue to be practised in Singapore. Visitors will discover a roomful of everyday local objects that have connections to values treasured by the Chinese, and learn interesting facts behind festivals that are still observed today such as Chinese New Year, Mid-Autumn Festival and Hungry Ghost Festival.
Adding a layer of interactivity to the exhibits, visitors can pick up a personalised radiofrequency identification (RFID) wristband at the start of the exhibition. This will enable them to answer questions and play games while exploring exhibition topics such as voting on what is their favourite Singaporean food. At the end of the exhibition, visitors may then use their wristbands to generate customised report cards, providing insights on their visit.
SINGAPO 人: Discovering Chinese Singaporean Culture is located at the SCCC Kwan Im Thong Hood Cho Temple Gallery, Level 2, and opens from 1 March 2020 onwards.
Admission is free. For more information, please visit here.
---
SINGAPO人: Discovering Chinese Singaporean Culture
Five exhibition zones
Zone 1: What Makes 'Us'. Us?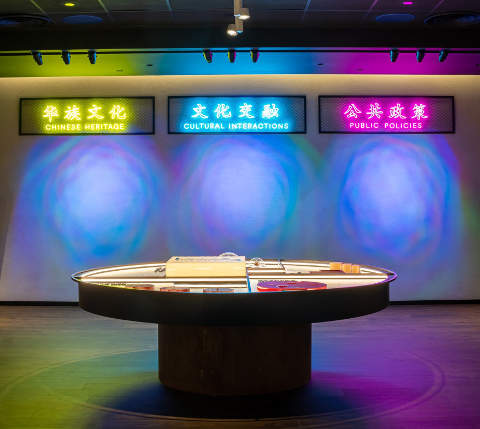 Find out the commonalities and differences between Chinese Singaporeans, and Chinese communities from around the world through a spotlight on how Singapore's social-historical context had an influence on how Chinese culture developed in Singapore. Featuring fascinating nuggets of information and objects ranging from a hornbill skull to attap houses, this zone traces our development from a migrant community in the 19th century to the present day.
Zone 2: Beyond Generations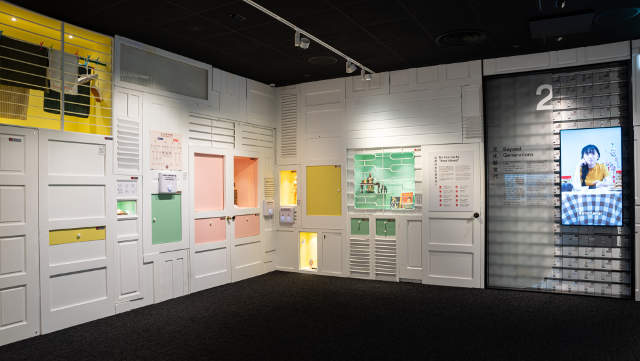 Zone 2: Featuring doors and windows from actual HDB flats around Singapore, this zone invites visitors to discover the values treasured and passed down through generations of Chinese families in Singapore, both at home and through festivals. Look out for a secret door which reveals heartwarming stories by fellow Singaporeans who share why values like filial piety and kindness are important to them!
Zone 3: When Cultures Meet?
As early Chinese migrants settled in Singapore, their interactions with the other dialect and ethnic groups led to adaptations of their language, foods and customs. This zone invites visitors to unravel the origins behind familiar words like basha and local delicacies such as kaya toast. This zone also features an immersive multimedia feast for the senses where well-loved local foods like the aromatic Hainanese chicken rice and mouth-watering chilli crab come to life; frequent kopitiam goers can also flex their kopi-making prowess in an exciting table game showdown of speed and accuracy!
Zone 4: Made in Singapore
Singapore's position as a global hub and multicultural nation-state has allowed Chinese Singaporeans to develop unique cross-cultural perspectives. From the personal recipe journal of acclaimed Mod-Sin chef Willin Low to a clip of theatre pioneer Kuo Pao Kun's iconic work Mama Looking For Her Cat, this zone spotlights the boundless creative potential of Chinese Singaporeans in reinventing and renewing Chinese culture.
Zone 5: Making Our Mark
Whether it's hearing a song by Mandopop superstar JJ Lin in China or buying a curry puff from Old Chang Kee in London, Chinese Singaporean culture has travelled far beyond our shores.
This zone highlights familiar local brands, individuals and products which have put Singapore on the global stage.
Timeline: The Story So Far
Here, visitors can take a closer look at the key milestones in the development of Chinese Singaporean culture. Through an interactive digital timeline table, visitors can learn more about the rich historical traditions, vibrant cultural exchanges and public policies.
Image credits to Singapore Chinese Cultural Centre
---
MARCH SCHOOL HOLIDAYS 2020
It is the March school break, we have compiled a list of activities and things to do this March holidays 2020. Click on the image to read more.
Stay in touch! Subscribe to our Telegram here for our latest updates.
Want to be heard and seen by over 100,000 parents in Singapore? We can help! Leave your contact here and we'll be in touch.