Still wondering about that special present for close friends and their kids this festive season, or for their birthday?
While it's easy to just get something off the racks, presents which are extra special are those that come with a personal touch and are lovingly created just for their recipients!
We sussed out 15 of the best-personalised gifts for parents and kids that you can get this Christmas or other special occasions.
1. First Christmas Set
If you are looking for something to accompany a tot at bedtime, this First Christmas Set is a perfect choice!
Baby can snuggle up in the Reindeer Christmas Blanket while Bashful Bunny in a festive jumper will be a much loved childhood toy. You can even make the gift extra special by personalising the Reindeer Christmas Blanket with up to 12 characters.
Looking for the perfect gift set for a newborn? Look no further than Lovingly Signed. Each gift set is put together specially to create the perfect combination of what new parents and baby.
We love the special Christmas collection up on their site now!
2. Arlou & Rose Gift Box
A pregnancy announcement or the arrival of a new baby is something to be cherished and celebrated. Many mums receive plenty of gifts for her baby but never really anything for herself. At Arlou & Rose, we believe that mums should be celebrated in pregnancy and in birth too, after all, she's the one bringing a new life into the world.
Based in Singapore, Arlou & Rose curates gifts specially for expectant mums, new mums and babies. Whether you want a box to pamper mum, comfort her post delivery, aid with breastfeeding, a baby shower present or to welcome a new baby, Arlou & Rose has just the box for you.
Website: arlouandrose.com
Instagram: @arlouandrose
Facebook: @arlouandrose
3. Mouse or Space Backpack
This gorgeous Personalised Mouse Backpack is designed with whimsical prints of cute mice, fairy mushrooms and delicate flowers and is a magical gift for a special little girl.
Durable enough for days at the nursery or a weekend excursion, it comes with a carrying handle, adjustable padded shoulder straps for extra support, and a roomy front pocket for treasures.
Boys will love the Personalised Space Backpack, which comes with the same great features.
4. Dinosaur Lunch Bag
This Dino handy lunch bag keeps your little one's food and drinks at the perfect temperature so you never have to worry about food spoiling, and they can always enjoy fresh, delicious lunches and snacks.
Made of hard-wearing PU, this lunch bag is foil-lined, insulated and roomy enough for a thermos and multiple containers, making it perfect for picnics, Christmas parties, and more!
5. Personalised Tote Bag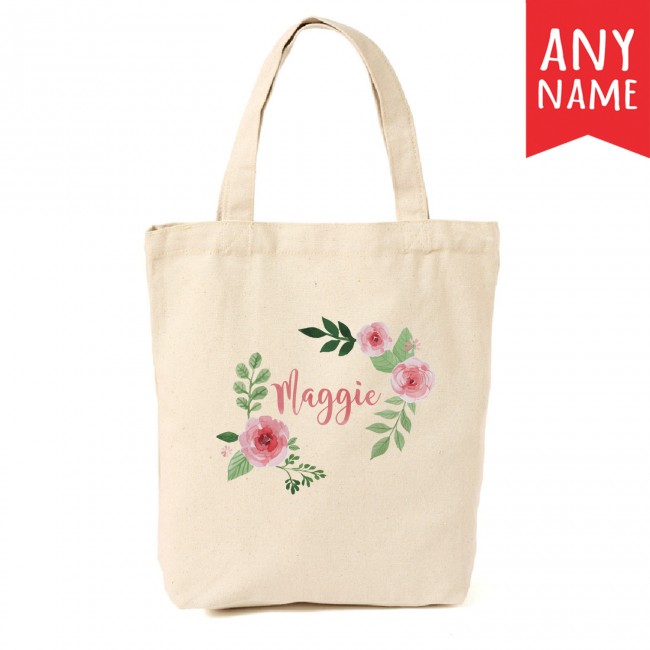 Since 2015, Canvas Avenue has been the go-to online retailer for customised gifts ranging from family-matching shirts to personalised home signs.
Know of someone who loves going green? Give them the perfect tote, complete with their name imprinted on the tote.
Choose from designs ranging from names in whimsical font to a chalkboard design which is perfect for children too. Kids can use the tote as the 'library bag' for that trip to the library or even an art bag to contain craft supplies!
6. Family T-Shirts
What's better than twinning? Getting everyone togged in the same getup of course! Families will love these personalised tees. Great for a family photoshoot, a holiday or just an ordinary day out. Choose from a great range of sizes and designs, there's something for every family.
7. Bring out the Bookworm!
Wonderbly has a brilliant concept where reading will never be the same again – imagine a first-ever personalised cover with your name printed on it.
Throughout the book, they will be brought to six incredible universes where they can spot a sunbathing vampire, a spotted-dalmation crab and even a monkey ghost.
Children will also delight at spotting themselves taking on various roles such as a scientist, explorer, chef and many more! This book is sure to bring many hours of delight to families.
8. Custom Portrait – Picture Most Perfect
Give a family or someone the unforgettable gift of a custom portrait of themselves this Christmas, one picture which will be lovingly displayed for many years to come!
Stephanie Raphaela Ho, the creator behind muffinsaurs.com and mural artist does quirky portraits with a close likeness to their subjects.
Clean lines and bright colours give her portraits a cheery feel, and this is the hallmark of all her creations, which range from wall stickers to bespoke murals.
9. Luxe Hippo Cardholder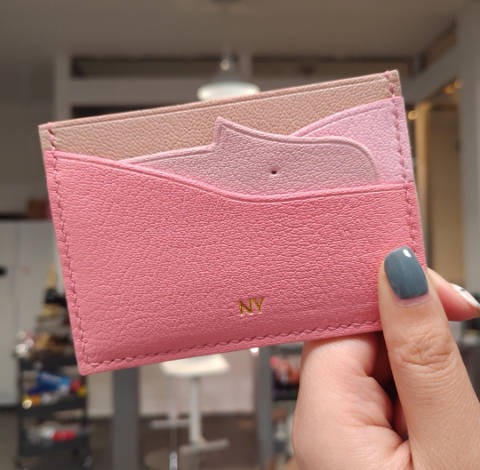 This premium cardholder is made with the top grade Chevre Chagrin "Sully" Goat Leather from the Alran Tannery in France. No one cardholder is exactly the same, as each one is handcrafted individually by a skilled artisan. Add a special touch with a name stamped in matte gold as well.
10. Clay figurines
With deft fingers, Ms Park Park (as her shop moniker goes) shapes tiny clay figurines that can be made in anyone's likeness. You can even request for the person to be represented as characters such as Superman or Wonderwoman. Now that's surely a gift that's also a great conversation starter!
11. Passport Covers
Knocks SG specialises in handcrafted lifestyle items for everyday use. Their products are simple yet stylish and functional. Free name embossing is provided for their products. Our pick here is the passport cover which can be personalised even with rhinestone letters and charms.
12. Little Baking Kit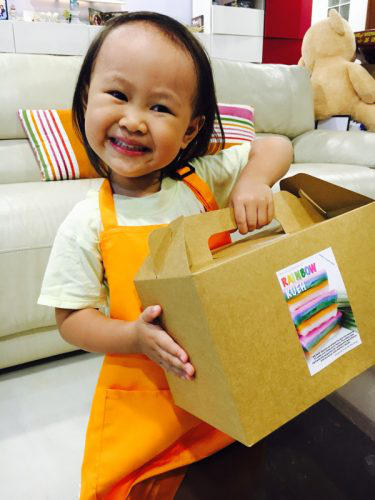 Create an extra special experience for parents and the young ones with a baking kit from The Little Things.
From Rainbow Kuehs to Egg Tarts, parents and children will surely have an enjoyable time crafting their own goodies without the hassle of buying ingredients and trying out various recipes online before finally getting it right.
Each set comes specially put together with the recipient, complete with a gift tag with the recipient's name.
13. Create Your Own Masterpiece
Festive Folks festivefolks.com is your one-stop-shop for easily customisable illustrated goodies. It's customised illustrations for busy people, where you can create your masterpiece in under 3 minutes!
There's a wide range of themes, characters and colours to choose from. All you have to do is to pick a theme, add your characters and ship it over! Yes, it's that simple.
14. Baby Milestone Blanket Box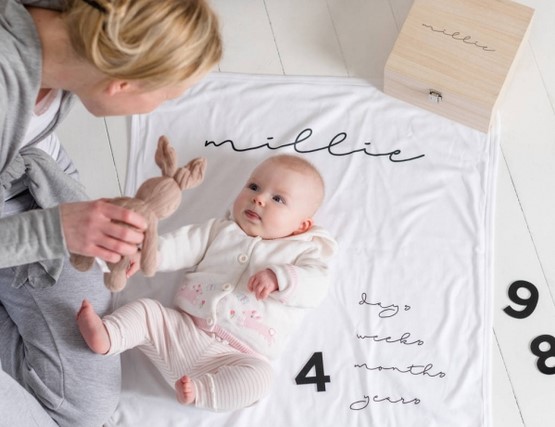 This Personalised Baby Milestone Blanket Box will help you to build a memorable treasure trove of pictures to chart your little one's growth! This beautiful gift set includes a milestone baby blanket personalised with your baby's name, acrylic numbers and a soft bunny toy in a wooden storage box.
15. White Fairy Wish Christening Bangle
Made of hallmarked sterling silver and adorned with a freshwater pearl, and a handpainted gold vermeil and enamel fairy, this Personalised White Fairy Wish Christening Bangle makes a precious and meaningful gift for a little one's first birthday.
By Geraldine Ang.
* * * * *
Like what you see here? Get parenting tips and stories straight to your inbox! Join our mailing list here.
Want to be heard 👂 and seen 👀 by over 100,000 parents in Singapore? We can help! Leave your contact here and we'll be in touch.