The confinement period is especially crucial to regaining your health after giving birth. How well you take care of yourself in this one month will affect your long-term health even many years into the future.
You can save on numerous other luxuries such as expensive diaper bags or branded prams. However, to me, having confinement food is a necessity.
There is a saying that every childbirth makes a woman's body 10 years older
During childbirth, you will experience excessive blood loss and be drained of your "qi" (energy). This makes you vulnerable to falling sick and susceptible to common ailments like backaches and colds, while becoming more fatigued or tired easily.
I didn't realise how important confinement food was at first. But I believed in treating myself to a month of high-quality food after going through the ordeal of pregnancy and childbirth, and this is how it changed my life.
Rebuilding my health after the exhaustion of childbirth
If you think period pains are horrible, labour pains are multiple times worse. I was upbeat about being prepared for confinement as everything was in place, but I was completely unprepared for the sheer exhaustion that hit me like a tsunami.
Postpartum life is like running a marathon every day – I was extremely tired, weak and slow. Every confinement meal was akin to a festive celebration, where the fragrant aromas of sesame oil, ginger and red dates made my body feel full of warmth.
Confinement food consists of special dishes, tonics and soups formulated to improve a mother's well-being and to keep our energy levels high. It is prepared with ingredients that boost our breastmilk supply too.
Confinement foods don't only come in traditional Chinese-styled dishes. You can find modern confinement food caterers like Tian Wei Signature, a recipient of The New Age Parents Editor's Awards. Tian Wei Signature prides itself on the wide variety of fusion and traditional dishes offered, all specially planned by head chef Eugene in collaboration with a nutritionist.
My favourite Chinese confinement food dishes are pig trotters in vinegar, sesame oil ginger chicken and herbal chicken soup. When I was undergoing confinement, I would sometimes be feeling emotionally down and physically exhausted from looking after the baby. However, the richness and loving warmth of confinement food would always reassure me that things will be okay and I should give love to myself too.
What should a good confinement food menu include?
Depending on individual beliefs or preferences, the confinement period can last between 28 to 40 days.
According to Tian Wei Signature, whose Executive Chef Eugene Tan has 16 years of experience preparing healthy and tasty meals, a good confinement food menu consists of a good balance of meat and vegetables, foods rich in protein and iron such as pork and fish and fruits such as papaya to help in boosting breastmilk supply.
I struggled with producing breastmilk at first; nothing came out for five days! Regular meals of confinement food, especially green papaya soup with codfish, helped my breastmilk supply increase and I felt more confident about breastfeeding.
Ingredients that I often see in confinement food are chosen for their medicinal properties, such as:
Ginger – To keep the body warm and eliminate 'wind' inside the body
Red fermented wine – Beneficial for metabolism and lowering cholesterol levels
Pig trotters, livers and kidneys – Has high protein and iron content, gelatinous collagen, and promotes blood circulation
Herbs and medicinal foods like Chinese Angelica root and black fungus – To regulate the menstrual cycle, improve vitality, and cleanse the arteries
Confinement foods should also be prepared without MSG or artificial flavouring. What you consume will affect not just your health, but also the quality of the breastmilk which your baby drinks.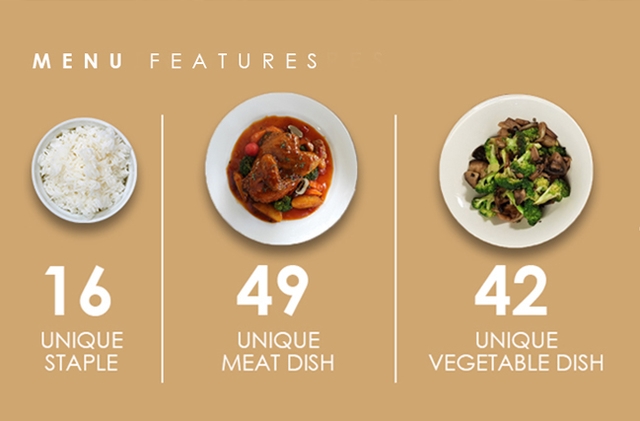 Confinement meals are designed to uplift not only physical health but also rejuvenate mothers mentally and emotionally. Having a variety of confinement dishes will bring a pleasant surprise to mothers at every meal!
Tian Wei Signature takes care to have minimal repetition of some dishes, accommodate the mother's food preference and note down allergies to certain ingredients. For example, some mothers who gave birth via caesarean may not want chicken for the first week, Tian Wei Signature will replace it with pork instead.
To jazz up your confinement meals, Tian Wei Signature also incorporates fusion Mediterranean-style confinement food dishes in their menu.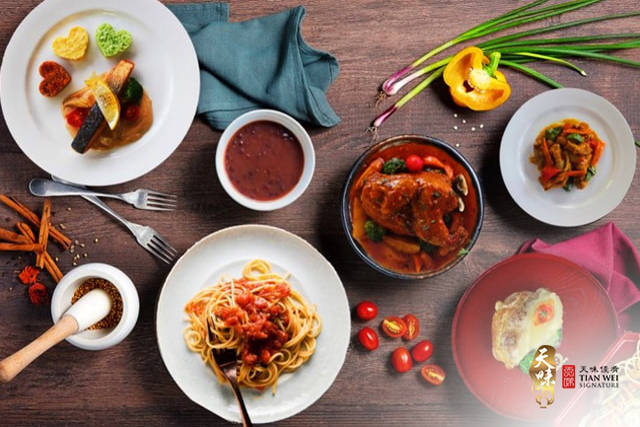 Mothers can relish Japanese cuisine, Mediterranean cuisine, and Western cuisines such as Seared Salmon with Cauliflower Cream, Chicken Chop with Chestnut in Mushroom Cream Sauce, Coq Au Vin, and Passion Fruit Apple Salmon. The fusion menu includes lactation-boosting ingredients such as quinoa, salmon and barley.
How can confinement food change your life too?
Firstly, your long-term health is of utmost importance. Parenting is a marathon of years.
What if I told you that investing in your health for one month during confinement would reap years of better health?
In fact, confinement food need not only be consumed only during your confinement. For mothers whose confinement nannies have left, having confinement food thereafter will also rebuild your health in the long run.
If you don't plan to recruit a confinement nanny, consider confinement food catering, as it would literally take a huge burden off your mind.
It can be time-consuming and troublesome to buy all the different ingredients, store them in your kitchen, cut and prepare the ingredients, brew for hours, wash up and clean the kitchen.
The confinement month is the time you should be spending on your personal health, enjoying every day watching your baby grow and relishing every confinement meal conveniently.
Tian Wei Signature: For breastfeeding moms, with a twist of modern taste
Regardless of what trimester you are in right now, or even if you're undergoing confinement, you can easily book a confinement package with Tian Wei Signature online, delivered straight to your home in a thermal bag.
This award-winning confinement food caterer has many options for you to choose from, whether lunch, dinner or both, weekdays or every day. You can sign up for a 7, 14, 20, 21 or 28-day package and even sample food with a trial package.
Tian Wei Signature offers add-ons such as bird's nest dessert, bento box (for family members), and bathing herbs (so you can shower every day). By the way, being able to shower every day works wonders for a mother in confinement.
Mothers who book early at least one month before their Expected Date of Delivery will receive an early bird discount. Tian Wei Signature also has a team of customer service officers available 7 days a week to tend to your needs.
Here's how you can order your life-changing confinement food from Tian Wei Signature.
Website: www.tianweisignature.com
Contact number: 6727 5599
Hotline Hours:
Mon – Tue: 9am – 8pm
Wed: 9am – 7pm
Thu – Fri: 9am – 8pm
Sat, Sun & Public Holiday: 10am – 7pm
Email: sales@tianweisignature.com
IG: @tianweisignaturesg
Facebook: @tianweisignaturesg
This post is brought to you by Tian Wei Signature.
Text by Julia Chan.

* * * * *
Like what you see here? Get parenting tips and stories straight to your inbox! Join our mailing list here.
Want to be heard and seen by over 100,000 parents in Singapore? We can help! Leave your contact here and we'll be in touch.