In a technologically-advanced world where change is the only constant, coding is widely regarded as the new literacy.
As Apple CEO Tim Cook noted at the 2019 TIME 100 Summit, coding is "the most important second language you can learn". He also firmly believes that "every kid in the world should learn to code."
Looking to heed Cook's advice, parent Joyner W was on the hunt for coding classes for her 8-year-old son, Rayson. She decided to sign him up at Kodecoon Academy.
Founded in 2016, the Singapore-based coding school aims to expose students to digital literacy and computational skills to prepare them for the fast-changing world of technology.
With a curriculum to provide students with avenues for self-exploration, Kodecoon Academy's goal is to equip every student with the knowledge and skills to transform their ideas into reality with code. With over 12 locations around Singapore, classes are also easily accessible for parents and kids.
After enrolling her son at Kodecoon Academy, Joyner was impressed by its dedicated teaching team.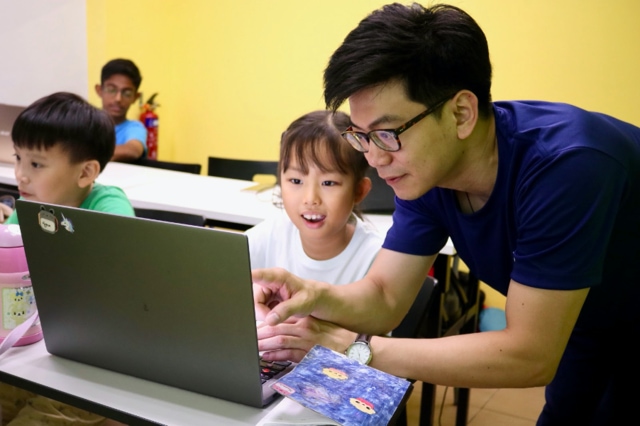 "What makes Kodecoon Academy stand out is its team of teachers, who are passionate about coding and imparting the skill to every child that comes to the centre," says Joyner.
Fellow parent Ching Yee L, whose sons Ian and Ben attend lessons at Kodecoon Academy, also shared how teachers were sincere in building a relationship and growing with her kids in their learning journey.
"For us, Kodecoon Academy made the cut above the rest because its founder and the teachers in my boys' class are really personable," says Ching Yee. "They took time to understand my boys' capabilities and personalities, made an effort to 'reach' them at their level, and kept us as parents abreast of their development."
Ching Yee also recalls how Kodecoon Academy's founder Deddy even went the extra mile, by helping her boys get their notebooks prior to the start of class.
Aside from the excellent teaching team, Joyner also liked how the lessons were well-structured, with teachers working to ensure the correct concepts of coding were instilled in each learner. Students are able to effectively learn through the aid of active class discussion, and apply programming concepts to create fully-functional projects.
Joyner was happy to find out that it wasn't all work and no play for students too. As she explains, Kodecoon Academy also makes lessons enjoyable, engaging and relatable.
"With the progression of each lesson, children are encouraged to be creative yet logical, whilst applying the concepts they learned into completing exercises and mini-assignments," says Joyner. "For example, creating their own game with unique gameplay and rules."
At Kodecoon Academy, kids learn the basics of coding using 'Scratch' – a programming software developed by Massachusetts Institute of Technology (MIT) that enables users to create media such as animated stories and games. As kids create using Scratch, they are challenged to adopt an innovative mindset and collaborate with others, whilst having fun at the same time!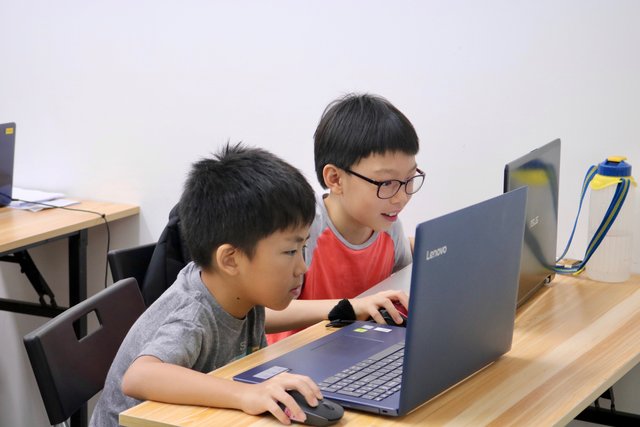 Once students advance in their programming abilities, they will eventually progress to creating their own mobile applications, learning syntax programming like JavaScript for website development and Python programming. Real-world application is crucial in Kodecoon Academy's pedagogy.
Students are constantly encouraged to think of community problems and come up with innovative solutions to apply what they have learned in class to create meaningful digital solutions. To put their coding skills to the test, students also participate in coding competitions and hackathons.
Kodecoon Academy also organised holiday camps with a focus on game development. A popular one being the Minecraft Game Design Camp, where participants learned pixel art, blueprint design and game design architecture. They got the opportunity to build their very own in-game world and structures as well.
With such a dynamic curriculum, Parent Bharti A was particularly impressed by how much her son Vivaan has learnt since he first started his coding journey at Kodecoon Academy two years ago.
"My younger son is eager to start classes too, and I can't wait for him to begin," she says. "I would definitely recommend these fun and interactive classes to all parents, and I hope they keep up the good work of creating a new generation of Steve Jobs and Mark Zuckerbergs!"
To give your child a headstart in coding, sign up for Kodecoon Academy's free trial classes here. Parents can directly contact them via WhatsApp at +65 8950 3022 or find out more at kodecoon.com.
This post is brought to you by Kodecoon Academy.
By Rebecca Wong.
* * * * *
Stay in touch! Subscribe to our Telegram here for all our latest updates.
Running a service or business targeted for parents? Reach out to a wider audience in our Best Coding Classes for Kids compilation. Leave your contact details here and we will get in touch with you.