Mealtimes can be fun, but can be stressful if you are not well-equipped. Done right with a positive attitude, mealtimes can be a joy for both you and your baby.
Here are items that can make your baby's mealtimes easier.
1. Silicone Spoon
A silicone spoon is a great tool to introduce first foods to a baby. It does not feel excessively warm or cold, and is comfortable to chew on when a baby learns how to manoeuvre foods from a spoon into his or her mouth.
This is unlike metal spoons which can retain too much heat from hot foods. Plastic spoons can be too hard on your child's tender gums. A silicone spoon feels just soft enough to be bitten on, and sturdy enough for all sorts of mealtime action.
Try this! Munchkin Silicone Spoons 2 Pack, $12.90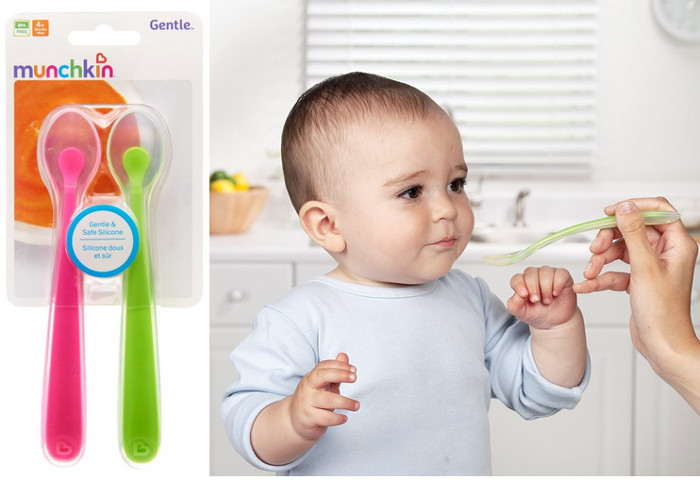 Munchkin's Silicone soft-tip infant spoons are a colorful way to start off solids with baby. Made of odor-resistant silicone and BPA-free, each spoon has a rounded shape and soft, silicone tips to be as gentle as possible on baby's delicate gums.
These spoons were designed with mums in mind too! They're comfortable to hold and just the right length to reach the bottom of the baby food jar or feed in a high chair. Suitable for babies 3+ months and above.
2. Feeding Bowls
Babies tend to swipe everything that comes their way and you would want to keep the feeding bowl where it should be. Feeding bowls with that isn't too shallow and with suction cups at the bottom will prevent food spillage.
Here's a simple DIY tip: If your feeding bowls don't have suction cups at the bottom, buy individual round suction cups and glue them at the end of the feeding bowls so that the food stays in the bowl on the table.
Try this! Munchkin Multi Bowls 5 Pack, $9.90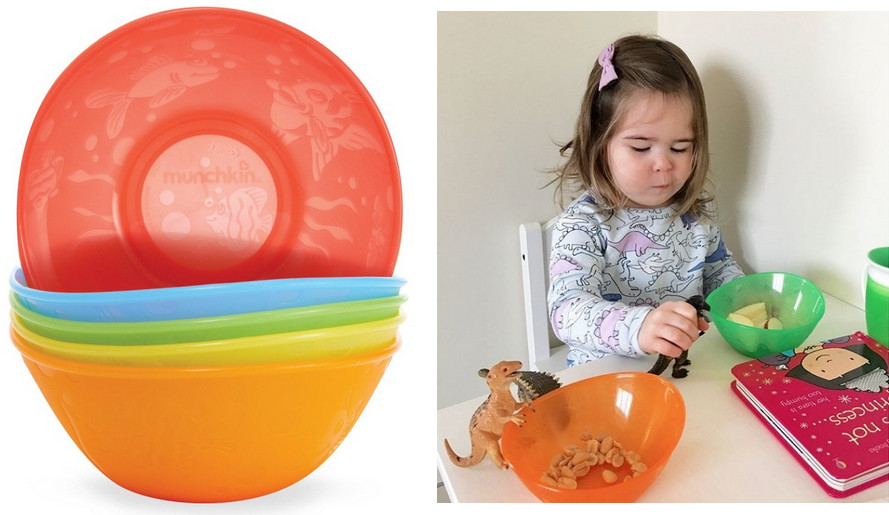 You can start building your toddler bowl collection with this convenient five-pack. They're deep with tall sides – great for holding meals or snacks, and perfect for dipping little fingers into self-feeding territory. With their sturdy, flat bases, these matching BPA-free and microwave safe bowls can go from table to high chair and everywhere in between. Suitable for babies 6+ months and up.
3. Small Cup
The earlier a baby learns how to hold onto a cup, the sooner you can relieve yourself of feeding duties. A small, silicone cup that can be easily washed, resistant to breakage, and sized to fit small hands are best at training a baby to hold a cup.
Don't be afraid to fill it up with a small quantity of water to let your baby have a go once he or she is developmentally ready to hold larger objects.
Try this! Munchkin Mighty Grip Flip Straw Cup 10oz, $11.90
This BPA-free Munchkin cup comes with a soft, silicone straw and a 100% leak-proof guarantee. The ridged, contoured design cups make it easy for small hands to grip. You don't have to worry about wiping up another puddle in the house again! Suitable 12+ months and up.
3. Picnic Mat
Placing a large picnic mat with an easy-to-wipe or washable surface under the highchair is a great way to help contain the mess after mealtimes. Instead of scrubbing the floors after mealtimes, all you need to do is hoist the mat up, discard the bits and pieces of food, and wipe or hose it down easily.
4. Absorbent bib
For young babies who are just starting to learn how to swallow, a lot of the food ends up around the mouth and onto their laps. An absorbent bib would save you from having to use copious amounts of tissue to wipe their mouths.
There's a ton of washing to do when it comes to babies, and it helps if the bib is absorbent enough to do most of the cleaning up during mealtimes.
5. Thick Baby Wipes
Invest in thick and eco-friendly baby wipes if you can. These are absorbent, and one piece is often more than enough to clean up bits of food stuck in your baby's hair, on his or her clothes and in between grubby fingers.
6. Alcohol-free Sanitiser
If you are out and need to disinfect your hands and baby's hands quickly and safely if water and soap are not available, dish out some alcohol-free sanitiser. Alcohol-free sanitisers aren't protective against viruses, but are protective against most bacteria.
7. Highchair
Purchase one that does not have fabric to save yourself the hassle of washing out stained fabrics. When it gets messy, you can wipe or hose a fabric-free highchair down.
Choose highchairs that can grow with your baby, with detachable feeding tables, adjustable seats and footrest to match your baby's size as they grow. Highchairs with footrests are much better in helping your babies focus on eating. It makes a difference in keeping your child comfortable and rested during mealtimes.
All items mentioned above are available online at here.
This was first published in our e-book Your Baby's Feeding and Growing Years.
* * * * *
Like what you see here? Get parenting tips and stories straight to your inbox! Join our mailing list here.
Want to be heard 👂 and seen 👀 by over 100,000 parents in Singapore? We can help! Leave your contact here and we'll be in touch.