The risk of baby choking is considered to be highest in young children because they are at the stage where they explore objects with their mouths. Furthermore, babies and children airways are narrower as it is still developing, thus making it easier for them to choke on food as well. Knowing these considerations, parents are encouraged to make necessary interventions, to prevent their little ones from choking.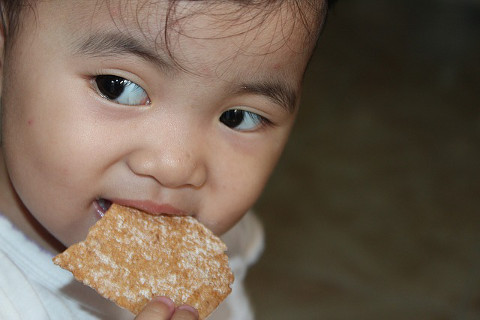 Steps in reducing your baby's risk of choking:
1. If your child is bottle-fed, make sure you monitor the bottle nipples and check the regulation of the flow. Too much fluid gushing into your baby's mouth at once can lead to your baby choking and gasping for air.
2. Cherries, grapes and tomatoes are great snacks for children. Make sure you cut them into smaller bite-size pieces before serving.
3. Position your baby in a right posture during mealtime; by sitting him in a high chair and placing him upright on the floor.
4. When eating, prepare a bottle or a cup of juice just by your side to help your baby swallow his or her food.
5. Babies don't have the ability to hold their own utensils yet. It is important for parents to hold them in order to control the amount of food your child puts into his or her mouth.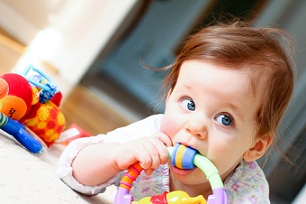 6. Demonstrate chewing. Show your baby how to chew food while feeding him. This will encourage him to mimic the chewing motion and will ensure that he is swallowing small pieces of food.
7. Meat and poultry should be cut into very small pieces before serving.
8. Stay near your baby throughout the meal. Never force your baby to eat or drink when he is crying or having difficulty breathing.
9. Children below four years old should not be given hard candies and uncooked food.
10. Choking with toys is a common scenario for babies. Parents should always check their children's toy. Children under one year of age should not hold toys smaller than 2 ¼ inches long and 1 ¼ wide.
The home is where your baby begins to discover so many things. Keep your floors clean and free from any potential choking hazards for babies such as buttons, marbles, bottle caps, and lighters. Circle off an area for play and crawling in order to prevent your baby from reaching foreign objects.
* * * * *
Like what you see here? Get parenting tips and stories straight to your inbox! Join our mailing list here.
Want to be heard 👂 and seen 👀 by over 100,000 parents in Singapore? We can help! Leave your contact here and we'll be in touch.