Many of the older generations of Singapore lived and grew up in kampongs (Malay name for villages). Around the kampongs, you could find many longkangs (Longkang in Malay means drain). When it rained, these longkangs will be overflowing with rainwater and the children will then scoop and catch the fishes from these longkangs, hence the name longkang fishing.
There are quite a few places in modern Singapore where you can still bring your children to catch wild fishes as long as there are freshwater available i.e. drains, canals, Bishan Park etc. However, it is not advisable due to the risk of a sudden downpour and flash floods.
A better and safer way is to bring them to places where you pay a certain fee for the kids to catch fishes in man-made longkangs. Usually, the children will be allowed to bring home all the fishes they have caught. Sometimes a mini fish tank will be included in the package as well.
We have compiled a list of places where longkang / kampong fishing is available.
1. Mainland Tropical Fish Farm
Re-live the good old days 'Longkang' fishing. Remember the times when we all wore our slippers and shorts and went down drains to catch those fishes? Re-live the good old days at their Longkang Fishing Area! Fish caught will be yours!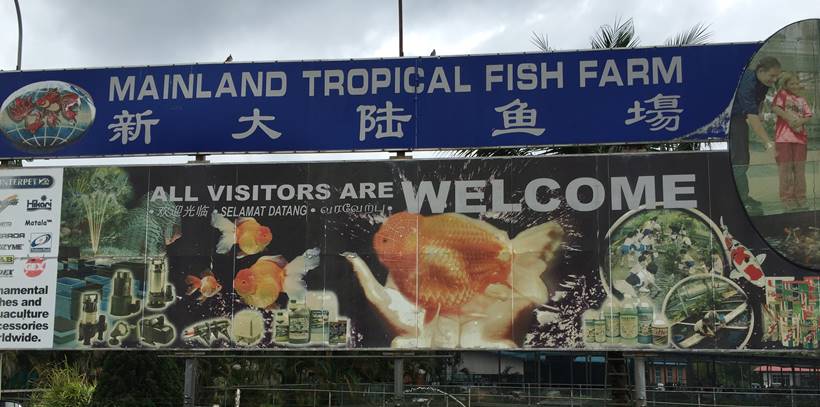 Address: No. 1 Pasir Ris Farmway 1, Singapore 519352
Tel: +65 62873883, 65843643, 65812550
Website: www.mainlandfishfarm.com
Cost: $4 for 30 minutes per kid (exclusive of tank)
Operating hours: 8.30am – 7.00pm daily
*******************************
Reminisce the good old kampong days. Remember when families got together and children were out playing and enjoyed netting fishes from the canals and streams? Bring your kids down to Qian Hu and let them experience the same excitement and joy of catching their own fishes, bringing them home and caring for them.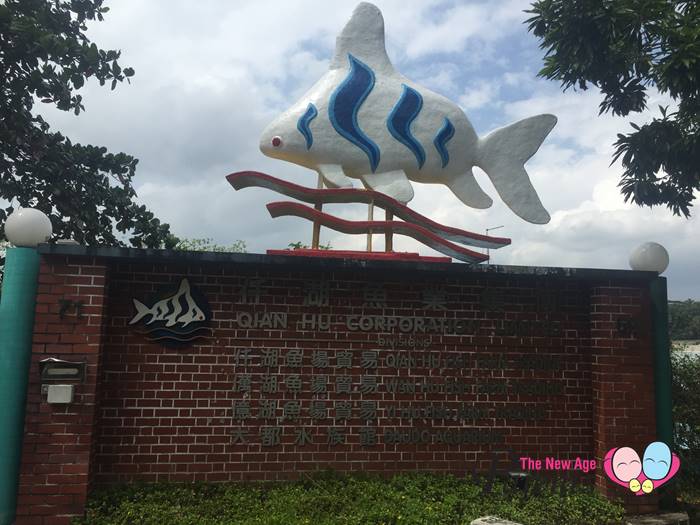 Address: 71, Jalan Lekar, Sungei Tengah Singapore 698950
Tel: +65 6766 7087
Website: www.qianhu.com
Cost: $6 per 30 minutes per kid (inclusive of tank)
Operation Hours:
Monday – Thursday 9am – 6pm
Friday – Sunday & Public Holiday 9am to 7pm
For your convenience, they do provide "Free Shuttle Bus Service" to and from Choa Chu Kang Interchange (Berth 5) & Qian Hu Fish Farm every day.
*******************************
3. FishBugis+
If you are looking for fun, exciting and engaging activities to bond with your friends and family, look no further than Fish@Bugis+!
Nestled in the exciting shopping district of Bugis, Fish@Bugis+ is Singapore's only indoor air-conditioned rooftop fishing/prawning/longkang fishing pond that operates 24 hours a day, 7 days a week!
Address: 201 Victoria Street, #07-05, BUGIS+ Singapore 188067
Tel: +65 8338 6530
Cost: $12 per 60 minutes + net ($3 for tank)
Website: www.funatfish.com
Operating hours: 24 hours daily.
*******************************
4. ORTO
Unsure of where to bring your kids to play during the weekends? Forget about the air-conditioned places like shopping malls or movie theatres! Bring them outdoors into the sun and fun to experience the popular old-school activity – Longkang Fishing.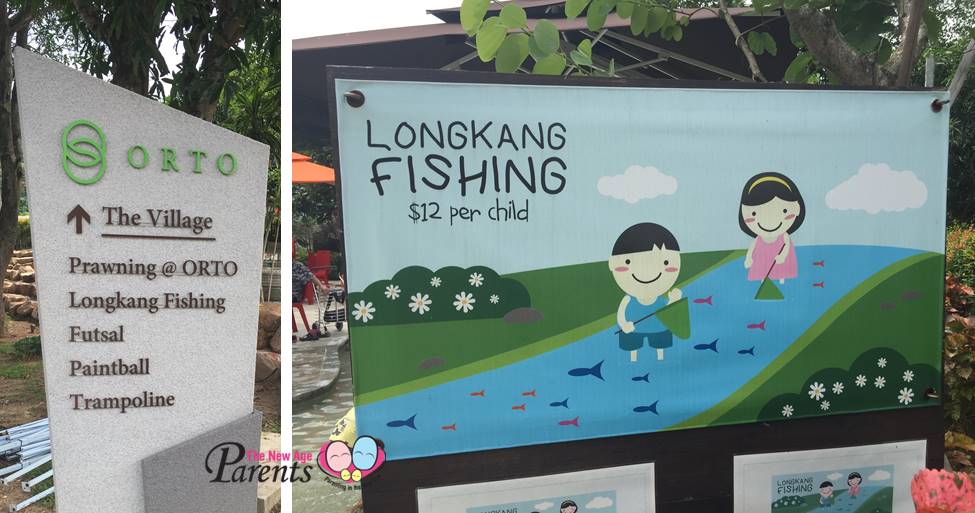 They use non-slip concrete flooring for our finishes and the pond is especially gradient from depths of 10cm to 30cm, catering to kids of different height and age.
Address: 81 Lorong Chencharu Singapore 769198
Tel: 6257 8858
Website: www.orto.sg
Cost: $12/kid (inclusive of tank)
Opening hours: Saturday & Sunday, School Holidays & Public Holidays – 9am to 11pm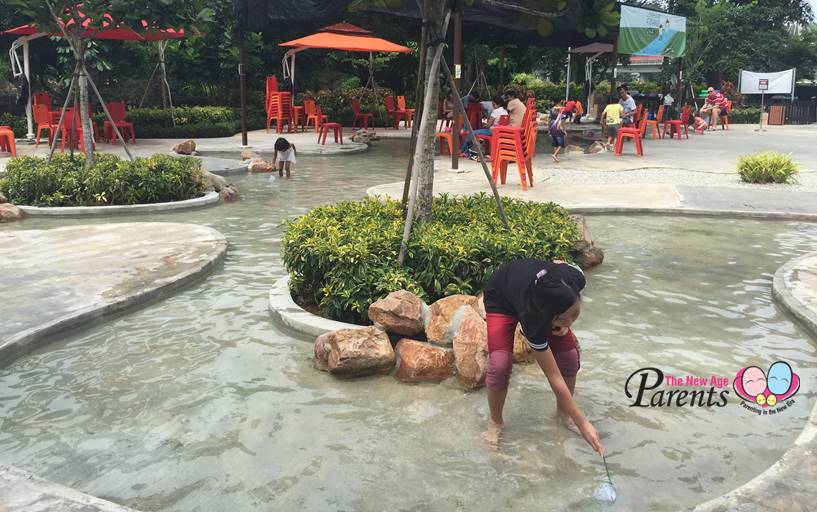 *******************************
5. Fish@Aranda
Fish@Aranda is open to the public although it is located inside the prestigious Aranda Country Club. It is only 10 minutes walk away from Pasir Ris MRT and can cater to large corporate events and school outings.
Address: 60 Pasir Ris Drive 3, (Inside Aranda Country Club) Singapore 519497
Tel: 98392715 (Nigel) / 90080201 (Walter) / 83386530 (Patrix)
Website: www.funatfish.com
Cost: TBD
Opening hours: 24 hours a day, 7 days a week and open even on publuc holiday.
*******************************
6. Fish @ Big Splash (Closed)
Here kids will get to reminisce their parents' good old days of catching fishes with small nets from their specially re-created "Longkang" pond. Fishes in the Longkang pond include guppy, baby koi, goldfish, swordtail, tiger barb, red fish, molly as well as shrimps!
Children get to bring home the fishes which they caught to keep as pets. This gives us parents an opportunity to teach their child to be responsible pet owners starting with a pet fish.
Children who opt not to bring fishes home will also receive a little souvenir from them.
Address: 902 East Coast Parkway, #01-30, Block H, Big Splash, Singapore 449874
Tel: +65 8338 6530
Cost: $12 per 60 minutes ($3 for tank)
Operating hours: 24 hours daily
*******************************
7. Hausmann Marketing Aquarium (Longkang fishing no longer available)
A back to the nature fish farm where visitors can get to enjoy the unlimited fresh air and escape from the hectic urban lifestyle.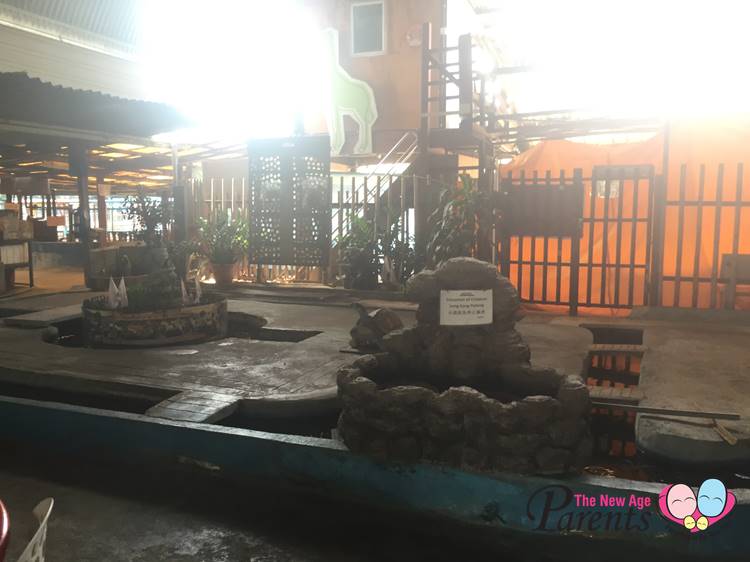 Address: 291 Lot 113, Neo Tiew Crescent, Singapore 719099
Tel: 6792 1318
Website: www.hausmann.sg
Opening hours: Aquarium 10am to 5pm | Recreation Fishing Pond 8am to 11.30pm
*******************************
8. The Animal Resort (Closed in Jan 2021)
The Animal Resort is an extraordinary facility designed to house Singapore's education, conversation and science programs under one 'living roof'. It is an experience you cannot get anywhere else in Singapore! (Longkang fishing available for group visits only and with prior appointment)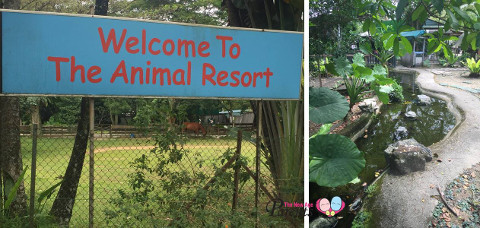 Address: 81 Seletar West Farmway 5 Singapore 798061
Tel: +65 6482 1160
Website: www.theanimalresort.com
Opening hours: 10am to 6pm daily (except eve of CNY and CNY)
*******************************
9. Pasir Ris Kids Kampong (Closed)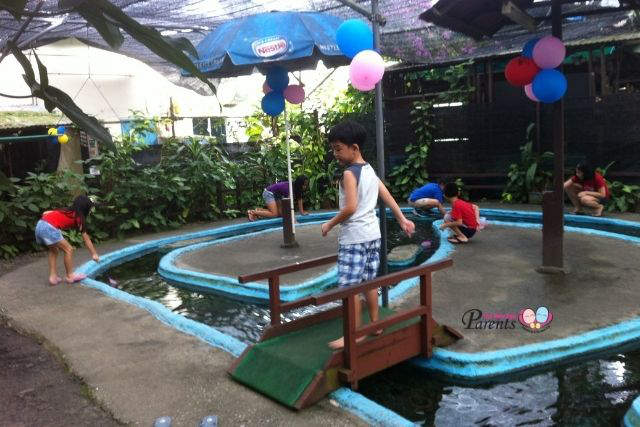 10. Angler's Paradise (Longkang fishing no longer available)
11. Bottle Tree Park (Closed and replaced by ORTO, see above)
Updated on 22 December 2015. If you know of other places for longkang fishing, do email us at mailbox@thenewageparents.com, thank you.
➡️ Related Read: Places to Visit in Singapore With Family
---
Basic Tips for Fishkeeping
If you intend to bring the fishes home and keep them, here are some basic fishkeeping tips for you.
Get these following items in advance
A reasonably sized tank – larger one if space allows.
A filter i.e. sponge, overhead, internal, overhead or canister filter and filter media.
Some substrate i.e. gravel or sand if you intend to have plants.
Some plants live or artificial and maybe some ornaments.
Water treatment chemicals to remove chlorine and chloramine.
Net, bucket and fish food.
Lights and air pump (optional).
Setup your tank at least one week before
Pour in your substrate (if any).
Put in the plants and ornaments.
Install the filter.
Fill up the tank with water.
Turn on the filter and a little fish food to start the fishless cycle.
The above pointers are just some very basic tips and you can read more tips via the internet and youtube.
Finally, more often than more, you will find your kids or yourself catching lots of fishes. Do not bring them all home as they will often overcrowd your tank and eventually die. Try to bring home as few as possible depending on your tank size. Happy longkang fishing and fishkeeping.
* * * * *
Like what you see here? Get parenting tips and stories straight to your inbox! Join our mailing list here.
Want to be heard 👂 and seen 👀 by over 100,000 parents in Singapore? We can help! Leave your contact here and we'll be in touch.