Lost when it comes to helping your kid to write creatively? Esther Lim, CEO and Founder of LEAP SchoolHouse Singapore shares useful pointers on how to get started.
Tip 1: Start Right
Depending on how one defines writing, the process of creating writing can be as easy as one cruising along a highway or as tough as being stuck in city traffic.
Arguably, one of the best ways to get past the 'I am not able to write' phase is to – start writing. Often as the pen starts moving, we should become less self-conscious and just write. And if it's gibberish, well so what? That's what editing is for.
Creative writers do not have a lack of ideas. These ideas can come in the form of scraps of paper, folders of paper clippings or random schematic mappings inked on restaurant napkins. Writers get a block when they are not able to really pinpoint where to start.
The truth is there is no need to always start a story at the beginning. Stories can be created from any scene and direction. It could even start with the creation of the characters in the story. With the characters we can be casting dialogues.
The point is creative writing is often about creating little facets of something and working towards getting things connected together. A good writer will be diligent to "create" about anything and everything. Maybe you have an idea for a story, maybe it's a great idea, and before you actually start to write that story, start jotting.
"To produce a mighty book, you must choose a mighty theme." – Herman Melville
Tip 2: Some Things to Consider
To create creative writers, we will need to make the most basic assumption and that is the young writer is able to communicate and respond in print fluently and is able to understand and apply basic grammatical rules to writing. With that, the next step is to think of what to write about.
Scoping the content is important as it sets what we are going to achieve at the end of the written piece. Personally, my mantra for writing is to sketch an outline of the story and then from there, add in the flesh. 'Less is more', even in writing and it is always okay to use simple words, short sentences and simple dialogues to begin with.
"Anecdotes don't make good stories. Generally, I dig down underneath them so far that the story that finally comes out is not what people thought their anecdotes were about."
 – Alice Munro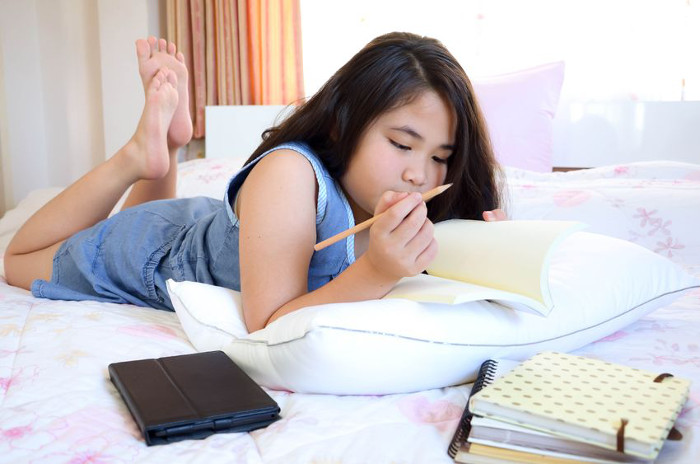 Tip 3: What is a Good Creative Writing Process?
For young writers, because they lack life experiences to carry depth in their writing, getting them to work experientially into their thought process so that they can feel and relate their thoughts to paper is essential.
For example, if the writer was to be tasked with creating a monster character in the story, we might need to get involved in an activity to let them physically create the 'ugliness' of the monster character so that the writer can emote the right words to bring the character alive.
Writing the process will not make a writer good but being able to dig deeper and relate the engagement to the story is what makes a writer creative. Hence, when we define a good writing process to engage creative writing, we anchor towards being able to enrich the content of what is to be written about experiences that trigger such schemas. A good creative process is one that works for the writer.
"Prose is architecture, not interior decoration." – Ernest Hemingway
Tip 4: Planning your Story
A good story is one that captures and leads the reader to think logically with the writer. A good creative writer should therefore be able to place the story from the beginning to the end with a good train of thought. Sketching helps but I also share with young writers that the simplest way would be to story map what you want to say. Examples of simple story mapping could be as follows:
Within the story map, they can draw or write short notes or even words of things that they want to say. Use the story map as general guidelines that will see us connecting events together with more words, creating a great story. This is much like how a good tailor will thread material together with a needle to form a great dress.
Tip 5: Enjoy the moment
The best moments of creating anything is when there is joy in the process of creation. The sky is the limit when it comes to being imaginative and the world is the oyster when we attempt to visualise it through words. Start by picking up a pen. Enjoy the moment. Good luck!
By Esther Lim, CEO and Founder of LEAP SchoolHouse
Born and educated in Singapore, she holds a Master Degree in Education (NTU/NIE), Bachelor Degree in Arts (NTU), Diploma in Marketing – Top student for the year 2000 (Chartered Institute of Marketing). Esther has more than 10 years of teaching experience and has taught widely in both Secondary and Primary schools. She was also involved in curriculum planning and development work for the primary unit at MOE for several years. Esther has also conducted workshops and talks for educators, locally and overseas. Esther is also a mother of three children.
This article was first published in The New Age Parents e-magazine.
If you find this article useful, do click Like and Share at the bottom of the post, thank you.
Want to be heard and seen by over 100,000 parents in Singapore? We can help! Leave your contact here and we'll be in touch.