Dear Mummy and Daddy,
Today was another exciting day at Singapore Hokkien Huay Kuan Preschool! Since I started classes here, I am learning so much every day.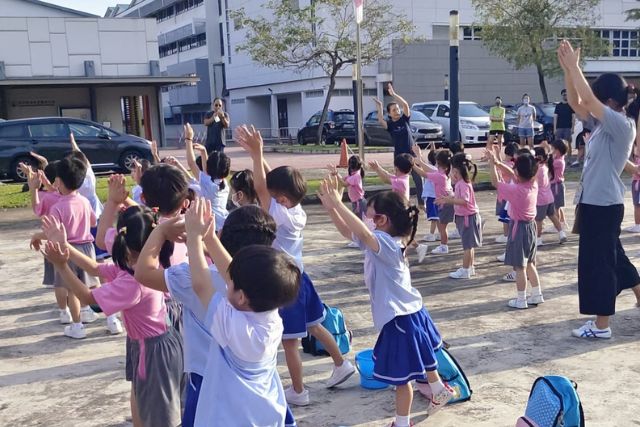 In the morning, we started our day by singing our morning assembly songs in Mandarin. We sang the National anthem and recited the National Pledge. My classmate raised the Singapore flag all by herself! I hope it'll be my turn soon.
Teacher showed us how to do some exercises to wake up our body and mind. I could remember all the steps and the lyrics of the Mandarin songs we sang!
I like my physical attire uniform with a pink t-shirt and grey shorts. When I don't have physical education, I wear my blue blouse and skirt to school. I also like my pink and blue school bag with polka dots.
After the morning assembly, I walked to the classroom with my class. Teacher taught me how to arrange my shoes on the shoe rack and place my bag neatly in my cubby hole.
Every day, I learn new words in English and Mandarin and practise speaking these words with my classmates. Teacher makes us laugh with interesting stories. She teaches us music and songs with musical instruments like the maracas, drums, and tambourines or metallophones.
Today I went to the Living Skills classroom. It is a large classroom for us to learn living skills. Did you know I sang songs with words in seven languages – English, Mandarin, Malay, Tamil, Hokkien, Cantonese and Hakka?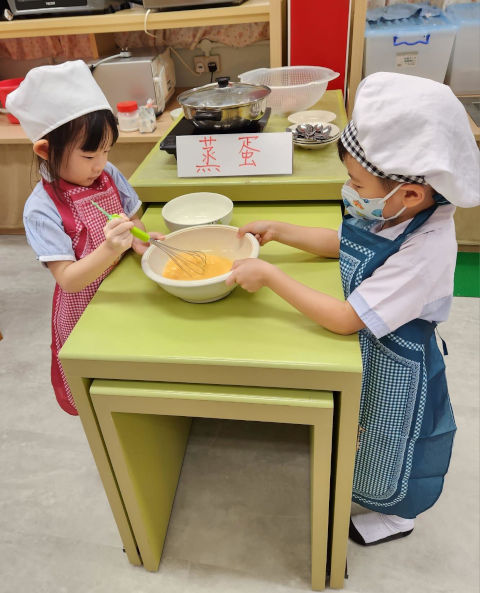 During living skills time, I role played as a host. I cooked a simple meal, welcomed guests, and served drinks. We chatted in Mandarin and I learnt how to describe my food using Mandarin phrases.
Together, we wiped the dining table, and arranged the chairs neatly. See how clean and tidy our living area is! Teacher says that next time I can make ang ku kueh (traditional red pancakes with bean fillings) for Racial Harmony Day.
My classmates and I played a game where we learnt about good and bad habits using Mandarin idioms. I will practise good habits such as teamwork (学会合作) and avoid bad habits like shouting (大喊大叫).
Today I learnt a new good habit – cleaning my school! Teacher said that Singapore celebrated Labour Day on 1st May 2023. She talked to us about the value of respect and how we should treat every worker with kindness and empathy. As cleaners keep our school clean, we should learn how to clean our school too.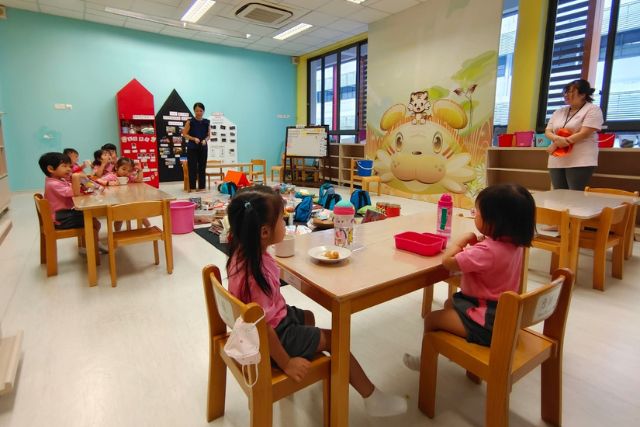 Every student brought a pail and cloth to clean the classroom, Indoor Play area, outdoor track, and garden. We started clearing our classrooms and took a short break for snack time in between. I like snack time because I can chat with my classmates while eating our snacks prepared by the preschool.
We took turns to clean the shelves, tables, and chairs. With teamwork (学会合作), we helped one another to achieve our goals faster. I think this lesson was very meaningful because it taught us how to be good citizens and contribute positively to our society.
Everyone cleaned the school, even the principal Ms Tham. She showed us how to wipe the curved tables in our art class properly. Even though art can be messy because we use paints, glue, and craft materials, we can clean up afterwards for the next class.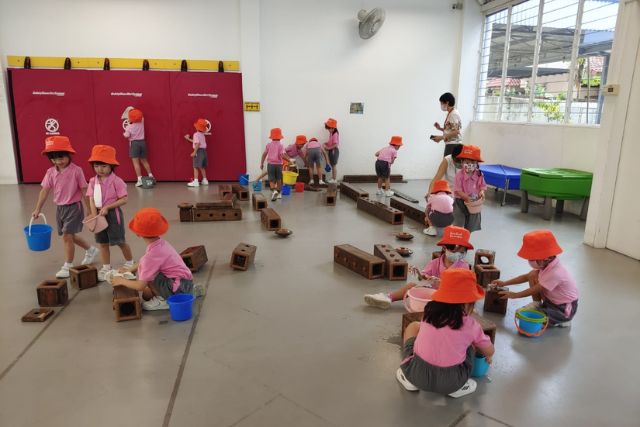 I also cleaned the Indoor Play area today. We all helped to wipe away dust from the wooden blocks and rock-climbing zone so that we can enjoy a clean place to exercise in.
I like my preschool because I get to climb on the obstacle course with my friends! Having physical exercises helps me pay attention in class better. Did you know I also learn wushu and dance too? I have a dance instructor who teaches me the latest moves and I can't wait to show you!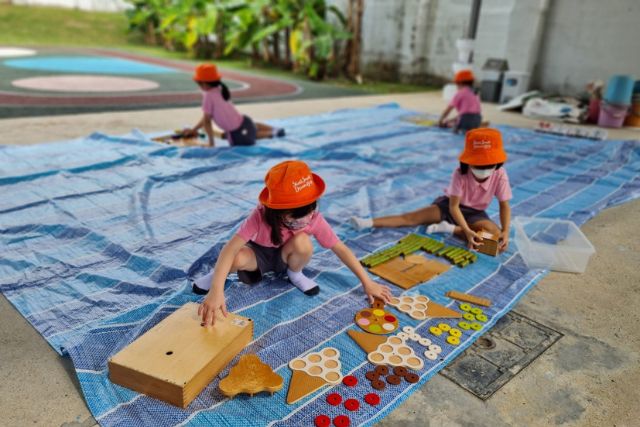 TNAP Awards 2023 Spot & Win Icon: 🍎
My preschool is very big! I have space for outdoor activities, run on the race track, and plant banana trees by the side. There are banana trees of different heights. The taller trees were planted by my seniors. When the trees bear bananas, we juniors can enjoy the fruits. Perhaps in future, my younger brother will enjoy the bananas from the tree that I just planted.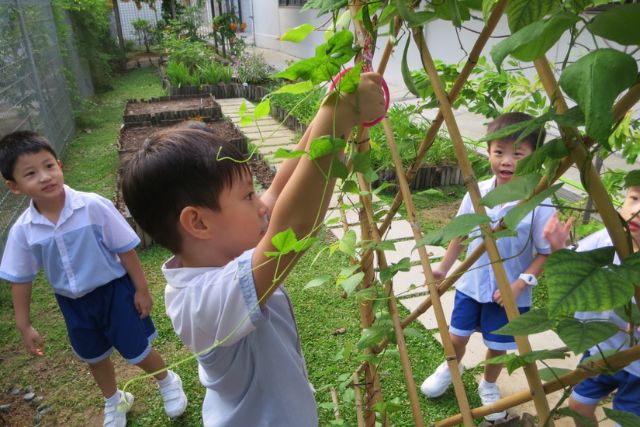 Lastly, my favourite place is the Living Garden where I have planted spinach and curry plants. Teacher taught me how to write the names of various plants in Mandarin too.
I will bring back some spinach to cook for grandma soon as she can only eat soft vegetables. I also made a Mother's Day card and Father's Day card for both of you using dye from the blue pea flowers growing on the fence.
Thank you for enrolling me in Singapore Hokkien Huay Kuan Preschool. I can't wait to go back to school tomorrow and learn more!
About Singapore Hokkien Huay Kuan Preschool
Singapore Hokkien Huay Kuan Preschool is a bilingual pre-school that offers a strong Chinese Language and Culture programme. Its holistic education incorporates practical life skills and strong character development for children aged three to six years old.
Beyond adopting the curriculum framework set by the Ministry of Education, this award-winning preschool lets your child experience Chinese as a living language through Applied Life Skills and Holistic Character Development using Chinese materials, while nurturing eco-habits and respect for Nature through Living Garden projects.
Learn more about Singapore Hokkien Huay Kuan Preschool here and see examples of its experiential bilingual programme at Facebook.
This post is brought to you by Singapore Hokkien Huay Kuan Preschool.
By Julia Chan.
---
The New Age Parents – TNAP Awards 2023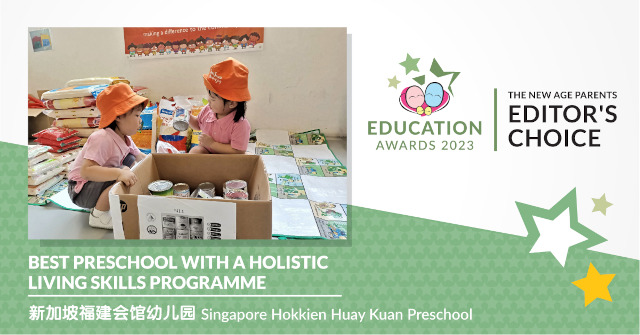 Congratulations to Singapore Hokkien Huay Kuan Preschool for being the winner of TNAP Awards 2023 (Education) – Best Preschool with a Holistic Living Skills Programme.
Find out who are the other winners of the TNAP Awards 2023 (Education) here!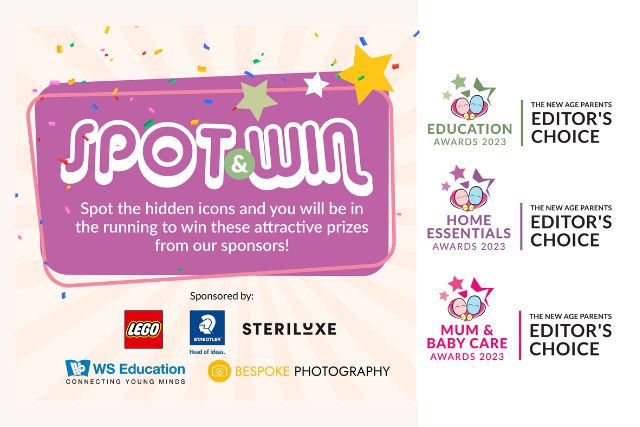 Ready to snag some enticing prizes? Wait no more! Get in on the action with our The New Age Parents Awards 2023 Spot & Win Contest for a shot at winning. Head over to the TNAP Awards 2023 Spot & Win Contest (Coming soon!) to join in. Best of luck!
#TNAPAwards2023 #TNAPAwards #thenewageparents #TNAPEditorsChoice #sgeducationawards #sgeducation #sgfamiy #sgkids #TNAPgiveaway
* * * * *
Like what you see here? Get parenting tips and stories straight to your inbox! Join our mailing list here.
Want to be heard 👂 and seen 👀 by over 100,000 parents in Singapore? We can help! Leave your contact here and we'll be in touch.