Is your child a dinosaur fan? Or maybe you are one too?
From life-sized dinosaurs at Changi Jurassic Mile to dinosaur playgrounds to real dinosaur fossils, check out these places to see dinosaurs in Singapore.
1. Dinosauars at Let's Play @ D'Marquee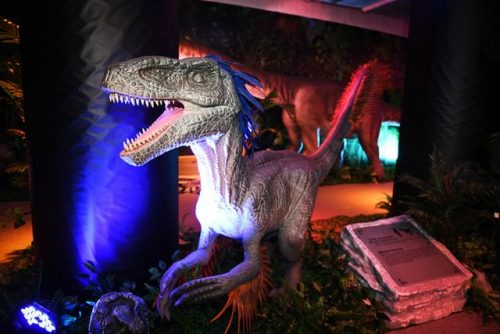 A Marquee special, have a ROARRing good time at our dinosaur themed attractions like the dino rides, interactive dinosaur ball pits and sandpits, saucer ride, tree slide, viking ride, merry go round, and the marvellous 4 metre tall and 10 metre long animatronic dinosaur that is absolutely the star of the show.
📅 19 November 2022 to 5 February 2023
📍 D'Marquee Downtown East
For more information, visit Dinosaurs at Let's Play @ D'Marquee
*******************************
2. Dinosaur-themed Food Hall Jurassic Nest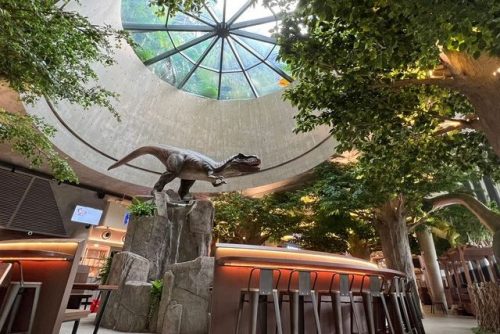 Didn't get enough of the majestic 67-million-year old T-Rex skeleton which was recently on display in Victoria Theatre Hall? Fret not. From 18 November, step with caution into Gardens by the Bay as 18 dinosaurs take up home at Singapore's first dinosaur-themed food hall, Jurassic Nest. Have your breath taken away while you dine with the hyper-realistic gigantic reptilians. As you dine, spot as many animatronic dinosaurs as you can, such as the formidable T-Rex, stealthy Oviraptor, and the tallest of them all, the towering Brachiosaurus that stands at 5m tall!
To find out more information, visit Dinosaur-themed Food Hall Jurassic Nest.
*************************************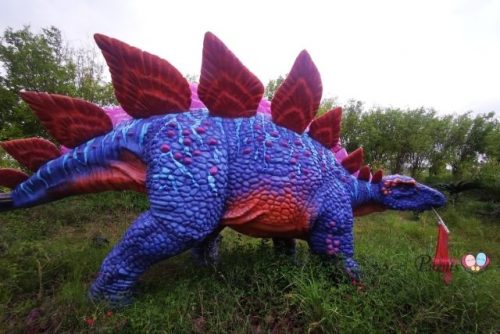 Opened in Oct 2021, Jurassic Mile is Singapore's newest and largest permanent outdoor display of life-sized dinosaurs. More than 20 different pre-historic creatures from nine different species stretch over 1-kilometre of the cycling and jogging path.
📍 Beside Changi Airport Terminal 4
⏱ 24 hours
🏷 Free
For more information, visit Dinosaurs at Changi Jurassic Mile.
*******************************
This unique playground in Woodlands features six dinosaurs including a long-necked brontosaurus and a small crocodile-like dinosaur lying lazily by a pool that has already dried up. Both the orange dinosaurs and the green brontosaurus function as slides for kids to play.
📍 Blk 827 Woodlands Street 81 Singapore 730827
⏱ 24 hours
🏷 Free
For more information, visit Dinosaurs at Fu Shan Garden Park.
*******************************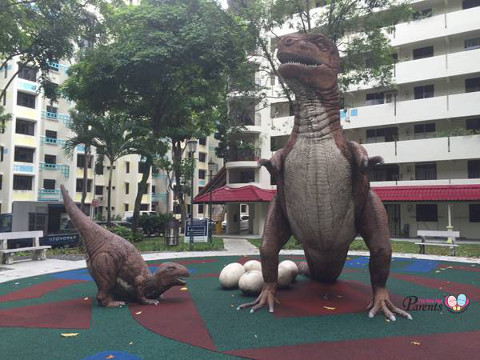 The dinosaur playground at Kim Keat Avenue consists of a huge brown tyrannosaurus, about 3m tall, with five white eggs by its side. Standing nearby is a smaller tyrannosaurus, likely portrayed to be its child.
📍 Blk 27 Kim Keat Ave Singapore 730827
⏱ 24 hours
🏷 Free
For more information, visit Dinosaurs at Kim