Is your child a dinosaur fan? Or maybe you are one too?
From life-sized dinosaurs at Changi Jurassic Mile to dinosaur playgrounds to real dinosaur fossils, check out these places to see dinosaurs in Singapore.
1. Dinosauars at Let's Play @ D'Marquee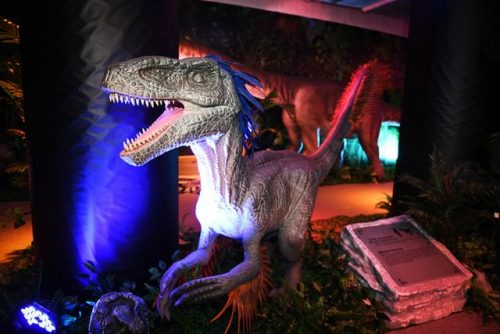 A Marquee special, have a ROARRing good time at our dinosaur themed attractions like the dino rides, interactive dinosaur ball pits and sandpits, saucer ride, tree slide, viking ride, merry go round, and the marvellous 4 metre tall and 10 metre long animatronic dinosaur that is absolutely the star of the show.
📅 19 November 2022 to 5 February 2023
📍 D'Marquee Downtown East
For more information, visit Dinosaurs at Let's Play @ D'Marquee
*******************************
2. Dinosaur-themed Food Hall Jurassic Nest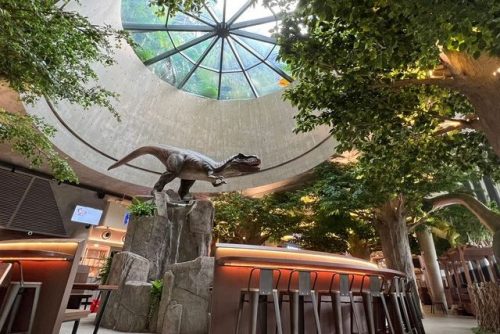 Didn't get enough of the majestic 67-million-year old T-Rex skeleton which was recently on display in Victoria Theatre Hall? Fret not. From 18 November, step with caution into Gardens by the Bay as 18 dinosaurs take up home at Singapore's first dinosaur-themed food hall, Jurassic Nest. Have your breath taken away while you dine with the hyper-realistic gigantic reptilians. As you dine, spot as many animatronic dinosaurs as you can, such as the formidable T-Rex, stealthy Oviraptor, and the tallest of them all, the towering Brachiosaurus that stands at 5m tall!
To find out more information, visit Dinosaur-themed Food Hall Jurassic Nest.
*************************************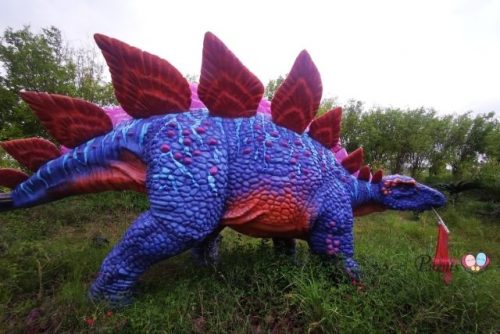 Opened in Oct 2021, Jurassic Mile is Singapore's newest and largest permanent outdoor display of life-sized dinosaurs. More than 20 different pre-historic creatures from nine different species stretch over 1-kilometre of the cycling and jogging path.
📍 Beside Changi Airport Terminal 4
⏱ 24 hours
🏷 Free
For more information, visit Dinosaurs at Changi Jurassic Mile.
*******************************
This unique playground in Woodlands features six dinosaurs including a long-necked brontosaurus and a small crocodile-like dinosaur lying lazily by a pool that has already dried up. Both the orange dinosaurs and the green brontosaurus function as slides for kids to play.
📍 Blk 827 Woodlands Street 81 Singapore 730827
⏱ 24 hours
🏷 Free
For more information, visit Dinosaurs at Fu Shan Garden Park.
*******************************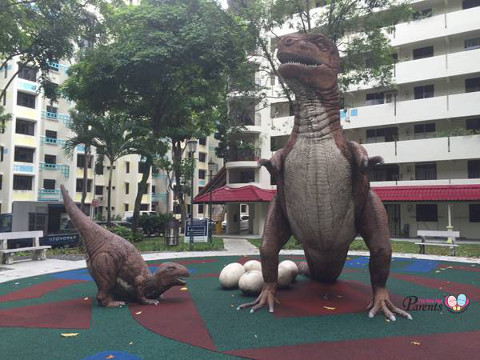 The dinosaur playground at Kim Keat Avenue consists of a huge brown tyrannosaurus, about 3m tall, with five white eggs by its side. Standing nearby is a smaller tyrannosaurus, likely portrayed to be its child.
📍 Blk 27 Kim Keat Ave Singapore 730827
⏱ 24 hours
🏷 Free
For more information, visit Dinosaurs at Kim Keat Avenue.
*******************************
6. Jurassic Park Universal Studios Sentosa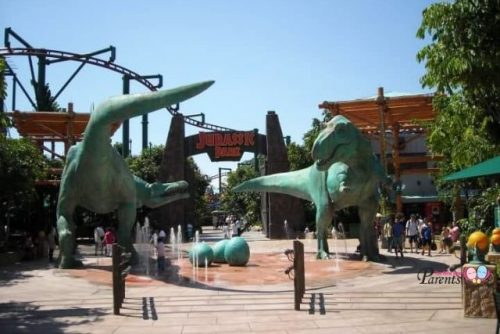 Take a step back in time into the world of dinosaurs in Singapore at Universal Studios Singapore. This is where you'll find lots of adrenaline-fuelled fun for dinosaur lovers.
📍 Resorts World Singapore
⏱ 2pm – 9pm
🏷 Charges apply
Get your tickets online to enjoy more discounts from Klook or KKday or Trip.com.
*******************************
The museum's three diplodocid sauropod fossils were among the largest and heaviest animals to ever walk on land. More than 80% complete, of which two of these skeletons come with skulls – a rarity as far as sauropod dinosaurs fossils are concerned! Found between 2007 and 2010 in a quarry in a small town of Ten Sleep in the United States, they are believed to be part of a herd or even a family.
📍 2 Conservatory Drive Singapore 117377
⏱ 10am – 7pm (Tue- Sun) Closed on Mon except PH
🏷 Charges apply
Get your tickets online to enjoy more discounts from Klook.
For more information, visit Lee Kong Chian Museum.
*******************************
The Dino Pit is designed to provide children with sensory experiences as they utilise tools to uncover the dinosaur fossil in the sand. Children can work together as a team to find and identify the different parts of the fossil, all while learning about the process of scientific inquiry and building communication skills. The interactive game board also widens children's knowledge of dinosaurs and prehistoric reptiles, and how animals have evolved over time.
📍 21 Jurong Town Hall Singapore 609233
⏱ 10am – 5pm
🏷 Charges apply
Get your tickets online to enjoy more discounts from Klook or KKday.
*******************************
9. Jewel-rassic Quest at Jewel
Jewel Changi Airport (Jewel) is launching a new play attraction, Jewel-rassic Quest. Powered by augmented reality (AR) technology, the dinosaur-themed attraction brings storytelling to life through digital interactivity. Embark on an immersive AR experience as you travel back in time to the late Cretaceous period to see larger-than-life dinosaurs roam freely at Jewel's lush indoor sanctuary – the Shiseido Forest Valley. Interact with the dinosaurs through a TimeLens (tablet) and navigate your way around Jewel to learn about the different types of dinosaurs and their unique behaviours. Hunt for dinosaur eggs and unlock games that will bring you up close and personal with your favourite prehistoric creatures during the 90-minute quest.
📅 From 31 March 2022
📍 Jewel Changi Airport
🏷 Charges apply
For more information, please visit Jewel-rassic Quest.
*************************************
10. Dino-Themed Water Playground at Causeway Point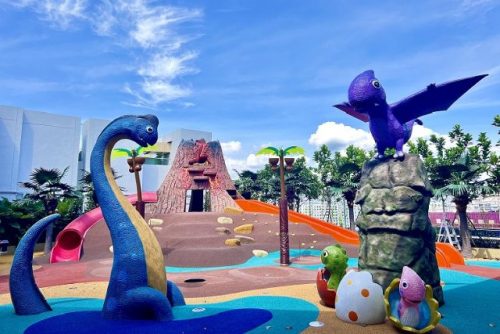 Image credit: Causeway Point
Enchant your little ones, and engage them with high-energy and imaginative play at the wet playground filled with slides, spring riders, trampolines, and more! Kids will bound to have a Dino-mite experience at this prehistoric adventureland.
📍 Causeway Point Level 7
⏱ 10am – 9pm
🏷 Free
*******************************
11. Dinoland™
Image: Dinoland Facebook
Dinoland™ is a world-class immersive dinosaur experience. Visitors trek through an indoor thematic live forest while getting up-close with hyperrealistic dinosaurs and immersive activities for all ages!
📅 From 20 November 2022
⏱ 10am – 8pm (1.5hrs per Guided Trail)
📍 SAFRA Yishun Country Club
🏷 Charges apply
For more information visit here.
*******************************
12. T-Rex Science Centre
Be blown away by a colossal life-size bone structure of Tyrannosaurus Rex at the lobby of the Annexe building.
📍 The Annex, Science Centre Singapore
*******************************
* * * * *
Did we miss out any locations? Let us know in the comments below
Want to be heard 👂 and seen 👀 by over 100,000 parents in Singapore? We can help! Leave your contact here and we'll be in touch.