War, economy crisis, famine, politics. How can we teach children about the world's current affairs? Are they too young to understand? We ask Dr Carol Loy, Curriculum Director at Kinderland Educare Services Pte Ltd for her advice.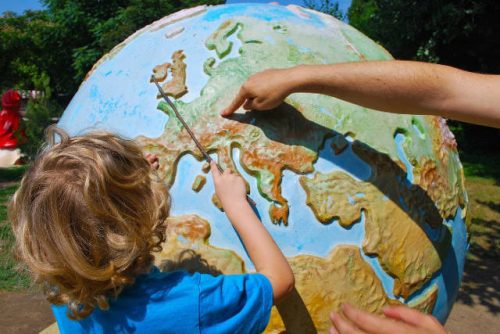 What are some of the topics in today's current affairs that preschool children are able to understand?
You can expose children to topics that celebrate Singaporeans' and the nation's achievements through sports and arts. Share with them articles that promote diversity, social and environmental responsibility, health, hygiene and safety. You can also share stories on national policies and programmes, explaining to them how these policies and guidelines would impact them in the future.
⇒ Related Read: Stories of Singapore Books For Your Kids
For instance, when HPB launched the Healthy Meals in Childcare Centre Programme (HMCCP), Kinderland shared these articles with the children. Children knew that there would be changes made to their menu and would have to learn to eat healthily. This further created an awareness in the children that national programmes would affect them.
In this example, it would be on their nutritional intake. Such articles are impactful and validate our centres' practices that are aligned to many national frameworks. It becomes easier to disseminate the information and bring about an attitude change in all our stakeholders. The children would share such discussions with their parents back home too.
Why are current affairs topics important for children to know?
Through a discussion of these topics, children develop an awareness of local and global events. It aids in critical thinking where they exercise competencies to become reflective learners. They may also surprise you with their sensitivity and compassion in approaching different topics.
⇒ Related Read: Forging culture and national identity in our children
What is the purpose of telling them?
To provide children with opportunities to share their feelings, thoughts and impression about events happening around them. It also nurtures a proactive sense of responsibility that their small act of let's say recycling will contribute to a positive change in the environment. Current affairs is a wonderful platform to nurture a sense of wonder and curiosity about the world they live in, while at the same time develop an appreciation for language.
At Kinderland, Current Affairs discussions are conducted in both English and Mandarin. Children learn that they can not only read for leisure, they can also read to seek out information. Telling them also allows our teachers to identify different children's topic preferences and aids teachers to better engage children in learning from Current Affairs.
Are children too young and innocent to understand?
Children develop at different rates and they may exhibit different levels of understanding and participation during Current Affairs. 4 year olds are capable of appreciating simple news on celebrations and straightforward topics. Older children are able to handle more difficult and negative news that borders destruction and death, be it natural and man-made.
Will they be paranoid with all this negative information?
When handled with sensitivity, children will not react adversely to such stories. It brings out their innate feelings of kindness, helpfulness and righteousness. In fact, when some of our Asian neighbours experienced devastation to their property and loss of lives, our students rallied together with their parents to help victims of Himalayan Earthquake (2015), Sichuan Earthquake (2014), Indonesia Tsunami (2006, 2004). This would not have been possible if Current Affairs was not actively discussed every week.
➡️ Related Read: Public Safety Advisory On Tremors Felt In Singapore
War, terrorism, natural disasters, financial crisis, global warming, rape, murder, scams, molestation. When is the appropriate age to share on the above topics?
As early as 3 years old. Under the Kinderland's Current Affairs topic on safety and as a topic in one of our broad themes on People and Me, we discuss community helpers, community places and some pillars of defense. Two that are very relevant to children are on the topics of social defense and psychological defense. Children learn that it is a shared and common interest to look out for each other and be mentally strong when faced with a crisis. They are also exposed to such ideas through media, videos and poster advertisements at MRT stations and bus interchanges.
Apart from the usual fire evacuation procedures taught in all preschools, our children in workplace childcare are aware of lockdown procedures in case there are strikes and acts of aggression towards the ministries. Government buildings tend to be targets of terrorism and this something additional that children enroll in workplace childcare have to acclimatize to.
On a personal level, children are taught about protecting themselves by ignoring strangers. This is as early as 18 month old. They are taught about Stranger Safety and are not allowed to follow or be touched or hurt by unknown individuals. They should alert their teachers if anyone they do not knowingly attempt to enter the school's premises or even take photos of them during school outings.
For very young children, it is good for them to have stranger anxiety because this will assist them in learning to identify High-Risk Strangers (unknown Individuals) and separate them from Low-Risk Strangers (teachers, staff, visitors coming to the centre, relatives they have never met before).
How can I share in a way that is not intimidating?
Do it after a family activity where children are receptive and willing to listen. It can also be something you can use to extend an interesting accidental event that you or your child witnessed.
What forms of mediums can I use?
Infographics taken from articles, picture discussions, cartoons, comic strips and educational videos are great ways to introduce a Current Affairs or to summarise it.
How can I bring up a sensitive issue with their child?
Start with a storybook that will introduce a topic or use an appropriate analogy using inanimate objects or events that your child has witnessed. Events from cartoons can also be a great way to help children make associations with real-life events. Parents can make screenshots from these familiar cartoons. For instance, to teach children how to cope with loss or death of a pet or person.
Here are some movies to start the discussions on the various topics:
Death: Charlotte's Web, The Lion King, A Good Dinosaur, Big Hero 6.
As Singapore is naturally free of any natural phenomenon, these are some recommended animated titles that can provide insight to topics on current affairs.
⇒ Related Read: Explaining death to children
Natural Disasters: Firebird, Fantasia 2000 (Volcano), Ponyo (Tsunami), Mu Lan (Avalanche), Graves of the Fireflies (War), Florence Nightingale (War, Medical Care and Equality for Females), Sammy's Adventure (Conservation and Environmental protection).
You can find snippets of these movies and videos from Youtube, or buy them on iTunes.
When is a good time to share?
Morning to mid-morning. If there is a set routine at home where children are usually just interacting with you after light activity such as after breakfast or family game that would be most ideal. If it's shared much earlier in the day, children will also be preoccupied with other day's activity to brood over a heavy and negative topic.
What kind of words should I use?
As simply as you can with lots of open-ended questions after that and be relaxed.
Dr Carol Loy, Curriculum Director at Kinderland Educare Services Pte Ltd.
* * * * *
Like what you see here? Get parenting tips and stories straight to your inbox! Join our mailing list here.
Running a service or business targeted for parents? Reach out to a wider audience in our Best Preschool Singapore compilation. Leave your contact details here and we will get in touch with you.