"Every child is an artist. The problem is how to remain an artist once we grow up." – Pablo Picasso (1881-1973)
Every child is born with the innate ability to draw.
It is a vernacular communication. Before we learn to read and write; we draw to communicate our ideas, which in turn, is a form of self-expression.
Too often, parents tend to set an expectation on drawing for their child, which in turn inhibits the child from trying to draw. They may then acknowledge their incapability and shun away from drawing.
The definition of drawing differs for every child. It may be a source of communication for some, a catharsis act; or it may be a pleasing habit for others. So then, is there a general rule to "Drawing"? Should drawing be perceived as the act of running a pencil across a piece of paper?
Drawings of a child should be appreciated by the interpretation of their surroundings. It should not be judged based on the end product. There should not be a distinguished look or assumption put upon a child on how an object is perceived. As a parent or a mentor to your child, it is the developmental process that should be emphasized.
There is no definition of a bad or good drawing. As educators, we try to stand in their viewpoint and position ourselves like the child. Try to understand their language in drawing and with an ample dose of encouragement, it will in return boost their confidence.
"When I was young, I could draw like Raphael, but it has taken me my whole life to learn to draw like a child" – Pablo Picasso (1881-1973)
Why is art-making crucial for child development?
Engaging in creative pursuits gives children the opportunity to use problem-solving skills, such as thinking of alternative ways to use materials to produce an original creation, or modifying a design to improve the end product. Employing problem-solving skills at a young age, in a fun way, allows children to develop and strengthen these valuable skills that can then be used throughout their life.
Creating original pieces allows children to experiment and learn through trial and error, an important life lesson. Creative experiences teach children resilience, persistence, and patience and that tinkering can lead to fascinating discoveries. They can express their feelings and individuality.
Children experience a sense of accomplishment when they are responsible for designing and creating original artwork. Through the act of creating, children get to see and learn that others have differing points of view and ways of expressing than they do.
By sharing their drawings, paintings, or models with their peers gives children concrete, dramatic examples of how different people express the same thing in different ways. While learning that their way is not the only way, they learn to value diversity (Strasser, 2001).
It has been said that 'creativity is the currency of the future'. The transferable skills that are developed while enjoying creative experiences are highly valued and synonymous with innovation and success.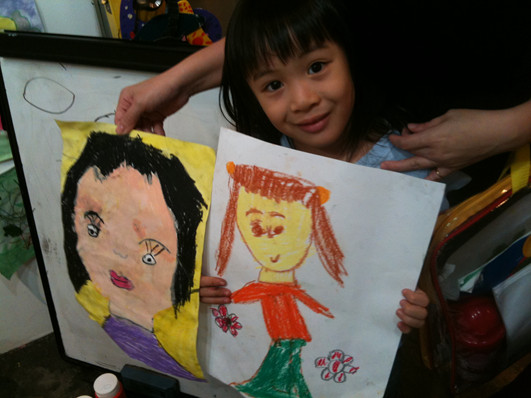 There are only two areas where a child can be free and enjoy full control. One of them is Play, the other is Art.
Our education system favours academic development ahead of artistic endeavours, due to market employment demands. As a result, parents tend to overlook this aspect of child development and leaving the artistic side underdeveloped. As the child grows they gradually have the preconception of themselves being artistically challenged.
A supportive environment is all you need to help grow your child's interest in art. More importantly, allow your child to enjoy the creative process, and refrain from judging the outcome
So what can parents do to encourage art appreciation?
Here are three ways to make the most out of those crucial learning years.
1. Encourage material exploration
Children should be able to explore and experiment with an abundance of materials. These materials should not be restricted to just art but preferably also to everyday life. Children learn best when they are having fun creating, experimenting and discovering new experiences.
Encourage your child to create even basic household items like newspapers, recycled bottles, cans, etc and watch these items turn into sculptures or collage work. Vegetables and fruits can also be used to create prints, fusing perishables into art-making. Help children see art in everyday existence. Children may appreciate art when they can identify artistic elements in most of the things they encounter.
2. Read wordless picture books
Wordless picture books are great for building creativity. Pictures can interpret stories, evoke emotions, and communicate meanings without the use of words. It allows them to examine and come to their own conclusions based on their interpretation.
There is a sense of wonder as they begin to learn to express themselves through their own words. Wordless picture books help children develop language, creative thinking and enhance future reading and writing skills.
⇒ Related Read: This Book Has No Pictures But Kids Love It: Watch The Video To Find Out Why
3. Artistic Adventures – Visit Art Museums / Galleries
What is an artistic adventure? It's an outing devoted to appreciating art in its many forms. Whether you visit a museum, walk through a sculpture garden, or look at the architecture in your neighbourhood, you prepare children to tap into abilities they'll need later in life.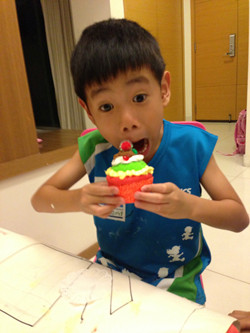 By encouraging children to analyze what they see, you help them develop their imagination, critical thinking skills, and powers of observation. You also broaden their horizons and can inspire them to create masterpieces of their own.
The museum often has been hosting a series of contemporary Art display as part of its Children's Season. The Art Garden features a series of fun and interactive Art where the little ones get to explore and participate in a variety of workshops.
Note: SAM's buildings are currently under-going a major transformation till 2023.
Preschools with specialized Art programmes would also be a great way to expose your child to this discipline. Importantly, creating art not only develops the right brain, but also expands your child's ability to interact with the world around them and provides a new set of skills for self-expression and communication.
Additionally, Art also has a positive impact on the child in a group setting as it nurtures values such as respecting other's viewpoints, seeing and appreciating the diversity in cultures and traditions, as well as develop socio-emotional skills.
Children should be exposed to different aspects of life experiences. They are capable of being and following their own dreams, but very often, parents play an important role. Rather than proclaiming that your child cannot draw, why not start exposing them and see if they are receptive? Who knows, you may just have a budding Picasso right under your nose!
By Shaynvin Sng, Artistic Director of KiddiWinkie School Of Music, Drama And Art.
KiddiWinkie Schoolhouse is a new premium preschool located at The Grandstand which lies at the centre of the vibrant Bukit Timah district. KiddiWinkie Schoolhouse prides itself on a creativity-inspired curriculum and experiential method-based approach to ensure that learning is always fun. The school also sports a lush, modern environment with chic facilities such as a dedicated dining zone, an eco-garden, outdoor wading pool, dramatic expression room and an outdoor sandpit.
This article was first published in The New Age Parents e-magazine.
* * * * *
If you find this article useful, do click Like and Share at the bottom of the post, thank you.
Want to be heard and seen by over 100,000 parents in Singapore? We can help! Leave your contact here and we'll be in touch.