Most days, our schedules are filled to the brim with places to be at and tasks to check off our list. Sure, we all know the benefits and importance of spending one-on-one time with our princesses, but it's easy (and perfectly normal) to find yourself with little energy left at the end of the day to engage our little girls in some meaningful mummy-daughter bonding.
Well, we'd like to help – so we've done the legwork for you!
Here are 9 activities you can enjoy with your daughter. It's time to make some awesome memories together!
1. Do Girly Things
Pamper yourselves with a special date at the nail salon. Or buy the basics and do each other's nails in the comfort of your own home.
Try these!
Chez Belle Nails and Beyond | 2 Pandan Valley #01-205 | Tel: 6466 7571
Flair Nails | 18 Holland Grove Road, Henry Park Apartments | Tel: 6468 3989
2. Whip Up A Meal
If home-cooking is not your forte, why not get some expert help? Take up a cooking class with your daughter, and get inspired together to create beautiful and creative meals for your family. Cooking together can be so much fun!
Springy pasta / Crispy pizza
3. Get Crafty
Unleash your collective creative and make something special together. Doing art together can be a very therapeutic and companionable activity, whether you're chatting nineteen-to-a-dozen about your clever ideas or just doing it in silence, side by side.
4. Home baking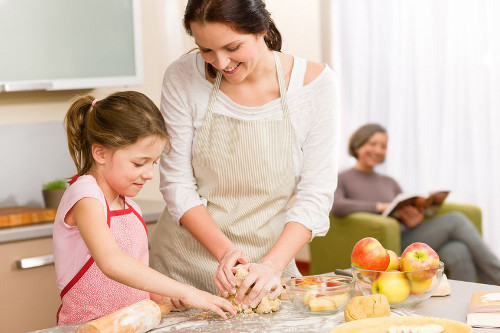 The perfect way to spend a school afternoon or weekend morning – baking up a batch of scrumptious cookies! If you're a novice at baking, try some drop cookie recipes for a start.
For the more adventurous among you, you can try some cut-out cookie recipes like these.
For added pizazz, finish off your baking session with some frosting and sprinkles! Now enjoy the fruit of your labour with a cup of milk/tea.
Check out our mummy home bakers as well for more inspiration!
5. Volunteer
Here's something we don't often think about. If you would like to spend your time with your daughter engaging in something particularly meaningful, consider volunteering together. A little donation of time and effort can go a long way in helping your community, and will allow you to share and model important values and principles to your child.
Here are some avenues you can consider:
Singapore Children's Society
Befriend a child, tell stories, raise funds or help out in events.
Tel: 6273 2010
Website: www.childrensociety.org.sg
Organise dog shows obedience and training workshops or just help with fundraising.
Tel: 6469 4821
Email: skclub@pacific.net.sg
Website: www.skc.org.sg
Be a green ambassador, teach craft-making from organic and recycled materials, help raise funds, assist in reforestation and mangrove clean up activities.
Tel: 6337 6062
Email: info@gvn.com.sg
Website: www.gvn.com.sg
Animal Concerns Research and Education Society (ACRES)
Help give animals a voice! ACRES also emphasize on Humane Education, which is about fostering kindness, respect and empathy for animals, people and the environment and recognising the interdependence of all living things.
ACRES Office (general enquiries): Tel: +65 6892 9821
ACRES Wildlife Crime Hotline (24-hour): Tel: +65 9783 7782
ACRES Wildlife Rescue Hotline (24-hour): Tel: +65 9783 7782
Email: info@acres.org.sg
Website: www.acres.org.sg
6. Get Active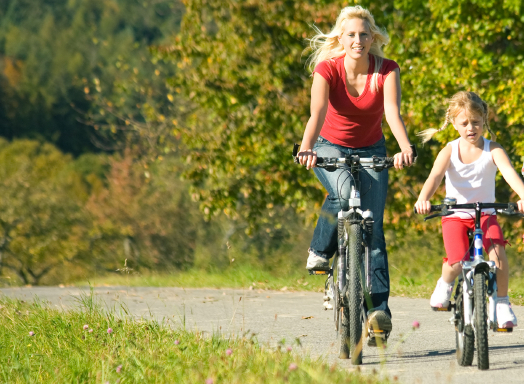 Go for a jog around the neighbourhood, or bicycle or scoot at your nearby Parks.
Not sure were to rent a bike? Rent a bike at East Coast Park or Pasir Ris Park at Coastline Leisure.
Also check out these scooters in our post: Five Reasons Why You Should Get A Scooter For Your Child
7. Watch A Movie Together
Both of you don't really like the outdoors that much? Then rent an aerobics or dance video, clear the living room floor, and get groovin'!
Or simply rent a movie, snuggle up and enjoy the show. Here are some movies you can check out:
Best Children's Movies: What Kids Can Learn From Movies Part I
Best Children's Movies: What Kids Can Learn From Movies Part II
You can rent your videos here: Video Hub
8. High Tea
Treat yourselves to an ultra girly afternoon at a posh café, and enjoy tiny sandwiches, scones, cakes and sweet drinks. Allow your girl to be that little princess for the day, to be a mini "big girl" giving your order to the waiter, choosing what she wants to eat, etc. Let the conversation flow – about anything and everything she wants to talk about!
Marmalade Pantry at Oasia Hotel (Novena)
For more places, check out Singapore Kid-Friendly Restaurants and Kid-Friendly Cafes in Singapore
9. Plan A Picnic
Do it the old-fashioned (read: homemade) way and pack your own picnic basket of your favourite things. Or buy a pre-packed basket from Food for Thought or Café Crema, and enjoy your spread at the Singapore Botanic Gardens or Gardens by the Bay!
Picnic baskets available here:
Casa Verde

at Botanic Gardens
Food for Thought at Botanic Gardens
Café Crema at Gardens By The Bay
 By Dorothea Chow.
* * * * *
If you find this article useful, do click Like and Share at the bottom of the post, thank you.
Like what you see here? Get parenting tips and stories straight to your inbox! Join our mailing list here.