Sometimes mothers experience moments when they feel that their children are not so close with their father. Mothers can do many things to strengthen the bond between baby and daddy. By giving them space and time together, you are creating and strengthening the link between them.
Mother and baby connection is inherently strong from conception, giving birth and growth. However, there are instances when mothers tend to worry about the baby and the father not having quality time together.
New moms can do something and it just takes time and some worthwhile activities which the two can do together and share with each other to create a bond. Almost all dads in the world might find it hard to sink into their new roles but with your help, you can look yourself into building a family of love and happiness.
Take these five moves in refurnishing bridges between baby and daddy and worry no more about their closeness.
1. Give them their space
Give your husband the time to try on his own ways of nurture and cuddling without you hovering around and checking onto his adherence to "mothers know best" principles. You may know almost everything about child-rearing but you need to let the father handle the baby in his own comfortable ways.
Dads have amazing ways of dealing with their babies. Boost his confidence as a father by welcoming his ideas regarding child nurture and care. His ways may be extraordinary but giving him this chance will let your baby enjoy both ways of pampering from you and daddy.




2. Help them get a little closer
Touch is the best natural expression of love. Put your baby on sling-type carrier and let Daddy carry him through for quite sometime. Let Dad shine by wearing his baby around the neighbourhood for some exercise and bonding.
You can do this in the afternoons when he can show to all how great a Dad can be while you could take that chance to rest and sleep at home.
3. Let Dad start from the bottom up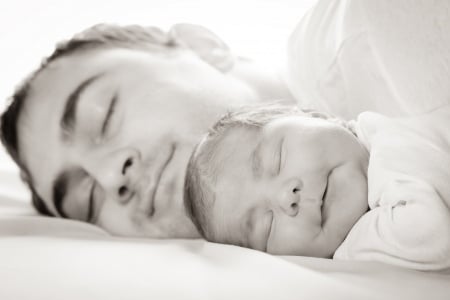 Changing diapers will seem awkward for Daddy but understanding how this will enhance his relationship with the baby is beneficial. Let your husband view diaper changing as a fun activity instead.
Let every diaper fitted perfectly be seen as a reward and let every wrong fit become a chance to change for the better. Refrain from scolding him or nagging him out of a mistake because Daddy might not try changing diapers again.
4. Share feedings and sleep time
Having your baby rested on Dad's arms after feeding or during sleep time is one of the best ways to strengthen the bond between them. Your baby will find it uncomfortable at first but as you place it in the routine she will be used to seeking Daddy's comforting arms.
5. Put Dad on the night shift
Putting Daddy on the night shift can be difficult especially if he works during day time. Weekend nights are perfect times for Dad to take the night with the baby. Sleeping together until the next day is a great opportunity for daddy and baby to connect.
Yes, you can build a lasting connection between your husband and your baby. Let every moment of nurture be an opportunity for them to connect and experience great moments together.
If you find this article useful, do click Like and Share at the bottom of the post, thank you.
Like what you read and want more? Receive our latest articles and giveaways when you sign up on our mailing list here.