Duration: 3 days
Airplants are also known as Tillandsias. They are famous members of the pineapple family. They do not need soil to grow as they absorb the nutrients and water from the leaves instead of the roots.
They require minimal care:
 Good air circulation
Sunlight or artificial lights
Spray the whole plant thoroughly 1-3 times a week and the water on the plant must be allowed to dry within 4 hours.
Purpose:
Learn about science – Children can learn that some plants not only get their nutrients from roots but from leaves
Care and importance of nature
A great bonding session for you and your child
A 'green' and novel gift idea for special occasions such as birthdays and Christmas
Materials Needed:
Airplants
Craft white glue
Soluble varnish gloss
Glue gun and glue sticks or E6000 glue
Pebbles
Acrylic paints and brushes
Decorative items such as sequins, plastic gem stones, moveable eyes, feathers, sticks, pom-pom
Day 1 – Paint the Pebbles
Method:
Paint the pebbles with any colours you want using acrylic paint
Time to be creative! You can use other tools such as the ends of a straw, your fingers, tooth picks or chopsticks to create different texture and patterns on the pebbles
After 30 minutes, apply a thin layer of soluble varnish on each painted stone
Allow the painted pebbles to dry for 1 day
Day 2 – Decorate the Pebbles
Method:
Decorate the painted pebbles with different decorative items. E.g. Plastic gems, sequins, moveable eyes, pom-pom and shells
Use craft glue to stick decorative pieces on the painted pebbles
If your child is between 2 – 4 years of age, you may need to assist them in this. Have a conversation with your child and let them express their ideas for their stone. If your child is stuck, you can facilitate by starting the activity with a theme in mind
If your child is 5 years and above, allow him or her to self-explore and express his/her work of art
Allow the decorated pebbles to dry for ½ – 1 day
Day 3 – Attaching the Airplant to the pebbles (requires parent's assistance and supervision)
Method
Heat up the glue-gun with a glue stick or use E6000 glue
Identify the position of where you want to attach your Airplant on the decorated pebbles
Squeeze sufficient glue on the decorated pebble and place the Airplant
If child is below the age of 4, parent should be carrying this task out
If child is above the age of 4, the child can assist the parent in placing the Airplant on the required position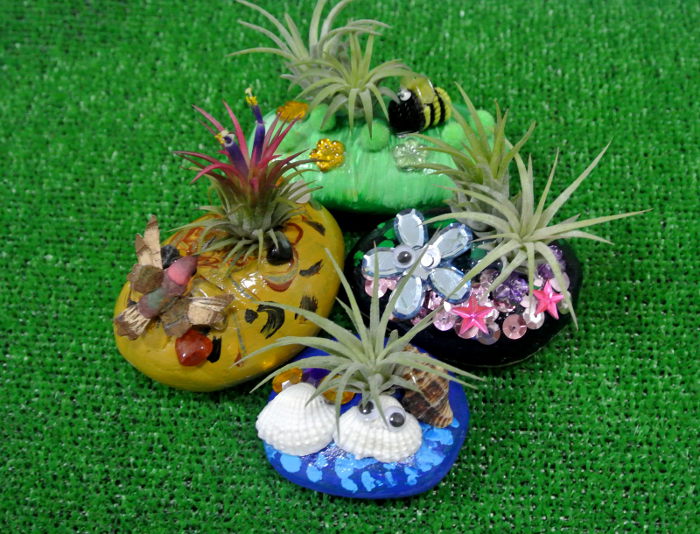 Caution:
Heated glue-gun is very hot, so keep it away from young children
Use only glue-gun with glue stick or E6000 glue to attach Airplant to the decorated pebbles as it has a stronger hold
By Poppletots
Poppletots was started in 2010 by a mom who left her job to be spend more time with her child. Poppletots aims to provide unique, fun and useful children related products such as educational kits and apparels. Within 2 years, Poppletots has become a fun-going cosy community for reviews and parents to exchange ideas. Find out more about Poppletots at www.facebook.com/poppletots
This article was first published in The New Age Parents online magazine