The room is dimly lit and quiet.
Huge white semi-translucent inflated balls fill the room. They are on the floor and suspended in the air. The balls glow in bright colours as you touch them, and a symphony of sounds play in the background.
Snaking my way through the room, the lure of the white balls are too strong. I can't help but touch each one I see. I watch their colour change, half-dazed half-amused, and the music pulls me into another dimension.
I can't help but feel like a child again.
Although the first-ever Gallery Children's Biennale: Dreams and Stories is deliberately created to make art interactive and accessible to young visitors, clearly adults are not forgotten too.
It brings out the inner child in you.
With one year in the making, each exhibit shows you a different layer to art – that art can be fun, inspirational and educational too.
Homogenizing and Transforming World (the room described above), is one of the ten interactive installations. What happens when people are in the same room surrounded by objects that are triggered by small changes such as a touch? The digital multi-sensory room created by teamLab seeks to breakdown all physical boundaries.
Here are 8 reasons why you need to bring your child to Gallery Children's Biennale: Dreams and Stories.
1. Art encourages imaginative and explorative play
Inspired by odd and even shapes, Singaporean artist Ian Woo wants young visitors to explore and make new connections with colours and forms in Rock and Sphere. Squeeze, throw, combine or take apart the foam rocks, spheres and square blocks. Let your child lead you through their imaginative play.
2. Art can be multi-dimensional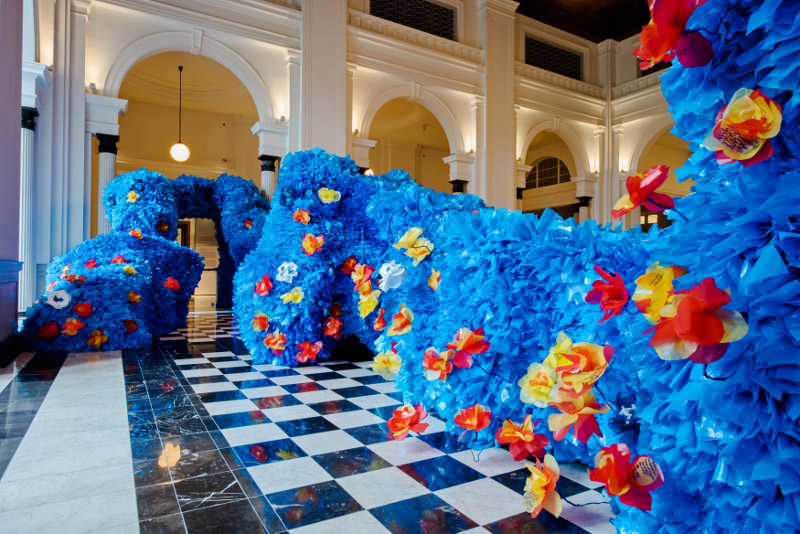 In several Asian countries, you may sometimes find wishes hung on trees. Drawing inspiration from this tradition, Tran Trong Vu creates a tunnel of handmade flowers in The Sonnet in Blue.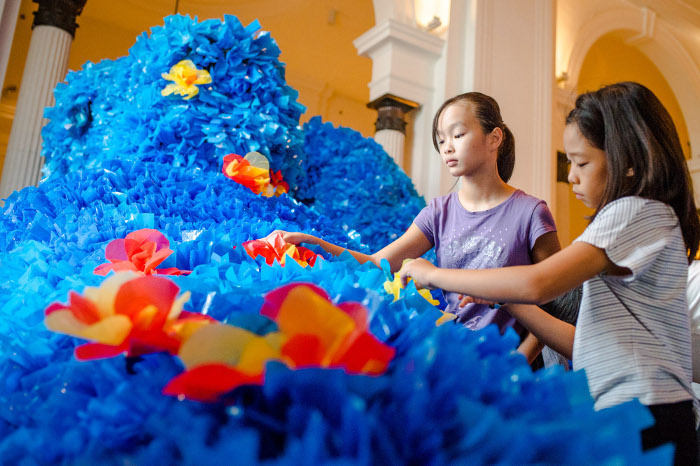 Take a closer look at the flowers and you can find words written on their petals. Combining poetry and art, learn about dreams and stories from the 101 poems that were written by students from Singapore, Indonesia, Myanmar, Philippines and Vietnam.
3. Art makes us reflect
Growing up in a city, can your child tell the difference between what is natural and man-made? Spot the 39 animals, plants and environments in A Guide to The Flora And Fauna of The World (Children's edition). Have they been altered by man? You may not notice it at first glance, but the specimens featured in this exhibit aims to challenge our idea of what is natural and what is man-made.
Each artwork is composed from 6 – 7 images created by Singaporean artist Robert Zhao. For example, the animals were taken from the Singapore Zoo. Robert later edited and stitched them into a separate background.
4. Art makes us recall forgotten memories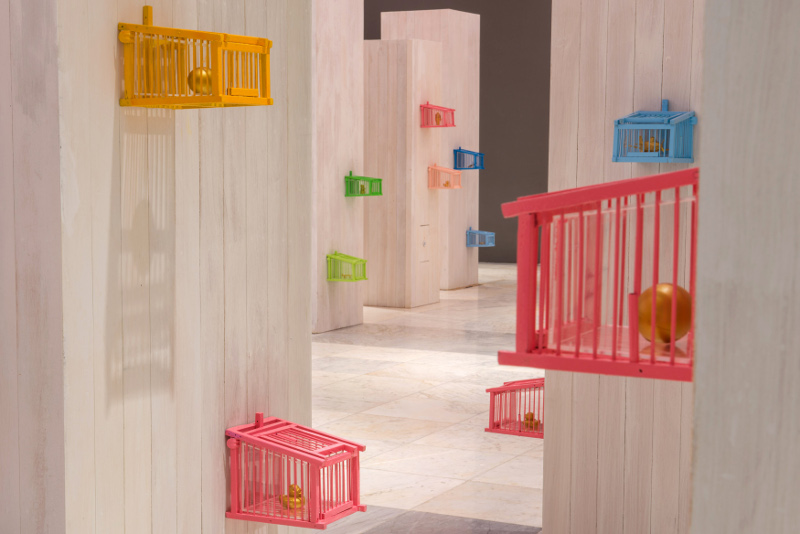 Did you grow up in Rochor? Or does that place hold familiar memories? Rochor Centre, one of Singapore's first public housing estates is due to be demolished and majority of Rochor's residents have been relocated to Kallang.
Local artist Vincent Leow created From Rochor to Kallang to show the ideas of moving, migration and relocation. If the tall towers represent the flats, what do you think the bird traps represent? Take a peek in each trap and see if you can recognise some of the items used.
5. Art can be a mirror
In the biennale, children are not just on-lookers admiring a piece of work. The installation acts as a mirror; where they can see part of themselves reflected in the art.
Being Yourself is a selection of Cultural Medallion awardee Chng Seok Tin's artworks, recreated as woodcuts. Having lost 80% of her sight after an accident, Seok Tin continued to pursue various mediums of art despite her visual impairment. Her woodcuttings invite you to touch and feel the carvings and connect with the textures. Does it bring about joy, anger, despair, hope or strength?
6. Art can be interactive and ever-changing




If you've not heard of Yayoi Kusama you will probably remember her name after visiting the The Obliteration Room. Yayoi is one of the world's most influential artists, known for her iconic dots, nets and pumpkin motifs. When she was a young girl, Yayoi started seeing the world through a screen of tiny dots.
Over a span of 40 years, she has created paintings, sculptures, photographs and installations covered in dots and calls this process 'obliteration', which means the complete destruction of every trace of something. Come and 'obliterate' this white living room with bright colourful dots!
7. Art challenges what you see
What does it feel like to be suspended in space and time? Take a walk over Firewalk, A Bridge of Embers and look down. As you cross the 16-metre-long bridge, can you spot objects that were once treasured? Or did you get lost in the illusion of depth below your feet?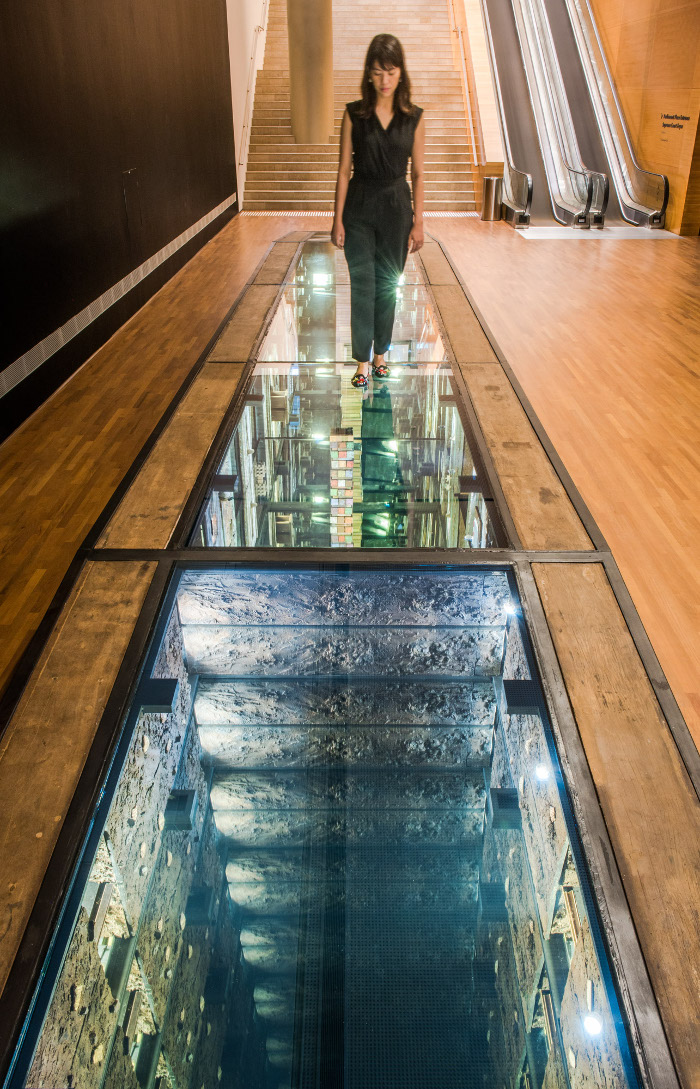 Artist Mark Justiniani plays on an illusion of depth, and uses reflective media to explore space, vision and their relationship with time. Try walking the bridge again and see if you noticed anything new that you did not notice the first time.
8. Art is about connecting with our hearts and others
Sit under this big fluffy cloud with your child or partner and press the play button on the screen. Answer the questions flashed on the screen. Duplet by Lynn Lu urge viewers to stop waiting for an idealised moment to happen, and just be fully present in each moment.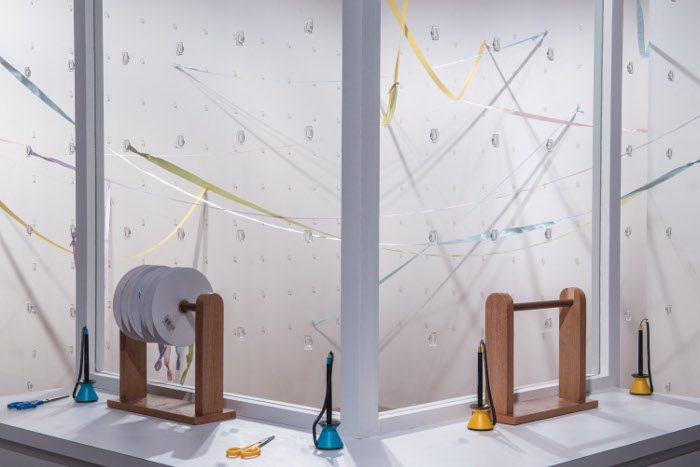 What is your most treasured memory in your life? In This Changed My Life… Lynn creates a room and encourages visitors to write down a significant memory on a piece of ribbon. Stretch it across the room to form a web of shared memories.
Wander and find the amazing.
Let your children's imagination shine through.
It's time to turn their dreams, and yours, into stories.
To view photos of the exhibits, visit our Facebook Album.
Gallery Children's Biennale: Dreams and Stories is open from now till 8 October 2017 at National Gallery Singapore, 1 Saint Andrew's Road, Singapore 178957
Opening hours:
Sun – Thu, Public Holidays: 10am – 7pm
Fri – Sat, Eve of Public Holidays: 10am – 10pm.
Admission is free of charge for Singaporeans and PRs. General admission rules apply.
For a fuller experience, pick up the Gallery Children's Biennale Art Pack ($5) available at the Gallery. The art pack contains activities and topics parents can discuss with their child, to enhance and deepen their appreciation on the art on display.
Brand New Programmes at Gallery Children's Biennale!
LIVE DOODLE JAM AT GALLERY CHILDREN'S BIENNALE
As one last hurrah before the inaugural Gallery Children's Biennale closes, National Gallery Singapore will be displaying the doodles depicting the dreams and vibrant imaginations of these children. There will also be two more live doodle jam sessions on 8 and 9 Sep! Take a break and join the fun over the school holidays!
PAPER PLANET BY POLYGLOT THEATRE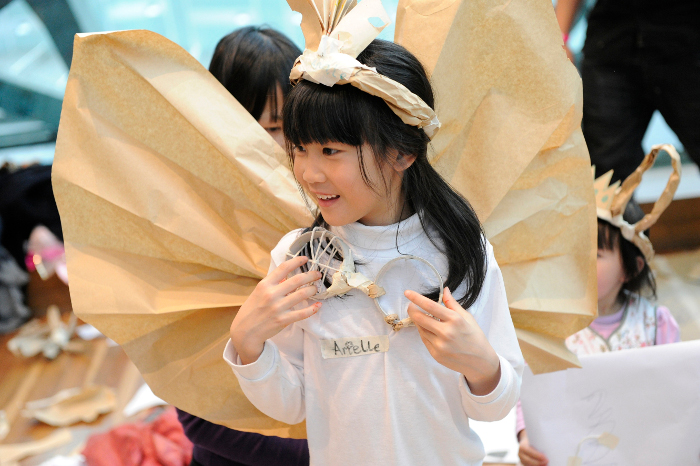 Photo credit: Martin Reddy
A spectacular forest of cardboard trees, watch your kids make your own fantastic paper creations to populate the world! Paper Planet is an experience that all ages will find inspiring and utterly blissful. It is a great example of the instinctive creativity that flowers when people are given a suitable place, the right atmosphere and simple materials to play with. With these elements, extraordinary things can be made.
Thu-Fri 28-29 Sep | 2pm, 4pm
Sat-Sun 30 Sep-1 Oct | 11am, 2pm, 4pm
60 min | City Hall Wing, City Hall Chamber, Level 3 | $20 per adult-child pair or $30 per adult-child trio | Ages 2 and above
PAPERMOON PUPPET THEATRE: THE WHITE WORLD OF SIWA AND MALINI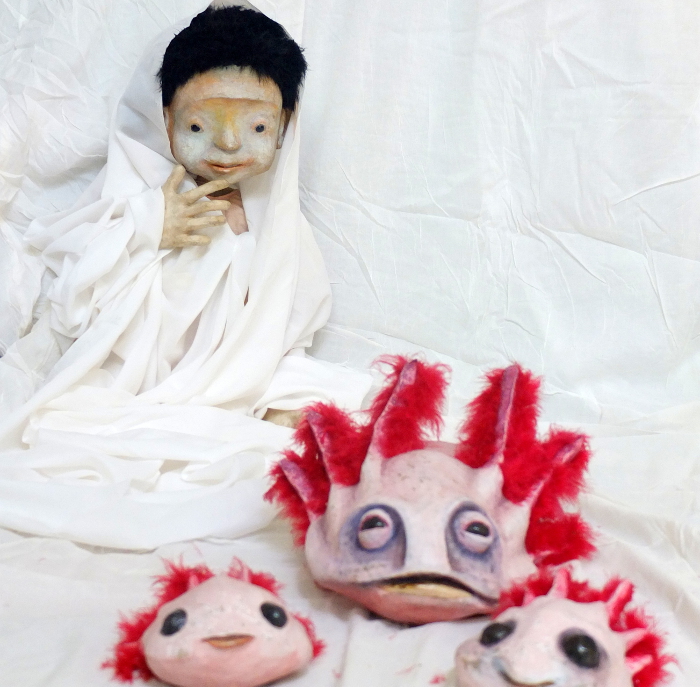 Photo credit: Artsolute 
A new production about appreciating the differences amongst people invites audiences to experience how creatures in the world with only white colour live their life. Children were born with no prejudices towards other people but were taught to see differences, and that one colour is better than many. The performance tells the story of a little girl named Malini, and an old man named Siwa. Both of them live in a world where everything only has white colour. Everything is flat and cold. However, one day, Malini finds that her chick is born with a different colour. As soon as the adults in the world know that other colours than white have appeared, they will take action.
This is an experimental non-verbal performance for children and adults using objects theatre with different materials.
Fri 6 Oct | 2pm, 4pm | Sat–Sun 7-8 Oct |11am, 2pm, 4pm | 45mins| Supreme Court Wing, Level 4, Theatrette | $20* | Ages 4 and above
*$20 per adult-child pair or $30 per adult-child trio (includes materials and SISTIC fees)
Visit here for more info.
If you find this article useful, do click Like and Share at the bottom of the post, thank you.
Want to be heard and seen by over 100,000 parents in Singapore? We can help! Leave your contact here and we'll be in touch.