It's the time of the year where we get to indulge in all the Christmas goodies! Why not try baking them yourself this year? Here's how to bake some good ole' gingerbread man cookies.
Make: 4 baking trays (about 80 small gingerbread men or 24 large gingerbread men)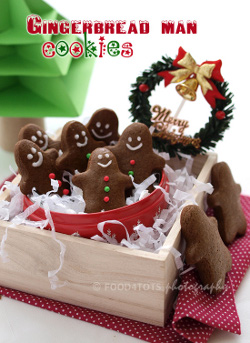 Ingredients:
400g plain flour
3/4 tsp bicarbonate of soda
2 tsp ground ginger
1 tsp ground cinnamon
½ tsp mixed spice
½ tsp salt
170g unsalted butter, at room temperature
110g soft dark brown sugar (refer to photo at the right)
100g black treacle (or unsulfured molasses) – (refer to note 1 and photo)
1 large egg (lightly beaten)
Egg wash – 1 egg white
Methods:
In a mixing bowl, whisk and sift flour, bicarbonate of soda, cinnamon, ground ginger and mixed spice. Add in salt and mix well. Set aside.
Let the butter soften at room temperature (refer to note 2). Transfer softened butter to a mixing bowl. Add in brown sugar. Use a rubber spatula to combine the ingredients.
Use a handheld electrical mixer, beat them until light and fluffy.
Add in molasses and then slowly add in egg in 2-3 batches. Beat at high speed till creamy.
Gradually add the flour mixture. Just a few tablespoons at a time at first, and then in larger batches. Use a rubber spatula to roughly mix the flour mixture with the wet mixture. Do not stir the mixture in a circular movement. Use "cutting", "pressing" and "scraping" actions to just combine the ingredients. Then use hand to form the dough. Do not overwork the dough.
Divide the dough into 3 portions. Flatten each into disc about 2½cm (1 in) thick and wrap in cling film. Refrigerate until firm, for at least 2 hours or overnight.
Working with one disc at a time. Let the dough sit at room temperature for 5-10 minutes. Place dough on lightly floured parchment paper and cover with a cling film. Using a rolling pin, roll the dough out to 3mm (1/8 in) thickness. Then return the dough to the fridge, refrigerate or freeze until firm for about 15-20 minutes.
Preheat oven to 170°C. Line baking trays with parchment papers.
Remove dough from the fridge, cut out shapes with cookies cutters and transfer to baking tray. Gather all the trimmings, re-roll and briefly refrigerate or freeze to firm up. Repeat until all the dough is used up.
Using pastry brush, brush cookies with egg white.
Place the baking tray at the lowest rack. Bake at 170°C for about 8-12 minutes (refer to note 3), rotating the baking tray halfway through. After that, turn off the oven, leave the cookies inside with the oven door shut. Let the residue heat in the oven cook the cookies for a further 5 minutes.
Remove the baking tray from the oven. Leave the cookies to cool slightly on the baking tray before turning onto racks to cool completely. Decorate with royal icing (refer to how to make

royal icing

) as desired. Then store them in an airtight container.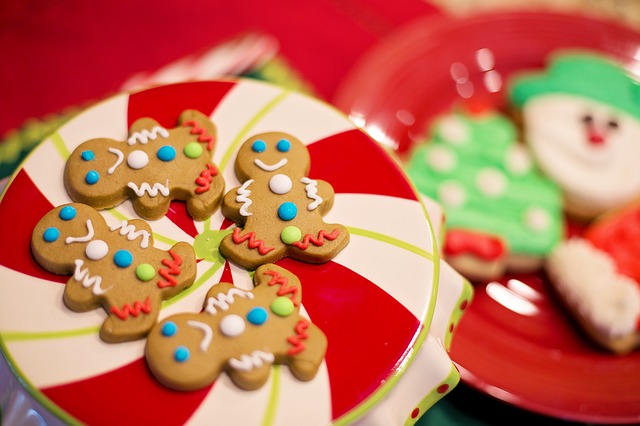 Notes:
I bought molasses from Phoon Huat, a local baking ingredient supply shop. Before you measure the treacle/ molasses, dip your spoon into oil and grease the measuring cup so it doesn't stick.
Use your fingertip to press lightly on the butter to test (refer to photo).
Set the baking time depending on the texture and size of the cookies. For smaller or softer cookies, bake 8-10 minutes. For bigger or crunchier copies, bake 11-12 minutes.
If you are making these cookies as gift tags, make a hole at the top of the cookies with a straw before baking.
Source: Adapted and modified from You Can Cook (for kids) by Annabel Karmel and Martha Stewart
By Low Lai Kuan.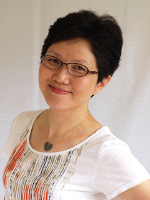 Low Lai Kuan is a stay-at-home mother who is passionate about providing a well-balanced and healthy meal to her family. Since 2008, she started her food blog to share about cooking for toddlers. Several of her works had been featured in newspapers, magazine and online media. Her website is food-4tots.com.
This article was first published in The New Age Parents e-magazine.
* * * * *
Like what you see here? Get parenting tips and stories straight to your inbox! Join our mailing list here.
Want to be heard 👂 and seen 👀 by over 100,000 parents in Singapore? We can help! Leave your contact here and we'll be in touch.