Make: 9 mini muffins or 6 large muffins
Ingredients:
125g plain flour
1½ tsp baking powder
60g castor sugar
Pinch of salt
1 egg (at room temperature) – lightly beaten
2 tbsp fresh orange juice
1 tsp orange zest
90 ml extra light olive oil/ sunflower oil
½ tsp vanilla extract
80g plain yogurt (I used Greek-style yogurt which is thicker and creamier)
60g fresh/ frozen blueberries (refer to note 3 and 4)
Methods:
Pre-heat oven to 210°c. (refer to note 1).
In a mixing bowl, sieve flour and baking powder. Add in sugar and salt and mix well. Set aside.
In a separate bowl, whisk together the lighted beaten egg, oil, yogurt, vanilla extract, orange juice and zest until it is creamier. It will look a bit cuddled. Be careful not to overbeat the mixture.
Add the wet mixture into the dry ingredients. Use a spatula, combine the ingredients with fold in method until they are well combined and no traces of flour. Stir in blueberries and mix well. Do not over-mix the batter. The batter should be thick ("spoonable" not "pourable").
Transfer the batter into a piping bag (refer to note 2) and pipe batter into the muffin cups until each cup is 80% full.
Bake at 190°c for 15-20 minutes.
Notes:
Start off the oven hot – This sets the top crust quickly which allows the batter underneath to stay liquid, build up pressure and eventually burst up like a volcano. It will yield a dome effect to the muffins. However, the baking time and oven temperatures vary depending on the types of oven, size of muffins, or whether you are using a paper cup or muffin tray to bake. So use your own judgment to experiment.
You can create your own piping bag by using a clean square or rectangular plastic bag. Transfer the mixture into the bag, tighten the opening with a rubber band and cut a small corner for squeezing. You may need to cut a bigger hole so you can squeeze the blueberries out easily.
For variation, try to experiment with other type of berries. Another possible option is to use fruits such as raisins and cranberries. It's important to condition them before use.
There is no need to defrost the frozen blueberries.
Tip: Conditioning dried fruits will help to prevent them from absorbing the moisture from the muffins. To do that, you need to put the dried fruits in a plastic bag, pour water inside the bag and immediately pour it out. Retaining a little bit of water inside. Leave the plastic bag overnight at room temperature. Pat dry any excess water before using
Source: Adapted and modified from Annabel Karmel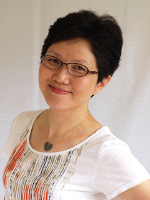 By Low Lai Kuan
Low Lai Kuan is a stay-at-home mother who is passionate about providing a well-balanced and healthy meal to her family. Since 2008, she started her food blog to share about cooking for toddlers. Several of her works had been featured in newspapers, magazine and online media. Her website is food-4tots.com
This is first published in The New Age Parents online magazine