Make: 11-12 muffins (7cm diameter x 3.5cm depth pudding mould)
Ingredients:
125g pumpkin (note 1)
1 egg (large) – 64g (with shell), at room temperature
85g castor sugar
½ tsp salt
100g thick coconut milk (canned or fresh)
30g salad oil
200g cake flour
1.5 tsp double acting baking powder
Methods:
Mix cake flour and baking powder together. Sieve and set aside.
De-skin pumpkin, cut into small cubes, steam and mash with a fork. Set aside.
Preheat steamer – Fill a cooking pot or wok with water and bring water to a boil. Place a steaming rack. Wrap the lid with a piece of cloth to avoid condensation during steaming
In a mixing bowl, beat egg until foamy with a hand whisk.
Add in sugar and salt. Continue beating until well combined and the sugar and salt are dissolved.
Add in coconut milk, oil and pumpkin in sequence. Mix until well combined for each addition.
Make a well in the middle of the flour mixture from step (2). Pour the wet mixture from step (6) into it in 2-3 batches. Use a spatula to fold in the wet mixture until blended and no traces of flour.
Spoon the batter into the lined pudding moulds until 80% full.
Steam on high heat for about 15 minutes.
Once it's done, remove the pudding moulds from the cooking pot or wok and transfer to a cooling rack.
Best to serve warm.
Notes:
I used Australian pumpkin. If you use local pumpkin, then you need to add more sugar.
Extra muffins can be frozen in the fridge for later consumption. Before eating, remove from the freezer, thaw slightly and steam again for 10-12 minutes until the muffins are soft.
If you find the muffins are a bit dry, add a dollop of jam (ie strawberry jam) onto the muffins.
*This steamed pumpkin muffins recipe was modified from Table for Two and More and Yochana Cake's Delight.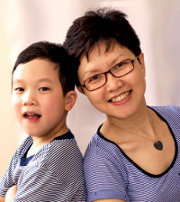 By Low Lai Kuan
Low Lai Kuan is a stay-at-home mother who is passionate about providing a well-balanced and healthy meal to her family. Since 2008, she started her food blog to share about cooking for toddlers. Several of her works had been featured in newspapers, magazine and online media. Her website is food-4tots.com
This recipe was published in The New Age Parents e-magazine April/May 2012.
If you find this article useful, do click Like and Share at the bottom of the post, thank you.
Want more comprehensive info? Check out our e-guides here.