On many occasions, I have heard how a couple's relationship can suffer a strong beating after their bundle of joy has arrived. You are constantly tired because you just had a baby. You have domestic help, but are they reliable?
Your husband hips in to help, but is it truly enough? Or is he giving you more trouble and pressure with his complaints, on how he doesn't receive any TLC (tender loving care) from you anymore? There are not enough hours in the day to squeeze in everything that needs to be done. Without constant effort and understanding, the loving couple who started a loving family can easily drift apart.
Child at Heart
In most relationships, the woman is the primary nurturer, caring for both the home and the relationship in an instinctively maternal way. Because of this, it's not a surprise that he's remarking about losing your nurturing attention, or sulking about having to share your love, or be resentful about not being the center of your world?
We are all multi-functional beings with numerous roles. He is now a father. Yet, don't forget that he is also a child at heart. He may not admit it, but he enjoys being nurtured by you. Does he love it when you make him a sandwich, run him a bath, surprise him with a treat, and care for him when he's sick? Do some of these gestures from time to time, and watch how his eyes sparkle with childlike delight.
Assure, and Reassure Him
You have the ability to ease his fears. Assure him, frequently that you have enough love to go around. Learn how women you admire make time for their relationship as well as their kids. Discuss how, as a couple, you can establish ground rules and traditions to make sure you keep the romance alive, from committing to a weekly 'date night' to ensuring a bedtime routine that allows for couple intimacy.
Implement What's Feasible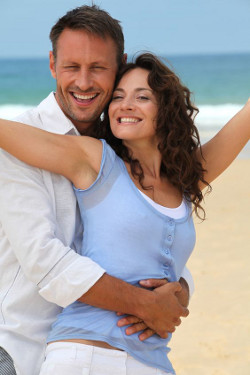 It's imperative to carve out time to spend with each other. Treat it as you would with a work appointment. Yes, it sounds extremely unromantic, yet is necessary when your schedules become erratic. This might be the one thing that might save your sanity and even marriage. And, if possible, go somewhere out of the house. Hire a babysitter (or ask a relative or friend to watch the kids), go out to dinner, and take the time to stare into each other's eyes again. Go to a movie and snuggle up to him in the dark. Take a walk on the beach, listen to the waves and reconnect. After all, you married because you loved him – not to run a childcare service with him!
Note to Anxious Parents
I already know what some of you are thinking – "I want to, but I can't because"…
My child will cry his or her eyes out without me/ us around. Your child is in good care, is more resilient than you think, and will get used to the idea of you needing 'me' or 'daddy-mommy' time.
My child gets jealous when we are affectionate in any way. Your child doesn't understand that this is what is important for your relationship but he/she will get used to it and see it as the normal, healthy behaviour that it is.
My child ___________________ (fill in the blank). Trust me, your child will live and thrive.
Never forget, your marriage is the backbone of your family. It needs to stay strong in order for your child to be happy, healthy and to ensure the longevity and sturdiness of your family. Long after your kids are grown and gone, you two will still be together. Remember your other 'baby'.
By Dr Martha Lee, Eros Coaching.
Dr Martha Lee is Founder and Clinical Sexologist of Eros Coaching. A certified sexologist with a Doctorate in Human Sexuality, she provides sexuality and intimacy coaching for individuals and couples, conducts sexual education workshops and speaks at public events.
* * * * *
Like what you see here? Get parenting tips and stories straight to your inbox! Join our mailing list here.
Want to be heard 👂 and seen 👀 by over 100,000 parents in Singapore? We can help! Leave your contact here and we'll be in touch.