The Yong Siak Children's Street Trail is here!
The annual children-only street event is taking place on 29 July 2018, Sunday in Tiong Bahru, Yong Siak Street.
Follow the trail around Yong Siak Street for hidden treasures and activities happening throughout the day at participating stores, from a magical muffin making workshop and a balloon party to pin the ice cream on the cone games and a secret fishpond!
So come and conquer Yong Siak Street, 1 sticker at a time!
Date: 29 July 2018
Time: 10am – 5pm
Venue: Yong Siak Street, Tiong Bahru Singapore 168642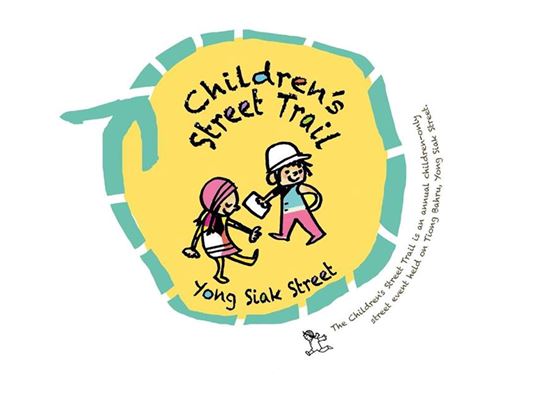 Conquer the Yong Siak Street Trail!
Join in activities at each store and collect stickers as you go to redeem a Goodie Bag*!
How to participate:
Collect a Children's Street Trail fan from any participating store
Join in activities from participating stores to collect stickers
Collect 4 or more stickers for a Children Street Trail Goodie Bag* (*limited to the 1st 100 lucky kiddos / redeem at information booth)
Disclaimers / T&C
Fees apply (please check with respective stores)
Parents, remember to keep your little munchkins in sight at all times.
Participating Stores:
Plain Vanilla | Woods in the Books | nana & bird | IKYU | Creamier Tiong Bahru | NEAT Salon | KWANI
Program Highlights:
Plain Vanilla Bakery
Magical Muffin Making Workshop
Whisk together a special muffin concoction with your favourite fillings mixed in! Pop them in our magic oven, and you'll have something delicious to bring home to share.
10am / 11.30am / 1pm / 2.30pm / 4pm; 30 minutes; $28 per pax (pre-registration on the day)
Cookie Critter Dress Up!
Create your own animal cookies with our cookie decorating kits! Put your own spin on them; dress them with coloured icing and a variety of colourful sprinkles and scrumptious toppings.
All day; $8 per pack
Feed The Hungry Bunnies
Help us keep our bunnies away from the garden! Test your aim, throw them some carrots, and earn a sticker if you succeed at keeping our hungry bunnies nice and full.
All day; Free
Woods in the Books
Little Treehugger Game and Toymaking
Save our planet! Play with a giant eco-living game and learn to make a toy out of upcycled materials. We'll discover all about how to keep our planet green!
10am / 11am / 12pm / 2pm / 3pm / 4pm; 1 hour; $8 per child (pre-registration on the day)
Fishpond Catch and Count
Do you know about the secret fishpond on Yong Siak Street? Let's catch fish together and win prizes! Free popsicles for all little anglers.
All day; $8 per child (pre-registration on the day)
Creamier Tiong Bahru
Pin the Ice Cream on the Cone
Play this fun game and stand a chance to win exciting ice cream goodies!
11am – 5pm; Free
NEAT Salon
Mocktail for Kids
Shaken or Stirred? A chance for you try out making a mocktail with full bar apparatus. You get to enjoy the drink or treat your parents with it!
11am – 5pm (while stocks last); $15 per child (1 drink per try)
IKYU
Giveaway cup ice cream for good kiddos!
11am – 5pm (while stocks last); Free
nana & bird
Make Your Own Flower Cone by 花花世界
Functioning as the floristic alter-ego of Susanna Tan, 花花世界 (Fah Fah Sai Gai) is the culmination of everything flowers. Watch how they transform nana & bird into a floral wonderland and have the young ones decorate their very own flower cone.
All day (while flowers last)
Happiness Is… A Balloon Party
Come and be mesmerised by our talented balloon artist who will twist and transform balloons into all kinds of wonderful objects!
Join us and you get to bring one of the balloon sculptures home too!
1pm – 4pm; Free
KWANI
Make Your Own Special Cute Handbag
Stamp, stick, colour and cut to make your own special handbag!
12pm – 5pm; Free
For more information, visit here
---
Make full use of the weekend and take your kids out to these family-friendly events in Singapore!