Is your child eating too much, or too little? Ms Suzanne Khor, Senior Dietician at Thomson Paediatric Centre (The Child Development Centre) answers some questions on children's appetite.
Q: My 2-year-old child has a big appetite and eats a lot. She always eats two portions more compared to other children. I am worried that she will be overweight. Should I start limiting her food intake?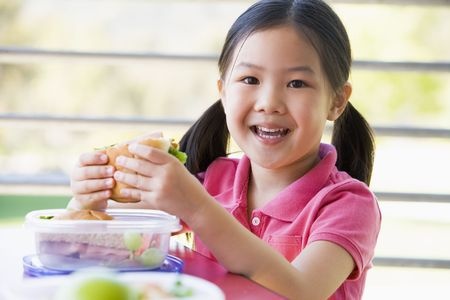 First, you would need to determine if she is indeed overweight. Check her growth curve and weight history. This information should be available in her health booklet. If her weight and height are maintained along with similar percentiles, then she may not be overweight. If you are unsure, it is best to see a doctor or dietitian who can assess if her weight is normal.
If a child tends to eat a lot and is constantly hungry, a component in her diet that you might want to increase is fibre. Include more vegetables and fruit in her diet so that she feels full after a meal. Also, choose whole grains instead of refined grains / white bread / white rice.




Q: My child eats very little although he is very active. I am worried he is not getting enough nutrients and energy from his food. What can I do?
You can aim to give your child a balanced diet for his age. A child who is very active may require more energy compared to his peers of the same age. You can offer your child frequent meals and snacks throughout the day to keep his energy levels up. For young children, you can generally feed according to their appetite.
The Health Promotion Board recommends the 'My Healthy Plate' model to provide a visual representation of a healthy meal:
Fill half your plate with Fruit and Vegetables
Fill a quarter of your plate with Whole-grains
Fill a quarter of your plate with Meat & Others
Use healthier oils
Choose water
Be active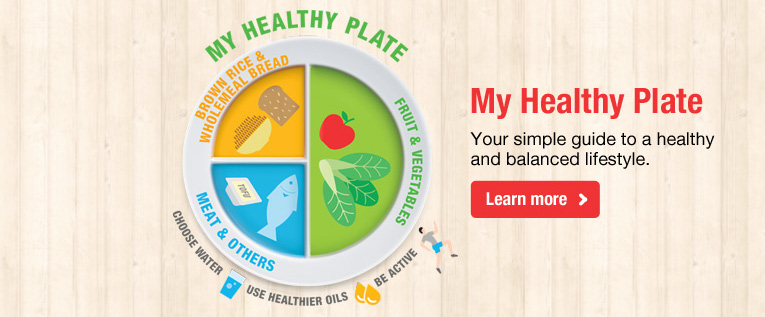 Image source: Health Promotion Board
By using My Healthy Plate, Singaporeans are reminded to adopt healthy eating habits such as choosing water over sweetened beverages which are a source of empty calories or, in other words, calories with little nutritive value. On top of achieving a wholesome diet, My Healthy Plate also advocates integrating physical activity to complete a healthy lifestyle. It is great that your child is active as physical activity is beneficial for your child's overall development.
My Healthy Plate serves as a motivational rather than prescriptive tool for Singaporeans to build balanced meals. Instead of defining a certain number of calories or servings per day from each food group, My Healthy Plate emphasised the quality of diet at each meal. Singaporeans can follow the important principles from My Healthy Plate and customise them according to their own lifestyle and eating patterns.
By Ms Suzanne Khor, Senior Dietician at Thomson Paediatric Centre, The Child Development Centre Novena Medical Centre.
This article was first published in The New Age Parents e-magazine.
If you find this article useful, do click Like and Share at the bottom of the post, thank you.
Like what you see here? Get parenting tips and stories straight to your inbox! Join our mailing list here.