Join us in celebrating the outstanding achievements of these remarkable brands as they emerge victorious in The New Age Parents TNAP Awards 2023 (Education)! Get an exciting chance to win fantastic prizes by participating in our TNAP Awards 2023 Spot & Win Contest!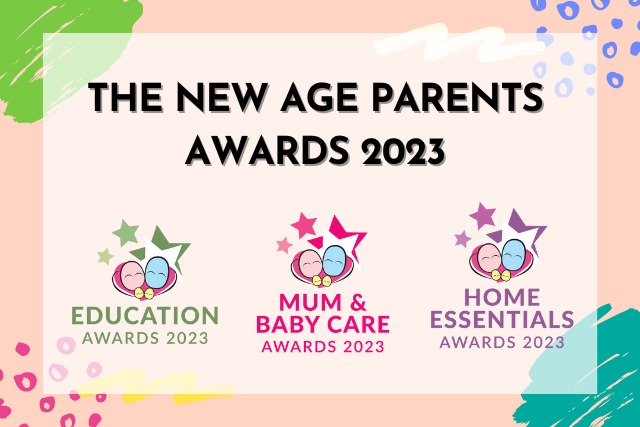 EDUCATION
Cambridge Pre-school
Best Steam Curriculum Preschool
It's important to prepare your child for the future. What better partner to do that than Cambridge Pre-school, an award-winning institution with an innovative iSTEAM curriculum.
Cambridge Pre-school believes in nurturing creativity and critical thinking, providing children with the skills needed to succeed in a rapidly evolving world. Through the integration of Artificial Intelligence (AI), children engage in interactive learning experiences, while the focus on Human Intelligence (HI) supports their cognitive development.
Cambridge Pre-school offers a nurturing environment for children aged 18 months to 6 years, with selected locations providing infant care for 2 to 18 months. Unlock your child's future potential with a visit to Cambridge Pre-school today and experience their forward-thinking educational approach.
Read more ▶️ Hone a Learner, Thinker, and Creator at Cambridge Pre-school: Preparing Your Little One for Success.
*******************************
Chengzhu Mandarin Centre
Best Interactive Chinese Enrichment Programmes
In a world with a billion Mandarin speakers, fluency and cultural understanding are paramount. Foster your child's passion for Mandarin and Chinese culture with Chengzhu Mandarin Centre's Interactive Programs.
Tailored for ages 6 months to 12 years, Chengzhu offers award-winning enrichment, nurturing effective communication skills. EduDrama® methodology merges drama with engaging elements, crafting optimal learning environments. Through storytelling, role play, and traditional arts, children actively learn, establishing a strong foundation for language and cultural exploration.
From infant PlayNest to Primary 6, Chengzhu's programs nurture curious minds, confident speakers, and creative writers. Step into the StoryHouse, a vibrant library, fostering a lifelong love for reading and Chinese culture.
Empower your child today Chengzhu!
Read more ▶️ Master Mandarin with Chengzhu Mandarin Centre's Interactive Programmes.
*******************************
ChildFirst Pre-school
Best Trilingual Preschool
ChildFirst is a cutting-edge educational institution that offers an innovative iUnique Curriculum that prepares children for a future dominated by AI and technology. Recognizing the importance of language fluency, the school immerses children in English, Chinese, and Coding, giving them a competitive edge in a globalized world.
With a strong focus on AI education, children master coding, fostering essential computational thinking skills. Additionally, ChildFirst values the development of uniquely human qualities, such as creativity, emotional intelligence, and moral values. By nurturing each child's unique talents, the school empowers them to excel in all aspects of life. Secure your child's future with ChildFirst Pre-school today!
Read more ▶️ Future-Proof Your Child's Education with ChildFirst Pre-school's iUnique Curriculum and Trilingual Environment.
*******************************
Chiltern House Preschool
Best Bilingual Preschool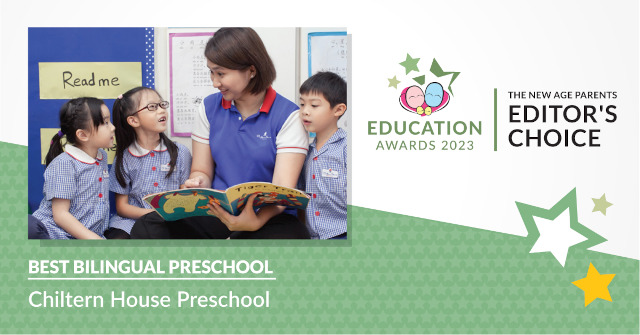 Chiltern House Preschool is more than an early education institution—it's a transformative journey for young minds. Pioneering bilingual education since 1995, Chiltern House offers a holistic curriculum for ages 18 months to six years. With Language & Literacy, Mathematics, Mandarin, Music, and bilingual Speech & Drama woven into an EduDrama® methodology, it prepares children for primary school while nurturing critical thinking and bilingual communication. Valuing individuality, Chiltern House fosters a warm, play-centric environment, where learning is a joyful exploration. Choose Chiltern House for a path to exceptional bilingual preschool education.
Read more ▶️ Chiltern House Preschool: A Pioneer in Bilingual Preschool Education.
*******************************
EDOOVO International Pte. Ltd
Best Multi-Subject Online Enrichment Platform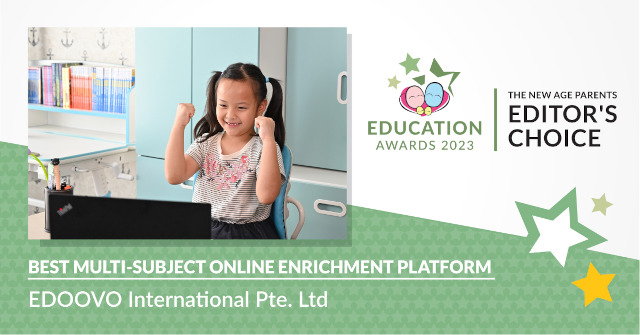 EDOOVO is an award-winning online learning platform designed for children aged 3 to 8 years, offering a holistic curriculum tailored to young learners' needs. It covers core subjects like English, Chinese, and Mathematics, introducing concepts through an inquiry-based approach for interactive and engaging learning experiences.
Adapted from the MOE framework, the multi-subject approach fosters bilingual communication and analytical skills. Qualified teachers conduct real-time classes with small class sizes, ensuring personalized attention and a supportive learning environment. Interactive rewards, parental involvement through lesson replays and activity sheets, and flexible learning options make EDOOVO a fun, effective, and convenient platform for young learners worldwide!
Read more ▶️ Exploring the Benefits of Multi-Subject Online Enrichment Platforms – EDOOVO.
*******************************
Futurum Academy
Best STEAM Enrichment Course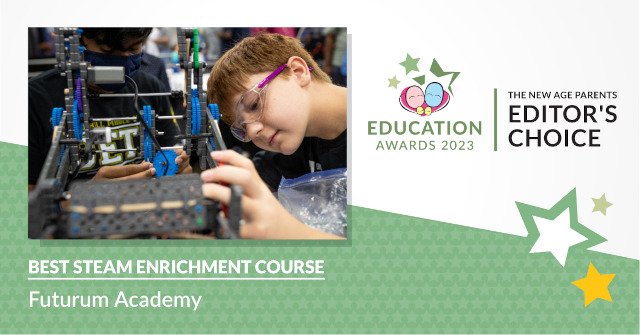 Prepare your child for the future with Futurum Space Pte Ltd's exceptional STEAM enrichment. Embracing Science, Technology, Engineering, Arts, and Math, Futurum Space equips students with critical thinking, creativity, and collaboration skills. Through hands-on experiences, from robotics to 3D design, students thrive in a dynamic learning environment. The Spiral Curriculum ensures age-appropriate development, while international competitions showcase their growth. Problem-Based Learning nurtures innovation, fostering knowledge acquisition and effective communication. Join Futurum Space Pte Ltd and empower your child for success in a rapidly evolving world!
Read more ▶️ How a STEAM Education at Futurum Academy Benefits Students.
*******************************
Camp GungHo by Get GungHo
Best Holiday Camps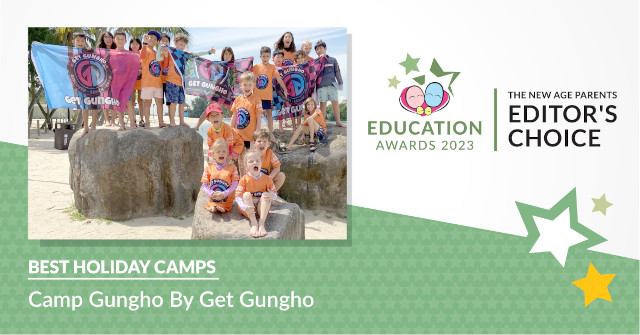 Discover the best holiday camp experience for your child with Get GungHo's Camp GungHo in Singapore! Created by former international school leaders, these camps offer an exceptional blend of education, adventure, and outdoor learning, leaving a lasting impact!
The immersive thematic journeys feature STEAM learning, games, quests, and role-playing activities, fostering excitement and curiosity. The camps promote inclusivity by connecting children from diverse backgrounds, and encouraging teamwork and communication.
With a focus on outdoor activities, children engage in physical and mental challenges while developing essential skills. Additionally, Camp GungHo's commitment to sustainability ensures an eco-friendly and responsible camp environment. Enroll now for an unforgettable experience that unlocks your child's potential.
Read more ▶️ Best Holiday Camp Experience: Discover the Adventure at Camp GungHo.
*******************************
Happy Train
Best Right Brain Training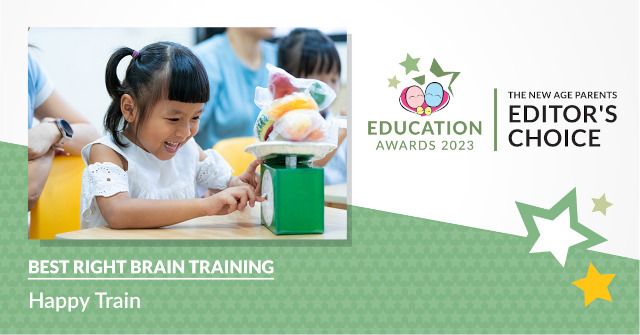 Happy Train is a right brain training program that nurtures happy learners and brilliant minds through its unique HEART framework. Going beyond traditional approaches, it activates the whole brain, emphasizing happiness, experiences, activities, relationships, and techniques.
With lessons conducted in a bilingual environment (English and Mandarin), it provides a strong linguistic foundation. Happy Train's parent-accompanied program creates a nurturing environment for children to explore and learn. Hands-on experiences, stimulating activities, effective communication, and various techniques promote holistic brain development. Additionally, it offers a Japanese program for Japanese speakers. Join Happy Train today to unlock your child's potential and witness their amazing transformation!
Read more ▶️ Nurturing Happy Learners and Brilliant Minds with Happy Train's Right Brain Training.
*******************************
Julia Gabriel Centre
Best in Drama, Communication & Literacy Programmes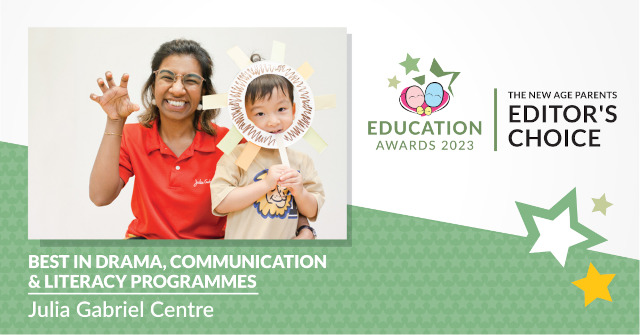 Searching for exceptional drama, communication, and literacy programs to nurture your child's growth? Look no further than the esteemed Julia Gabriel Centre. With a legacy spanning over 30 years, Julia Gabriel Centre is a trailblazer in speech and drama education in Singapore, catering to ages 6 months to 18 years. Their renowned programs empower children through creativity, communication, and self-expression. From infancy to adolescence, Julia Gabriel Centre offers tailored experiences, such as Early Learning for infants, Speech and Drama for young minds, Communication Arts for verbal skills, and Stage Lights for performance art. Enrich your child's journey with Julia Gabriel Centre's holistic education, fostering lifelong skills.
Read more ▶️ Unlocking Your Child's Potential with Julia Gabriel Centre's Speech and Drama Programmes.
*******************************
LCentral
Best Integrated English Programme
Do you know the critical age for nurturing a child's language acquisition? It's during those formative years when language skills lay the foundation for academic success. As parents, we often worry about our children's communication, comprehension, and writing abilities.
Enter LCentral, the forefront of English enrichment, revolutionizing literacy with their innovative program, ELevate, designed for children aged 5 to 8. This program seamlessly integrates English literacy with coding and STEAM (Science, Technology, Engineering, Arts, and Mathematics), enhancing language skills while fostering proficiency in other crucial subjects.
In a market filled with enrichment programs, LCentral's ELevate stands out as an all-encompassing experience that nurtures academic achievement without stifling curiosity, creativity, or innovation!
Read more ▶️ An Innovative Literacy Programme to Advance Your Child's Language Capability.
*******************************
Raffles Kidz International Pte Ltd
Best Preschool for Primary School Readiness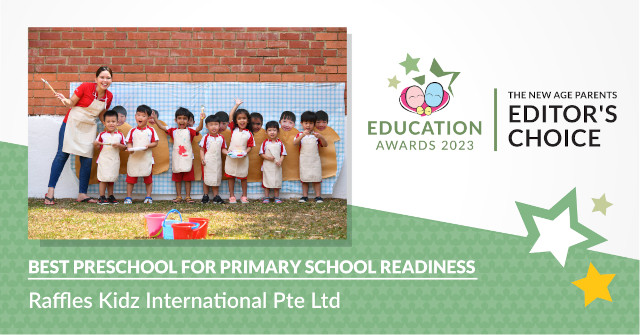 Unlock your child's boundless potential with Raffles Kidz International – where early education is an exciting journey of discovery. From nurturing bilingual excellence to fostering critical thinking, Raffles Kidz stands as a beacon of preschool brilliance.
With an innovative environment that encourages exploration and play, your child's imagination will soar. Expert educators, armed with knowledge and passion, ensure a seamless transition to primary school readiness. Raffles Kidz's accolades, including "Top 10 Preschools in Singapore 2023" and "Best Bilingual Preschool 2023," underscore their commitment to excellence. Prepare your child for a future of success – book a school tour and witness the magic unfold!
Read more ▶️ Achieving Primary School Readiness with Raffles Kidz International.
*******************************
Singapore Hokkien Huay Kuan Arts & Cultural Troupe
Best Children Chinese Learning Centre
Singapore Hokkien Huay Kuan Arts & Cultural Troupe stands as the Best Children's Chinese Learning Centre, a beacon of heritage-infused growth. Crafted to shape skills, ignite creativity, and foster a deep appreciation for the Chinese language and culture, this renowned institution has been nurturing young minds since 1986. Offering a diverse range of courses, from Speech & Drama to Broadcasting, Creative Writing, Fun Chinese, and Cultural Performances, the holistic approach nurtures creativity, critical thinking, and cultural awareness. Led by expert instructors and grounded in a 180-year legacy, the institution offers an enriching journey to empower young learners in their linguistic and cultural endeavors.
Read more ▶️ Unveiling a World of Inspiration with Singapore Hokkien Huay Kuan Arts & Cultural Troupe.
*******************************
Singapore Hokkien Huay Kuan Preschool
Best Preschool with a Holistic Living Skills Programme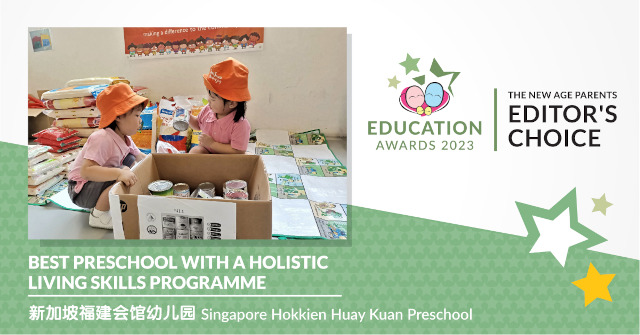 Looking for an engaging and award-winning bilingual pre-school in Singapore? Singapore Hokkien Huay Kuan Preschool is one that caters to children aged three to six years old! The school offers a comprehensive Chinese Language and Culture program, along with a strong emphasis on practical life skills and character development.
Each day is filled with exciting activities, from morning assembly songs in Mandarin to learning English and Mandarin words through music and storytelling.
With a focus on hands-on learning, students get to participate in Living Skills sessions and even maintain a Living Garden where they grow vegetables and learn about nature. The school is a highly sought-after choice for parents in Singapore. You could join them too!
Read more ▶️ My Exciting Day at Singapore Hokkien Huay Kuan Preschool.
*******************************
Singapore Hokkien Huay Kuan SchoolAfterSchool
Best Bilingual Student Care Centre
Are you seeking a secure haven for your child's afternoons, one that infuses joy, growth, and a profound connection to Chinese values and heritage? Look no further than Singapore Hokkien Huay Kuan SchoolAfterSchool, your destination for nurturing your child's strength, problem-solving abilities, and life skills to unlock their full potential.
This bilingual student care center offers a holistic approach, encompassing homework support, language enrichment, outdoor adventures, and gardening exploration. With a comprehensive focus on Character Development, Intellectual, Physical and Social Skills Development, and Aesthetic and Creative Cultivation, the center provides homework supervision, Chinese Speech and Drama Training, Chinese Recitation, daily nutritious meals, and refreshing tea breaks. Their fully air-conditioned facilities and well-equipped open concept play area ensure a conducive environment for your child's growth. Foster a brighter future for your child at SchoolAfterSchool Singapore Hokkien Huay Kuan!
Read more ▶️ Unveiling a World of Inspiration with Singapore Hokkien Huay Kuan Arts & Cultural Troupe.
*******************************
Singapore Chinese Dance Theatre
Best Chinese Dance
Looking for a fun and engaging way for your child to connect with Chinese culture? How about through dance? The Singapore Chinese Dance Theatre (SCDT) offers the best Chinese dance education for children, teaching Chinese dance to toddlers, children, and pre-teens and immersing them in the vibrant tapestry of Chinese traditions.
Their comprehensive talent development courses include parent-child dance, first step dance, and a unique Kungfu Dance integrating martial arts and dance movements. The Chinese Folk Dance Graded Examination Syllabus, designed by professionals from Beijing Dance Academy, exposes students to diverse dance repertoires. SCDT also offers performance troupes, showcase opportunities, and a Dance Development Roadmap for aspiring dancers!
Read more ▶️ Discover the Beauty of Chinese Dance and Culture with Singapore Chinese Dance Theatre.
*******************************
Writers Studio School of English
Best Children's Writing Programme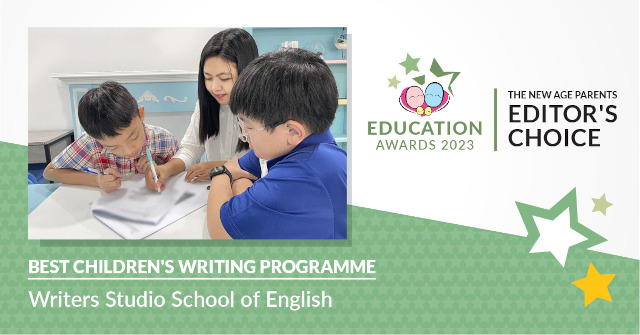 Step into the world of literary excellence at the Writers Studio School of English, a prestigious institution renowned for nurturing young writing talents across Singapore. At the heart of this educational haven lies a unique approach, finely tuned to each student's starting point. Seasoned and MOE-registered instructors lead the way, maintaining a small teacher-student ratio to offer personalized support and bespoke learning paths. Through interactive and engaging classes, the Writers Studio School of English cultivates creativity and refines language skills, ensuring a holistic mastery of PSLE and beyond.
Delve into the realm of the STARBRIGHT Creative Writing programme, crafted to kindle passion and nurture burgeoning talent, empowering students to become independent writers and aspiring published authors. For virtual learners seeking the same enriching experience, STARBRIGHT Lite stands ready online too!
Read more ▶️ Writers Studio School Of English: A Look Into The Best Children's Writing Programme In Singapore.
*******************************
Tree Art
Best Children Art School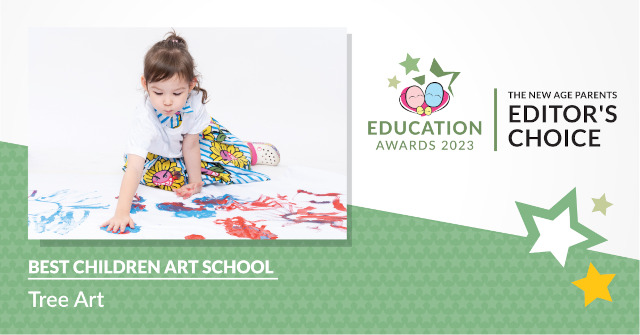 Since its inception in 2015, Tree Art has been dedicated to providing exceptional international art courses exclusively designed for children. At Tree Art, creativity knows no bounds; each lesson embraces diverse themes, igniting students' imagination and yielding original artworks.
Students are exposed to a wide array of drawing mediums, including gouache, water painting, pastels, and more while being encouraged to cultivate their artistic styles. Boasting passionate instructors, the school offers personalized attention, helping students hone their skills across various art forms.
With a complimentary trial class on offer, Tree Art ensures a seamless journey to artistic growth for aspiring young Picassos and Van Goghs!
Read more ▶️ 5 Ways Art Classes Can Benefit Children.
*******************************
The New Age Parents – TNAP Awards 2023 Spot & Win Contest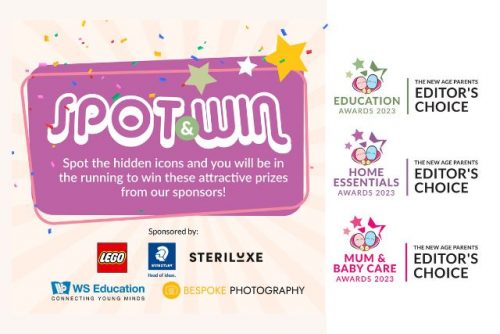 Ready to snag some enticing prizes? Wait no more! Get in on the action with our The New Age Parents Awards 2023 Spot & Win Contest for a shot at winning. Head over to the TNAP Awards 2023 Spot & Win Contest to join in. Best of luck!
* * * * *
Like what you see here? Get parenting tips and stories straight to your inbox! Join our mailing list here.
Want to be heard 👂 and seen 👀 by over 100,000 parents in Singapore? We can help! Leave your contact here and we'll be in touch.