With lifelong learning being a critical element in education, parents seek more than just a preschool; they seek a transformative journey that nurtures their children's growth, ignites curiosity, and lays the foundation for a future of success.
The New Age Parents had the privilege to interview Chiltern House Preschool, a pioneer in bilingual education in Singapore, to uncover the secrets behind its reputation as the ultimate choice for parents seeking a holistic and enriching bilingual preschool experience.
The New Age Parents (TNAP): Thank you for joining us today. Could you start by telling us what sets Chiltern House Preschool apart from others?
Chiltern House: Our pleasure. At Chiltern House Preschool, we believe in the power of comprehensive bilingual education. Established in 1995, we've earned our stripes by providing children aged 18 months to six years with an educational experience set in our high-quality curriculum, warm environment, and holistic approach to child development. This has earned us a unique place in the hearts of parents seeking the best for their children.
TNAP: Can you elaborate on your curriculum and approach to teaching?
Chiltern House: Absolutely. Our programmes, ranging from Pre-Nursery to Kindergarten 2, are meticulously designed to prepare children for a confident entry into primary school. We've crafted a curriculum that weaves together essential elements like Language and Literacy (using the Oxford Reading Tree scheme), Mathematics (through a holistic five-strand programme), Physical Education, Cooking, Mandarin, Music, and bilingual Speech & Drama (both in English and Mandarin). Our Speech and Drama programme even cumulates in a Trinity College London Young Performers Certificate.
TNAP: That sounds impressive. What's the secret behind your teaching approach?
Chiltern House: Our teaching methodology revolves around EduDrama® and a child-centered approach. We understand that children learn best through play and exploration. Hence, we developed our EduDrama® approach to create a joyful and positive environment where children actively engage, inquire, and discover, with positive communication, clear learning structures, and mindful educators. This supports our curriculum which develops future-ready skills such as critical thinking and effective bilingual communication.
TNAP: What should parents look out for when considering a bilingual preschool?
Chiltern House: Excellent question. Choosing a bilingual preschool is a pivotal decision for parents. Here are key factors parents should consider:
Comprehensive Curriculum: Look for a preschool that offers children a well-rounded curriculum nurturing cognitive, social, emotional and physical development.
Qualified Educators: Educators who understand the nuances of teaching young minds are crucial.
Holistic Approach: Ensure the preschool provides a child-centred approach, not just focusing on academics but promote children's self-esteem and self-confidence through sensitive and responsive interaction.
Cultural Exposure and Effective Bilingual Communication: Bilingual education extends beyond language – a good bilingual preschool should incorporate cultural activities and learning through drama, music and movement to empower children to communicate fluently in both languages.
Safe Environment: A nurturing, safe environment is essential for children's growth and development, where they can learn through play and develop healthy relationships with teachers and peers.
TNAP: How does Chiltern House Preschool embody these factors?
Chiltern House: We've woven these factors into our very fabric. Our pedagogy recognises each child's individuality, valuing their unique interests and abilities. In addition, our comprehensive curriculum stimulates cognitive, emotional, and social development, equipping students with vital 21st Century Skills. Our child-centered approach creates a warm, friendly, and stimulating environment that values play as the primary mode of learning.
TNAP Awards 2023 Spot & Win Icon: 🍎
TNAP: How do you support parents in their child's learning journey?
Chiltern House: We celebrate each child's uniqueness and value parents as partners in education. We provide an environment where parents, teachers, and peers are influential role models. Our philosophy revolves around open communication, valuing self-esteem, and nurturing curiosity.
TNAP: I'm excited to learn more about your programmes. Can you elaborate on the levels you offer?
Chiltern House: Certainly. We offer full-day and half-day programmes for children of different ages:
Pre-Nursery: An independent bilingual programme for children from 18 months to 3 years, nurturing developmental milestones via experiential learning.
Nursery 1 & 2: Bilingual programmes focusing on language, mathematics, self-help, group work, and independence.
Kindergarten 1 & 2: Emphasis on strong reading and writing skills, as well as fostering responsibility and teamwork. Mandarin classes are conducted daily.
TNAP: Lastly, what message would you like to convey to parents seeking the best bilingual preschool education for their children?
Chiltern House: We're not just a preschool; we're a transformative experience that sets the stage for children's lifelong learning. With our comprehensive bilingual education, joyful environment, and nurturing approach, we're confident in our ability to provide your children with a great start on their journey towards a brighter future. As you consider the best bilingual preschool for your children, remember, excellence isn't just a destination, it's a path; and that path begins at Chiltern House Preschool.
To learn more about Chiltern House Preschool's award-winning bilingual preschool education, visit chilternhouse.com.sg.
This post is brought to you by Chiltern House Preschool.
By Julia Chan.
---
The New Age Parents – TNAP Awards 2023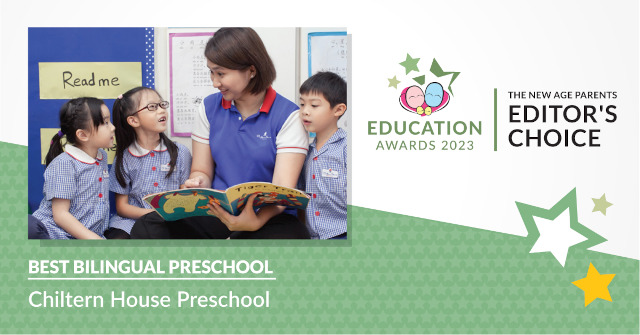 Congratulations to Chiltern House Preschool for being the winner of TNAP Awards 2023 (Education) – Best Bilingual Preschool.
Find out who are the other winners of the TNAP Awards 2023 (Education) here!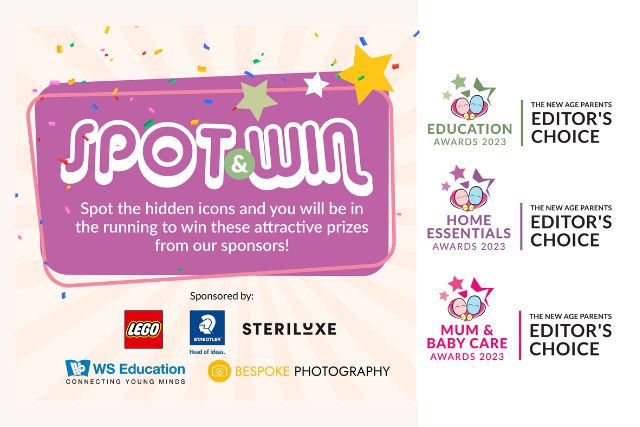 Ready to snag some enticing prizes? Wait no more! Get in on the action with our The New Age Parents Awards 2023 Spot & Win Contest for a shot at winning. Head over to the TNAP Awards 2023 Spot & Win Contest (Coming soon!) to join in. Best of luck!
#TNAPAwards2023 #TNAPAwards #thenewageparents #TNAPEditorsChoice #sgeducationawards #sgeducation #sgfamiy #sgkids #TNAPgiveaway
* * * * *
Like what you see here? Get parenting tips and stories straight to your inbox! Join our mailing list here.
Want to be heard 👂 and seen 👀 by over 100,000 parents in Singapore? We can help! Leave your contact here and we'll be in touch.