Wish your little one was less detached from Chinese culture? It's important to teach kids about culture and tradition. But let's face it – it can get pretty boring, even for you! If you're looking for fun, new ways to get your kids interested in Chinese culture, Singapore Chinese Dance Theatre (SCDT) has got the answer for you: DANCE!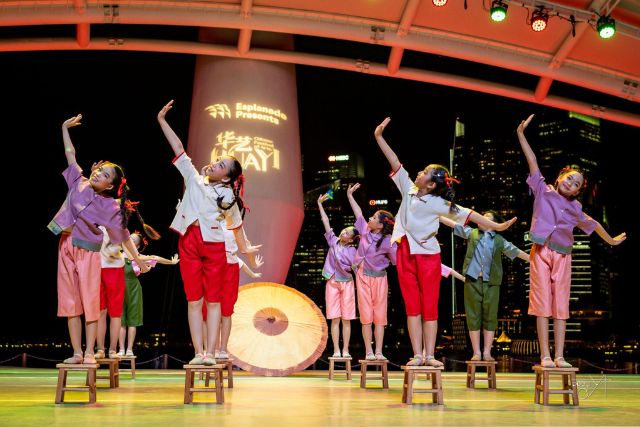 Since 1990, the popular dance institution has been dedicated to providing Chinese dance education and performance opportunities for dance enthusiasts.
With their exceptional courses designed for toddlers, children, and pre-teens, your child will not only learn the art of dance but also immerse themselves in the vibrant tapestry of Chinese culture. Join SCDT on this captivating journey and watch your child discover their talents while also discovering the beauty of Chinese dance and culture.
Here's what your little one can look forward to!
SCDT offers dance training for all ages, interests, and abilities:
Parent-child Dance
Bond with your child while fostering physical, emotional, and creative development through SCDT's Parent-child Dance class! Suitable for ages 3 to 4.5, this program allows parents and children to explore movement, music, stories, and play together, creating lasting memories and nurturing a love for dance.
First Step Dance
For children of ages 4.5 to 6, the First Step Dance class offers a tailored curriculum to build a strong foundation in Chinese dance. Through lively choreography and music, your child will develop flexibility, posture, grace, and musicality, all while having a blast!
Kungfu Dance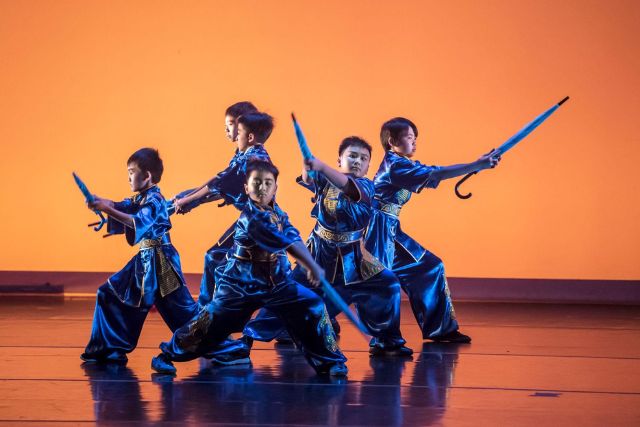 Ignite your child's passion for both Chinese dance and martial arts with a unique Kungfu Dance class, designed for ages 6 to 12. They will learn basic Chinese martial arts techniques, including punches, kicks, jumps, and somersaults, while seamlessly integrating them with dance movements. Watch as they strike formidable poses and move to the rhythm of the music, building strength, coordination, and self-confidence.
Chinese Folk Dance Graded Examination Syllabus
Enroll your child, aged 6 to 18, in SCDT's Chinese Folk Dance Graded Examination Syllabus, developed by highly-acclaimed professionals from the world-renowned Beijing Dance Academy. This comprehensive program consists of 12 examinable grades, exposing students to the diverse dance repertoires of China's 56 ethnic groups. Not only will they attain dance accreditations, but they will also foster a deep appreciation for Chinese dance and culture.
Performance Troupes and Showcase Opportunities
For pre-professional dance training, SCDT offers three performance troupes: Children, Junior, and Youth. These troupes provide young dance enthusiasts with an avenue to enhance their skills and participate in various performances, competitions, and cultural exchanges locally and abroad. Membership in these troupes is through audition, ensuring a dedicated and talented group of individuals.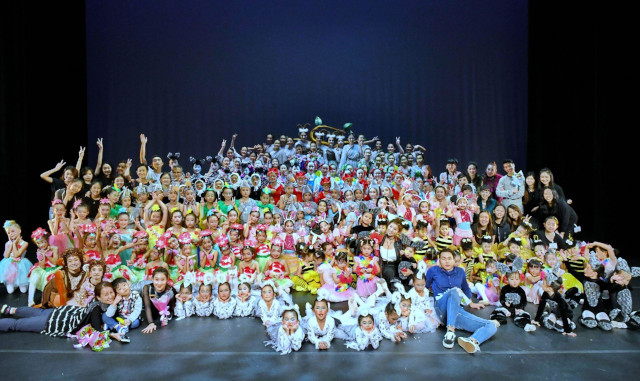 In addition, the team at SCDT believes in nurturing their students' confidence and allowing them to shine. Through amazing showcase platforms like Taking Flight and Under the BIG Tree, students have the chance to showcase their talents in a professional theatre setting and an outdoor dance carnival respectively. These events not only provide your child with a chance to perform on stage but also allow them to connect with fellow dancers, creating long-lasting friendships and memories.
Dance Development Roadmap
That's not all – SCDT has also meticulously curated a Dance Development Roadmap, providing ample opportunities for those who want to bring their dance skills to the next level. The roadmap paves a clear pathway for dance enthusiasts, allowing them to advance from talent development training classes to pre-professional dance training and finally making a career out of dance!
Some of SCDT's dance educators took this very path to be where they are today, a testament to SCDT's effort in nurturing aspiring dance talents!
Click here for a larger view.
Deep Appreciation for the Chinese Culture
Beyond just dance classes, SCDT offers a unique opportunity for your child to immerse themselves in Chinese culture. From learning traditional dance forms to understanding the rich heritage and customs associated with each dance, your child will develop a deep appreciation for Chinese traditions, paving the way for them to grow into well-rounded individuals.
TNAP Awards 2023 Spot & Win Icon: 🚗
Convenient Locations and Expert Guidance
SCDT offers dance classes at two convenient locations: East Coast and Toa Payoh. At both these locations, your child will be guided by experts in the field. The team of experienced and dedicated instructors who are passionate about nurturing young talents possess a wealth of knowledge in Chinese dance and are committed to providing a nurturing and supportive environment for your child's growth.
Get into the Groove with SCDT's Chinese Dance Classes
Enrolling your child in dance classes SCDT is an investment in their artistic and personal development. Their diverse range of courses, dedicated instructors, showcase opportunities, and cultural immersion experiences create the perfect environment for your child to thrive.
To embark on this extraordinary journey, visit their website to sign up for dance courses and explore the possibilities that await your child.
If you have any inquiries, feel free to contact SCDT's course administrator via email at education@scdt.com.sg, a phone call at 6589 9501, or WhatsApp at 8752 9501.
Join the SCDT family today and witness your child's transformation into a confident dancer and a culturally aware individual. Unleash their potential, ignite their passion, and let them soar on the stage of Chinese dance and culture!
This post is brought to you by Singapore Chinese Dance Theatre (SCDT).
By Joanne Heng.
---
The New Age Parents – TNAP Awards 2023
Congratulations to Singapore Chinese Dance Theatre for being the winner of TNAP Awards 2023 (Education) – Best Chinese Dance.
Find out who are the other winners of the TNAP Awards 2023 (Education) here!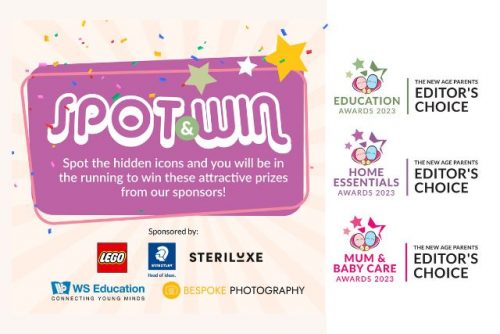 Ready to snag some enticing prizes? Wait no more! Get in on the action with our The New Age Parents Awards 2023 Spot & Win Contest for a shot at winning. Head over to the TNAP Awards 2023 Spot & Win Contest to join in. Best of luck!
#TNAPAwards2023 #TNAPAwards #thenewageparents #TNAPEditorsChoice #sgeducationawards #sgeducation #sgfamiy #sgkids #TNAPgiveaway
* * * * *
Like what you see here? Get parenting tips and stories straight to your inbox! Join our mailing list here.
Want to be heard 👂 and seen 👀 by over 100,000 parents in Singapore? We can help! Leave your contact here and we'll be in touch.