The sponsors of The New Age Parents Awards 2023 Contest deserve our gratitude for generously providing captivating prizes. Discover the awardees of The New Age Parents Editor's Awards 2023 and get an opportunity to win these fantastic rewards.
---
The New Age Parents – TNAP Awards 2023 Spot & Win Contest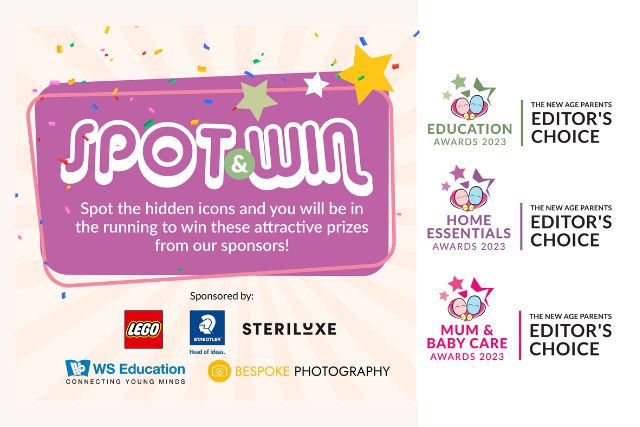 Want to win these prizes? Don't wait any longer! Simply Spot the Hidden Icons in the TNAP Award posts and fill in a simple form to stand a chance to win. There are more than 30 prizes 🎁 to be won!
There will be 2 forms and you will get 1 entry for each form filled.
Form #1 for TNAP Awards (Education)
Form #2 for TNAP Awards (Home Essentials and Mum & Baby Care)
⏳ Giveaway period: Now to 31 October 2023 2359hrs.
🇸🇬 Valid for participants residing in SG only.
How to increase your chance of winning
✅ Share this post and hashtag #TNAPAwards on your Facebook and/or Instagram page (set to public).
Good luck!
✔️ Terms and Conditions:
Winner will have to self-collect the prize from Queenstown MRT.
By participating in the giveaway, it means you agree to the terms and conditions in the link below.
Terms and conditions apply. Please also read our Privacy Policy.
For more contests and giveaways, go to The New Age Parents Contest Page.
---
Below are the details of the sponsors and prizes:
1. Staedtler: Set A x 1 winner, Set B x 1 winner, Set C x 1 winner, Set D x 18 winners
As a brand synonymous with creativity and precision, Staedtler has been a leader in the stationery industry for generations. With a legacy dating back to 1835, Staedtler has consistently pushed the boundaries of innovation, producing high-quality writing and drawing instruments that inspire artistic expression.
With four different bundles for 21 lucky winners, you can expect fantastic rewards like a versatile Coloured Pencil Buddy 3-in-1, Luna Jumbo Colored Pencils, Triplus Fineliner & Colour by Numbers sets, Textsurfer Gel Highlighters, Oil Pastels, and additional Fineliner sets. With Staedtler's generosity, winners can explore their creativity with these exceptional products!
Details:
Set A x 1 winner (Worth $141.21):
Coloured pencil buddy 36p 100% PEFC 3 in 1 (coloured pencil, wax crayon and watercoloured pencil all in one)
Set B x 1 winner (Worth $76.44):
Luna Jumbo Col Pencils 24 FSC 100%
Triplus Fineliner & Colour by Numbers, Horse
Triplus Fineliner & Colour by Numbers, Dinosaur
Triplus Fineliner & Colour by Numbers, Fashion
Double-hole tub sharpener, Cyan
Pencil Mars® Lumog jumbo 100J- 5 degree
Set C x 1 winner (Worth $72.98):
Highlighter Textsurf.cl.10pc wallet
Oil Pastel 10mm in Plastic Box – 24 Colours 241 free 2 colors + free sharpener
Triplus Fineliner & Colour by Numbers, Horse
Triplus Fineliner & Colour by Numbers, Dinosaur
Triplus Fineliner & Colour by Numbers, Fashion
Highlighter Textsurfer gel yellow
Highlighter Textsurfer gel pink
Set D x 18 winners (Worth $39.06):
Triplus Fineliner & Colour by Numbers, Horse
Triplus Fineliner & Colour by Numbers, Dinosaur
Triplus Fineliner & Colour by Numbers, Fashion
For more information on Staedtler, visit here.
*******************************
2. LEGO®: LEGO® Classic 90 Years of Play x 3 winners, LEGO® Classic Space Mission x 1 winner, LEGO® Marvel The Guardians' Ship x 1 winner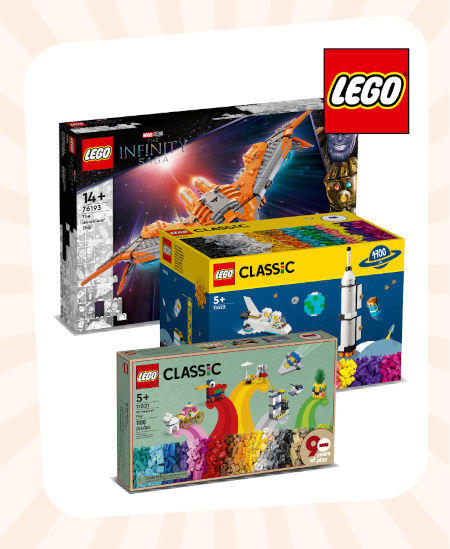 LEGO®, a globally acclaimed brand renowned for its creativity-inspiring building blocks, is proudly joining us as a sponsor. With a legacy spanning decades, LEGO® has become synonymous with imaginative play and learning.
LEGO®'s commitment to sparking creativity and exploration shines through in the items they're graciously sponsoring. The LEGO® Classic 90 Years of Play set (Code 11021), priced at $79.90, encapsulates the essence of building possibilities with its versatile pieces that transcend generations.
For those with intergalactic aspirations, the LEGO® Classic Space Mission set (Code 11022), priced at $129.90, offers an out-of-this-world adventure through its cosmic-themed pieces, allowing young and old minds alike to craft their spacefaring tales.
And that's not all. The Guardians' Ship set (Code 76193), valued at $159.90, propels builders into the Marvel Universe with a captivating vessel ready for exciting escapades and imaginative storytelling.
For more information on LEGO®, visit here.
*******************************
3. Steriluxe: Steriluxe UVee Sterilisers (Worth $388) x 2 winners
Steriluxe, a burgeoning local lifestyle brand, is dedicated to enhancing the quality of life within homes through innovative solutions. As part of their contribution to our contest, Steriluxe is graciously providing two of their cutting-edge UVee Sterilisers, a prize package worth $388.
The Steriluxe UVee Steriliser stands as an essential home appliance, particularly for expecting or new mothers. Leveraging the latest advancements in UV LED technology, this steriliser offers a chemical-free process that effectively disinfects and dries items. In a mere 7 minutes, it eradicates 99.99% of bacteria, viruses, and mold, ensuring a clean and safe environment for the family. From makeup brushes to baby bottles and toys, the UV Steriliser covers a wide range of items that require thorough disinfection!
For more information on Steriluxe UVee Sterilisers, visit here.
*******************************
4. World Scientific Education: World of Science Set 5 (Worth $74.90) + Pop! Lit for Kids Set 4 (Worth $37.00) x 5 winners
World Scientific Education uniquely combines the effectiveness of a story-based approach with Singapore's internationally renowned standards in Science, Mathematics, and English. This synergy creates engaging children's stories suitable for diverse age groups, contributing to a deeper understanding and enjoyment of education.
As a testament to their commitment, World Scientific Education is generously sponsoring captivating prize sets for our contest winners:
Pop! Lit for Kids Set 4:
This set reimagines classic stories from Asia and the West, transforming them into easy-to-read tales that serve as ideal introductions to timeless narratives. Including renowned stories like "A Christmas Carol" and "A Visit to the Sea Kingdom," this collection excites and entertains young readers while nurturing a love for literature.
World of Science Set 5:
The World of Science engages, educates, and entertains children through dynamic, full-color comics that impart scientific facts and foster a genuine love for learning. Aligned with Singapore's primary Science syllabus and the Cambridge primary Science curriculum, this set offers both essential knowledge and beyond-the-syllabus insights. The bonus Special Edition book, "The Intertidal Adventures of Biogirl MJ: Exploring our Marine Shores in Search of a Mysterious Island," adds an element of discovery to this remarkable prize.
For more information on World Scientific Education, visit here.
*******************************
5. BeSpoke Photography: Outdoor family photoshoot (1hour) (Worth $300) x 1 winner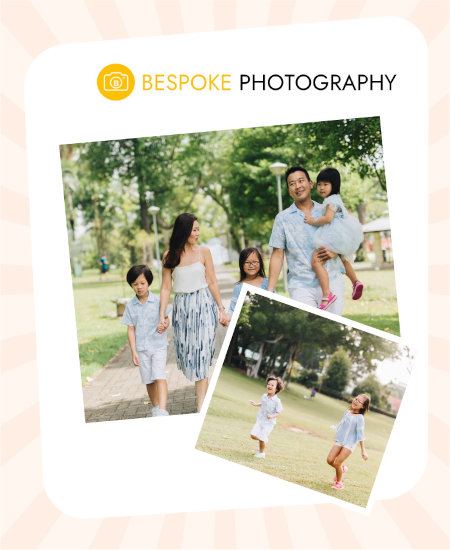 Bespoke Photography, a compassionate and skilled professional photography and videography brand from Singapore, is made up of a dedicated team committed to transforming your stories into meaningful photographs and videos that resonate for a lifetime.
The brand is generously sponsoring a captivating prize 1-hour Outdoor Family Photoshoot worth $300 for our contest winners. Capture the joy and connection of your family in a beautiful outdoor setting. This prize includes all the best lightly edited photos (approximately 40 photos for an hour-long shoot), preserving the natural essence of the moment without excessive retouching. Within 10-15 working days, you'll receive high-resolution, soft copy images via a download link, ensuring you have lasting memories to treasure.
For more information on BeSpoke Photography, visit here.