As a parent, you may have heard of the term STEAM, an educational discipline engaging students around the subjects of Science, Technology, Engineering, the Arts and Math.
So why is a STEAM education so in demand? Well, a STEAM approach teaches students how to think critically, solve problems, and collaborate with others – skills that make them future-ready for jobs in the 21st century. It also encourages students to explore their varied interests and develop a more in-depth understanding of their world. Here's how STEAM can benefit your little ones.
Students learn adaptability
STEAM education helps students adapt to an increasingly complex world with technology at the forefront. Whilst artificial intelligence and automation have made many manual jobs obsolete, as many as 97 million new jobs in the arena of science and tech may emerge (according to the World Economic Forum). These jobs require critical and creative thinking skills. STEAM, which merges different disciplines, teaches students these core skills needed to thrive in an ever-changing world.
Boosts creativity and problem-solving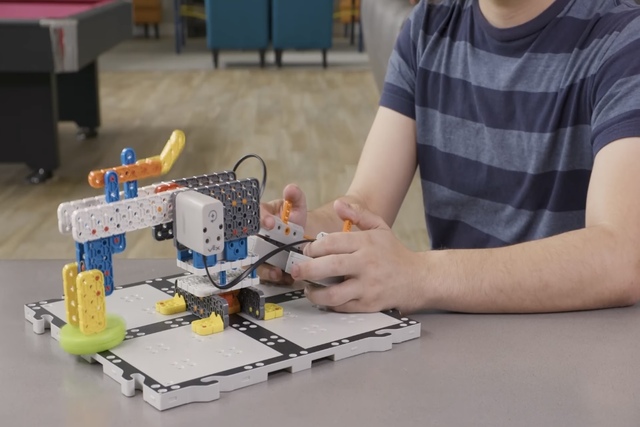 Rather than following fixed instructions or steps, a STEAM curriculum encourages students to develop their own problem-solving methods to achieve goals. In STEAM, there are many possible approaches to problem-solving. Students are encouraged to not only utilise technical knowledge, but also their creativity and imagination as they solve problems. Through trial and error, they learn how to take risks and "think outside the box".
Meaningful collaboration opportunities
Being a team-player and collaborating with others is important for kids, both in school and their future workplaces. STEAM projects typically involve teamwork and dialogue, as students exchange ideas, divide up responsibilities, compromise and figure out how to use their different strengths and skill sets. Students also develop higher-level thinking, oral communication and leadership which is essential for success in the workplace.
A hands-on learning experience
Gone are the days of rote learning and regurgitating from textbooks! STEAM projects accord students the opportunity to engage in hands-on, experiential learning, whether it is 3D modeling or building a robot. Students are often required to use different materials and tools in their projects, and are exposed to various media and platforms.This makes learning more interesting and stimulating for them, and they become more invested in their own learning journey.
Finding a good STEAM education for your child
Given the many benefits of STEAM, you may be searching for a centre that provides a good STEAM curriculum for your child.
Consider Futurum Academy, a school dedicated to cultivating multidimensional and collaborative critical thinking among youths. Its cutting-edge STEAM education is anchored on computational thinking, integrating various disciplines such as robotics, coding, digital art, 3D design and printing and engineering design.
What makes the school unique is its self-developed STEAM curriculum, based on the Spiral Curriculum concept attributed to notable American education psychologist Jerome S. Bruner.
Specialised courses are catered to students' age and psychological characteristics, with key concepts repeated throughout the curriculum. Students are progressively equipped from beginner to advanced stages, as they mature in their skill sets.Regular international competitions are held for top students as well, to support their flourishment on the world stage.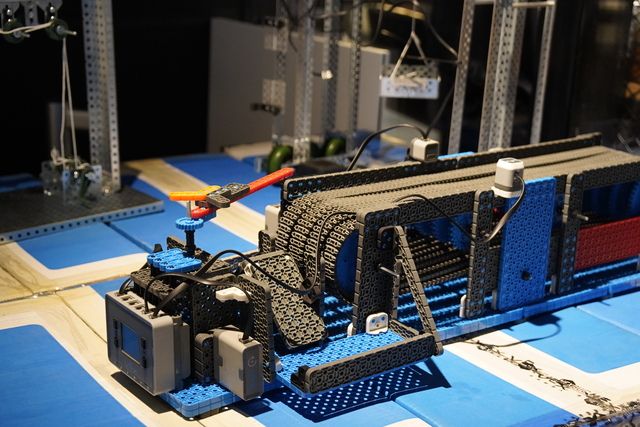 The school's courses include:
Applied coding: Interactive coding and computer science module, which allow students to make software from day 1.
Robotics: A core robotics curriculum which allows students to progress from beginner to advanced levels over time. Futurum Academy is also the only school for VEX Robotics Education in Southeast Asia. VEX robotics is the world's most advanced educational robotics and largest robotics competition (by Guinness World Record standards).
3D Design: Students will learn about how the world of technology works through the intersection of engineering and design.
Problem-Based Learning (PBL) is also at the heart of Futurum Academy's curriculum, where students learn about a subject through the experience of solving an open-ended problem found in given scenarios.
TNAP Awards 2023 Spot & Win Icon: ⚽️
This process does not focus on achieving a set solution, but allows for the development of other desirable skills like knowledge acquisition, enhanced group collaboration and communication. Through problem-based learning, students tackle real world challenges and create innovative solutions, while learning valuable skills in technology and design.
Futurum Academy's classes are catered to kids aged 4 and up. Find out more on their website at futurumacademy.com.
This post is brought to you by Futurum Academy.
By Rebecca Wong.
---
The New Age Parents – TNAP Awards 2023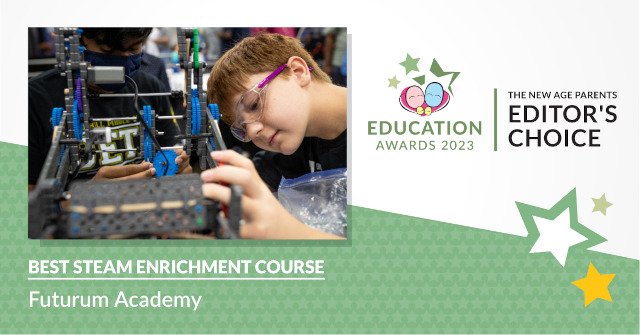 Congratulations to Futurum Academy for being the winner of TNAP Awards 2023 (Education) – Best STEAM Enrichment Course.
Find out who are the other winners of the TNAP Awards 2023 (Education) here!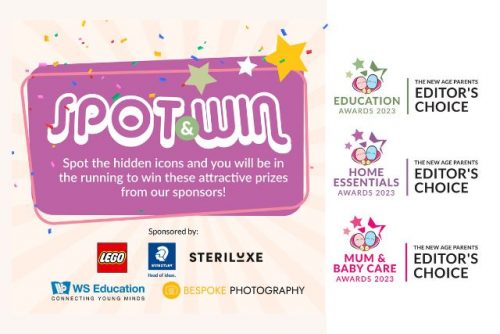 Ready to snag some enticing prizes? Wait no more! Get in on the action with our The New Age Parents Awards 2023 Spot & Win Contest for a shot at winning. Head over to the TNAP Awards 2023 Spot & Win Contest to join in. Best of luck!
#TNAPAwards2023 #TNAPAwards #thenewageparents #TNAPEditorsChoice #sgeducationawards #sgeducation #sgfamiy #sgkids #TNAPgiveaway
* * * * *
Like what you see here? Get parenting tips and stories straight to your inbox! Join our mailing list here.
Want to be heard 👂 and seen 👀 by over 100,000 parents in Singapore? We can help! Leave your contact here and we'll be in touch.