If parents with little ones chanced upon a genie, they would probably wish for their kids to attend classes attentively, truly enjoy learning, and sail through school while they're at it.
You don't need a genie to make these wishes come true – EDOOVO, an online learning platform designed for children aged 3 to 8 years, can certainly help. Here's why you should check out this award-winning multi-subject online enrichment platform. Plus, stay tuned to the end to find out how you can get a free trial!
Holistic Curriculum Designed for Young Learners Aged 3-8
We all know how difficult it is to get young kids to sit and learn attentively. EDOOVO's program is designed specifically for young learners aged 3 to 8, with an emphasis on early childhood development and foundational skills.
Designed to be age-appropriate and holistic, the curriculum takes into account the needs and abilities of your child. EDOOVO covers the core subjects of English, Chinese, and Mathematics.
Their curriculum is tailored to suit the needs and abilities of young children, focusing on interactive and engaging learning experiences. Instead of rote memorisation, concepts are introduced through an inquiry-based approach that stimulates imagination and expression. Lessons are designed to start with an immersive storytelling session and through interactive activities and tools, students are encouraged to engage in conversations with their teacher and peers and effectively apply what they learn in class to the real world.
Adapted from MOE Framework: Multi-Subject Approach
EDOOVO's online learning platform offers a multi-subject approach, covering three core subjects: English, Chinese, and Mathematics. Adapted from the M.O.E. framework, their curriculum ensures that students receive a solid foundation in these subjects and develop a well-rounded set of skills.
This multi-subject approach offers learners a headstart in their education. Furthermore, EDOOVO's classes take into account the local education system's emphasis on bilingualism – their classes are designed to nurture students into confident bilingual communicators. The best part? When children take three subjects together as a whole, their language and analytical skills are honed and encouraged!
EDOOVO is also known for its immersion language method for Chinese classes, which helps students authentically and naturally. This method, which emphasises communication over translation or rote memorisation, makes classes more engaging.
Quality Education: Qualified Teachers and Real-Time Teaching
Quality education starts with quality teachers – EDOOVO's online classes are led by qualified teachers who are experienced in working with young learners. These teachers provide real-time teaching through a virtual classroom, ensuring that students receive the same level of engagement and support as they would in a physical classroom.
Teachers are trained to teach in an interactive way that keeps children motivated and focused.
Small Class Sizes: Individual Attention for Optimal Learning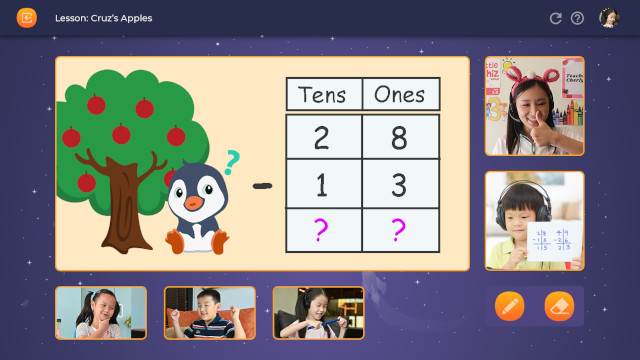 If your child loves personalised attention, you'd be glad to know that EDOOVO makes it a point to keep classes small, with a maximum of four students per class. With this personalised approach, teachers can identify each child's strengths and weaknesses, and tailor their teaching approach accordingly.
The small class size also helps to create a supportive and collaborative learning environment, where children can work together and learn from one another.
EDOOVO also assigns fixed teachers for each term, which allows for a more consistent and personalised learning experience. This approach not only helps students feel more comfortable and secure but also allows teachers to get to know their students on a deeper level and tailor their teaching methods to meet each student's needs.
Your little one can look forward to classes with their favourite teacher during the entire term!
Interactive Rewards: Engaging Students in a Fun and Positive Learning Environment
EDOOVO believes that learning should be fun. That's why their program is designed to be engaging and interactive, with rewards such as trophies and stars that help to motivate children and create a positive learning environment.
These interactive rewards also create a sense of achievement and pride in the children, which can boost their confidence!
Parental Involvement: Lesson Replays and Activity Sheets
EDOOVO's enrichment classes are not just engaging for kids – parents are also involved. Teachers provide reinforcement resources such as activity sheets that parents can use to reinforce concepts learned in class. Lessons can also be replayed at any time. This approach creates a partnership between parents and teachers, ensuring that children receive the support they need both in and outside of the virtual classroom.
TNAP Awards 2023 Spot & Win Icon: 👑
Flexible Learning: Attend Classes Anywhere
EDOOVO's online classes allow for flexible learning that can be tailored to fit a variety of lifestyles and time zones. The platform is thus ideal for families with busy or unpredictable schedules! Parents and their little ones can log in anywhere to enjoy virtual classes. This flexibility has allowed EDOOVO to gain interest from international students who can join from anywhere in the world and still receive the same high-quality education.
Positive Parent Reviews: Building a Reputation for Excellence and Satisfaction
EDOOVO has earned a reputation for excellence and parental satisfaction. Just check out the raving reviews left by happy parents!
I want to sign up!
Curious about EDOOVO and think your child may enjoy it? Take advantage of this exclusive offer for our readers and register for a free trial class. Click here to register now for your free trial class!
You can also visit here for more details.
This post is brought to you by EDOOVO.
By Joanne Heng.
---
The New Age Parents – TNAP Awards 2023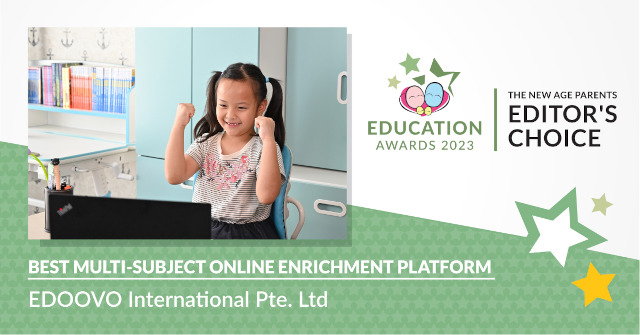 Congratulations to EDOOVO International Pte. Ltd for being the winner of TNAP Awards 2023 (Education) – Best Multi-Subject Online Enrichment Platform.
Find out who are the other winners of the TNAP Awards 2023 (Education) here!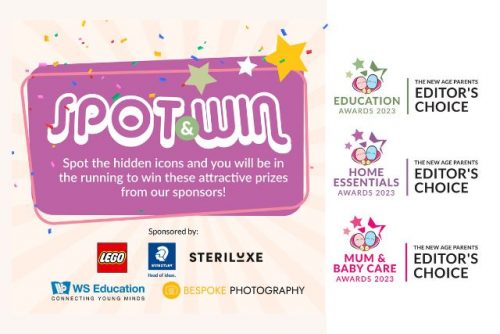 Ready to snag some enticing prizes? Wait no more! Get in on the action with our The New Age Parents Awards 2023 Spot & Win Contest for a shot at winning. Head over to the TNAP Awards 2023 Spot & Win Contest to join in. Best of luck!
#TNAPAwards2023 #TNAPAwards #thenewageparents #TNAPEditorsChoice #sgeducationawards #sgeducation #sgfamiy #sgkids #TNAPgiveaway
* * * * *
Like what you see here? Get parenting tips and stories straight to your inbox! Join our mailing list here.
Want to be heard 👂 and seen 👀 by over 100,000 parents in Singapore? We can help! Leave your contact here and we'll be in touch.