Envision a thriving future for your child? Then it's essential to equip them with the skills and mindset needed to navigate this rapidly evolving world!
Cambridge Pre-school recognizes this need and takes pride in unlocking the creative potential of children through its award-winning curriculum and innovative educational approach.
By providing a nurturing environment and comprehensive learning experience, Cambridge Pre-school empowers children to become future leaders who can confidently face the challenges and opportunities that lie ahead.
Here's what you can expect from their award-winning pre-school curriculum!

An Innovative Curriculum to Open Future Doors
At Cambridge Pre-school, their well-rounded and progressive curriculum is designed to prepare children for the constantly evolving world. The team understands that professions such as Social Media, Nanotechnology, Cyber Security, Green Technology, and Cloud Computing did not exist just a decade ago, highlighting the need to equip children with innovative skills. By fostering innovation, Cambridge Pre-school ensures that your child is well-prepared to succeed in dynamic environments.
Unlock Your Child's Creativity through iSteam
Cambridge Pre-school's curriculum embraces the philosophy of "thinking with hands" and encourages children to explore and engage with interesting topics. Through their iSTEAM (Innovation, Science, Technology, Engineering, Arts, and Mathematics) approach, children develop critical skills such as problem-solving, critical thinking, and innovation.
The curriculum exposes children to various iSTEAM activities that spark creativity and allow them to develop a solid foundation in technology, engineering, and other relevant fields.
Through engaging and age-appropriate activities, children are encouraged to explore and discover their potential, fostering a lifelong passion for learning that will serve them in the years and decades coming!
By unlocking their creative potential, Cambridge Pre-school empowers children to adapt and thrive in the future and prepares them for the job market where creativity, critical thinking, and problem-solving skills are highly valued.
Interactive Learning through Artificial Intelligence (AI)
Literacy skills extend beyond the traditional fundamentals of reading, writing, and mathematics. To truly empower children as innovative learners, Cambridge Pre-school introduces them to the realm AI.
Through the use of AI applications, children collaborate with peers to create imaginative compositions and literacy projects, fostering a deeper engagement with learning. Additionally, Cambridge Pre-school's AI-enabled Chinese language tool offers interactive activities that assess children's abilities and track their progress.
We all know that AI is here to stay. By embracing AI, Cambridge Pre-school creates an engaging and technologically advanced learning environment. Besides, the use of state-of-the-art teaching methods ensures that children are motivated and enthusiastic about their educational journey.
TNAP Awards 2023 Spot & Win Icon: 🍎
Build a Multi-faceted Thinker Through Human Intelligence (HI)
While machines excel at processing information, Cambridge Pre-school recognizes that humans possess a unique cognitive capacity that sets them apart. The school nurtures the development of Human Intelligence (HI) through its HI curriculum, which emphasizes Multiple Intelligences (MI), Character Development, and Executive Function (EF).
With hands-on inquiry and open-ended exploration, Cambridge Pre-school stimulates critical thinking, adaptability, and the application of abstract concepts. The HI curriculum supports children as they acquire the skills necessary to thrive in this ever-changing world.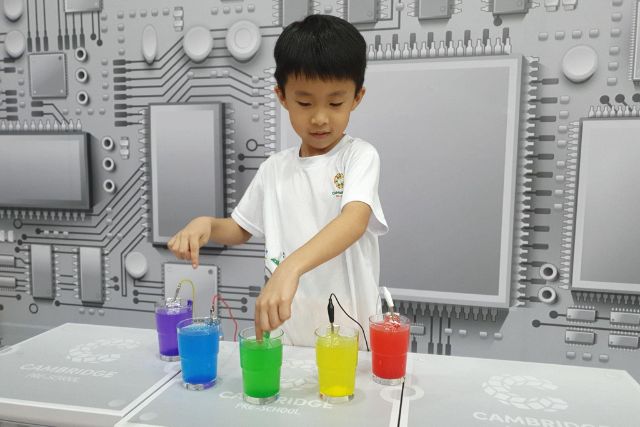 Grab the Key to Unlock Your Little One's Future Potential
Ready to unlock your child's future potential? Experience the innovative curriculum at Cambridge Pre-school today. Visit their website and sign up for a school tour to discover how they nurture innovative learners, thinkers, and creators!
Don't miss out on this opportunity to shape your child's future today!
More details below:
Children's Age: Child Care for 18 months to 6 years old available at all locations, Infant Care for 2 to 18 months available at selected locations
School hours: 7am – 7pm
Visit here for details of our centres.
Website: cambridge.school
Facebook: @CambridgePreschools
Instagram: @cambridge.preschool
Youtube: @CambridgePreschool
This post is brought to you by Cambridge Pre-school.
By Joanne Heng.
---
The New Age Parents – TNAP Awards 2023
Congratulations to Cambridge Pre-school for being the winner of TNAP Awards 2023 (Education) – Best Steam Curriculum Preschool.
Find out who are the other winners of the TNAP Awards 2023 (Education) here!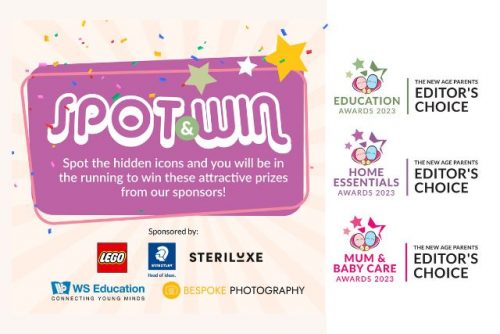 Ready to snag some enticing prizes? Wait no more! Get in on the action with our The New Age Parents Awards 2023 Spot & Win Contest for a shot at winning. Head over to the TNAP Awards 2023 Spot & Win Contest to join in. Best of luck!
#TNAPAwards2023 #TNAPAwards #thenewageparents #TNAPEditorsChoice #sgeducationawards #sgeducation #sgfamiy #sgkids #TNAPgiveaway
* * * * *
Like what you see here? Get parenting tips and stories straight to your inbox! Join our mailing list here.
Want to be heard 👂 and seen 👀 by over 100,000 parents in Singapore? We can help! Leave your contact here and we'll be in touch.