After nine months of carrying your baby and having given birth, your baby is already now turning one month old. You have been busy planning your baby shower for the past few weeks: Sourcing for food caterer, sending out invites, buying your decorations and party ware. Next to tick off your check list are your baby favours and ordering sweet delectable treats for your guests.
Butter cakes, cupcakes, Swiss rolls, carrot cakes, marble cake or brownies? Too many types of baby full month cakes to choose from and simply can't decide? Fret not. Swissbake has 15 different packages with premium range of pastries for you to choose from, from as low as $6.30 per box to $14.50 per box.
Choose your own box of delightful pastries
With three packages for you to choose from, Bundle of Joy features an assortment of moist marble cake, brownie, soft butter cake, or fluffy Swiss roll. You can have a combination of 4 Swiss rolls, butter cakes or brownies to go with a 300g marble cake (butter or chocolate chip walnut flavour) decorated with an adorable marzipan topping. Each package ranges from $13.50 – $14.50.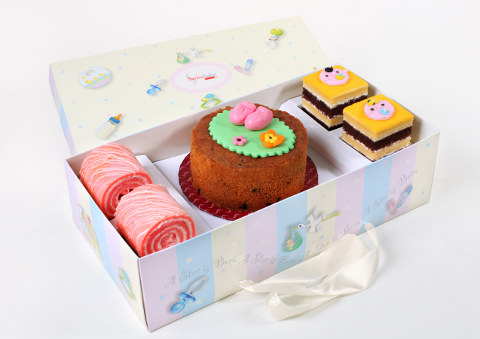 In Truly Special, there are 5 different packages, with a choice of Swiss rolls, butter cakes, mini cupcakes, and brownies in a box of 6. Each price ranges from $6.30 – $8.30.
Looking for more variety? You may want to try Precious Moments Package. With 7 different packages to choose from with 10 in a box, this package ranges from $10.50 – $12.50. In each box, you can choose to have a total of 5 different types of pastries – Swiss rolls, butter cakes, brownies, carrot cakes, mini cupcakes or cream puffs.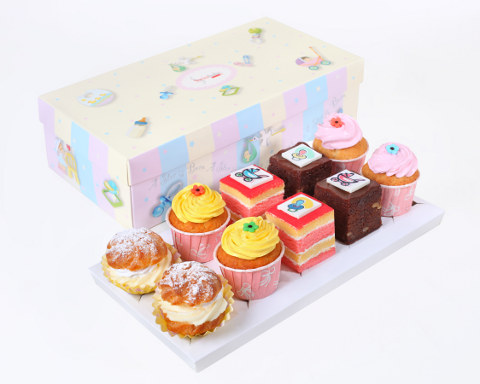 That extra personal touch
You can customize your very own baby package, with your choice of pastries to put in each box. There is also a customized baby card in each package for keepsake.
A fuss-free way to celebrate the joy of your baby's first month, Swissbake Baby Beginnings is the perfect concoction for today's modern parents who prefer something less traditional, yet affordable and palatable. An assortment of premium fresh confectionery at Swissbake awaits you.
How to order
Call 6266 0292 or email sales@swiss-bake.com.sg
*Note: Orders for Baby Beginnings must be made at least 5 working days in advance.
Swissbake Special Promotion
Swissbake is giving away 1 FREE BOX with every 10 Boxes purchased! A minimum order of 20 boxes is required and the free box must be of the same category ordered.
Simply call us and tell us the promo code, NAP0313 when you place your order.
This promotion is valid till 31 Dec 2013. Other T & Cs apply.
For more information, visit www.swiss-bake.com or call 6266 0292