It is a wondrous period of discovery and joy for parents once their babies have reached the full month milestone. According to Chinese custom, a celebration is held to celebrate the precious one's first full moon of life.
Coinciding with the end of the 30-day confinement period, relatives and friends gather together and give their well-wishes to the family who is traditionally presented with symbolic gifts such as red eggs (signifying fertility and luck) and ang ku kueh (signifying longevity).
In recent years, these gifts now come packed with lovely designs and even include sweet selections of pastries or chocolates.
If you are currently looking for a more intricate baby gift pack, Swissbake has started offering a new range of 6 too-cute-to-resist designs and a complimentary baby card for each 6-pc box purchased:
1. Mickey & Friends
Most of us grew up with Mickey and friends, and some of our best childhood memories are probably watching the hilarious antics of these animated characters. Let these cupcakes complete your beautiful dessert table and bring back the magic!
How about going an extra step further by creating your own Mickey and Minnie Mouse backdrop that will be a cherished memory in photos for years to come?
2. Tsum Tsum
Did you know that Tsum Tsum is derived from the Japanese verb 'tsumu' meaning "to stack? Swissbake's Tsum Tsum cupcakes will help you get right into the theme! A range of adorable cartoons based upon Disney and Pixar characters and made popular by games, Tsum Tsum is well-loved not just by children, but adults alike.
If you are inviting young families along to your party, decorate your place with Tsum Tsum balloons and stuffed toys, or even napkins to complete the whole party theme!
3. Winnie the Pooh
A loveable bear created by English author A. A. Milne, Pooh Bear (as he is commonly known as) are would be a perfect just theme for the animal-lovers. These irresistible cupcakes would look ideal if placed next to a Pooh birthday cake.
And who can forget Pooh's quotes of wisdom? Print and adorn your walls with precious quotes such as "Nobody can be uncheered with a balloon" or "Sometimes the smallest things take up the most room in your heart"!
4. Disney Princesses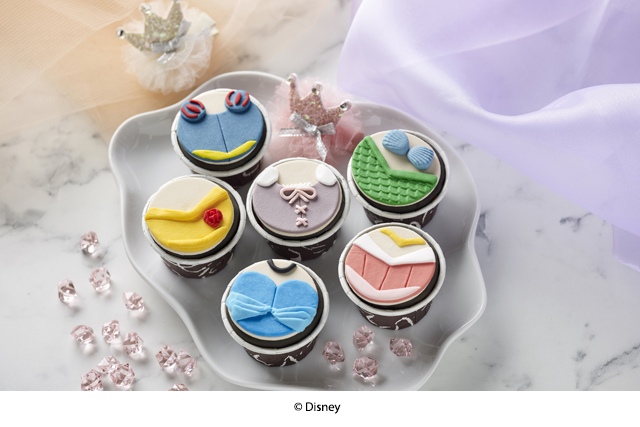 It's almost every little girl's dream to be a Disney Princess. Have a prince or princess theme for your party? Get the precious ones to dress up as their favourite royalty and remember to complete the theme with these Princess cupcakes from Swissbake! See if your little guests can match all the dresses on the cupcakes to the right princesses.
5. Just For Boys and Girls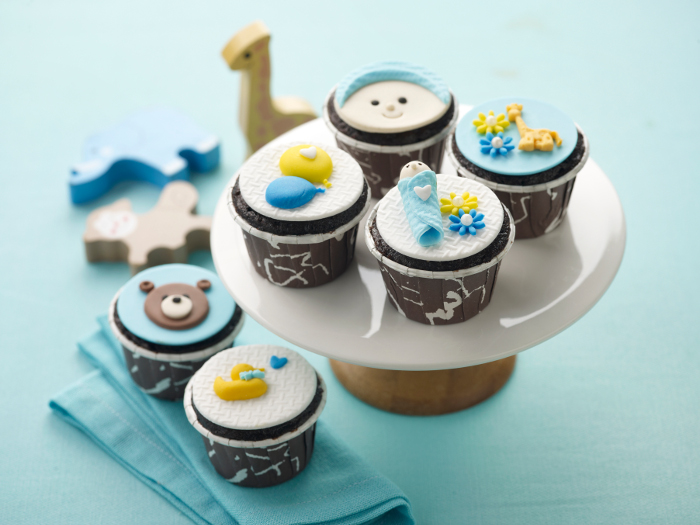 If you're looking for a gender-centric theme, go for Swissbake's Joyful Moments (Blue/Pink) gift pack, featuring tiny animal toppers. Or you could choose their Precious Baby Moments (Blue/Pink) series, which features beautifully handcrafted items such as fondant baby booties and rompers. Each box also comes with a customisable baby card!
6. Princess Dress Pull Apart Cupcakes
You can now save the hassle of having to use a knife to divide the cupcakes into different portions! These unique Princess Pull Apart Cupcakes come in pink, yellow or blue, and each 'dress' is made up of 28 cupcakes. Name customisation is also available for that extra personalised touch. It's also a great idea for a birthday surprise!
Where To Get Them
Amaze your guests with Swissbake's new baby full month or birthday party packs! Staying true to the Swiss heritage of using only quality ingredients, Swissbake offers pastries freshly baked with love and care.
Topped with cheery fondant designs with a moist and flavourful chocolate sponge beneath, these cute cupcakes are perfect as gifts.
Each box consists of 6 mini cupcakes. A baby gift box costs $12.90 / $15.90 per box, with a minimum order of 10 boxes. A party pack version of 30pcs costs $59 / $72.
Get these delectable gift packs online at www.portopantry.com!
For the latest updates and promotions, follow Swissbake Facebook and Instagram @swissbakesg @portopantry.
This post is brought to you by Swissbake.
If you find this article useful, do click Like and Share at the bottom of the post, thank you.
Want to be heard and seen by over 100,000 parents in Singapore? We can help! Leave your contact here and we'll be in touch.