If this is your first time celebrating the Chinese New Year with a baby, you're probably scouring the stores for that perfect little outfit and anticipating (finally!) the receiving of ang pows towards his education fund.
There's probably also that niggling doubt about whether you'll be able to pull off the daunting feat of bringing baby out for full days of visiting. It's fairly common to have up to 6-8 homes to visit over the first two days of the Lunar New Year. In fact, if we're keeping it real here, you probably have moments of utter panic as you envision all that could go wrong during that time.
You've never been out with the baby for more than a couple of hours, not to mention the whole day – add to that the many new faces she will encounter, and all that travel time to and fro from home to home, and it's no wonder you're quaking in fear at the thought.
Fret not, faint not! Here are a few suggestions to chase your fears away and get your Chinese New Year off to a happy start!
#1 Plan ahead
Planning is the key to success! Map out what your visiting days are going to look like. Don't just imagine it in your head – write it down, or at least talk to your spouse about it. Think through the order of home visits, how long it will take to get from place to place, how much time you will spend in each home. Then try to shift the timings around so that the baby's schedule isn't too majorly affected.
For example, if baby typically takes an hour's nap at 10am, and you have two places to go to in the morning, you could try to get to venue A about 9.30am, let her socialize with the relatives for a bit, put her to nap there, and then leave for venue B as soon as she wakes up!
Alternatively, if baby naps well in the car seat or in the baby carrier, you can schedule your travel times to coincide roughly with her nap times, so she can get her beauty sleep that way and arrive at each destination refreshed and happy to play!
If going with the flow is your common approach to life, then all this detailed planning this might seem a tedious and unnecessary task to you, but just give it a try!
#2 Pack in advance
Photo: Mummy, What's in your bag?
It's almost like going on holiday, since you'll be expected to feed, nap and change baby's diapers on-the-go throughout the day. With that in mind, be prepared for all eventualities.
Be sure to pack a change of clothes, even though you hope she won't soil her brand new dress. (It would be wise to bring a change of clothes for yourselves too!) Bring extra diapers, tissues and wet wipes too. If the baby is on solids already, decide if you will cook and bring her meal, or prepare the food in the home you are visiting. If there's any space in your bag, bring along a few engaging toys, for those moments she may be bored or fussy.
If you are traveling by car, lucky you! Pack two bags – one big one with everything you need for the day, and a smaller one which you can repack with the essentials each time you leave the car for a new home visit.
#3 Prepare your speech
Everywhere you go, people will have opinions about your baby and child-rearing practices in general. You may find yourself easily frustrated, irritated or plain annoyed at some of the things they may say or hint at.
Like "Don't need to nap him today lah, let him enjoy the New Year!" or "You shouldn't put him in the carrier like that! Next time he'll be bow-legged when he starts to walk!" and lots, lots more.
To be fair, such comments are not only heard on Chinese New Year for sure but given that you might be feeling pretty tired from caring for an active baby while on-the-road, you might overreact to some of these things.
This is why we recommend that, as far as possible, prepare yourself to answer the plethora of questions that may be fired your way during the Chinese New Year by well-meaning, but insensitive or uninformed, relatives and friends. This will help you keep your cool and answer graciously and politely under most circumstances, without compromising on your principles.
#4 Purpose to have fun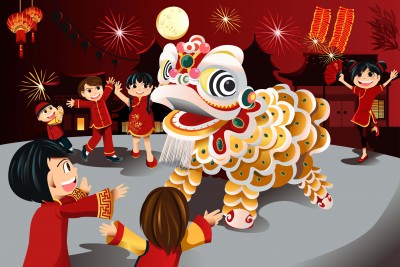 Last but not least, although all the above sounds like a lot of hard work, make it your aim to HAVE FUN!
After all, Chinese New Year only comes but once a year, and it's your child's first time experiencing all the festivities, receiving ang pows and being the star of the show!
Let go of some 'rules' for the day – such as letting baby nap that little bit later so that his cousins can have the joy of making him giggle and wiggle with glee! Don't expect him to nap as much as he does on his usual days either – he probably won't, with all that's happening around him. And if he doesn't want to finish his porridge, don't force him while everyone else looks one – just let him drink more milk later in the day to make up for it.
At the end of the day, remember to savour those previous moments with your family and friends, even as you have baby's needs constantly floating around at the back of your mind.
Enjoy yourselves, and have a very happy Chinese New Year!
By Dorothea Chow.
This article was first published in The New Age Parents e-magazine.
* * * * *
Like what you see here? Get parenting tips and stories straight to your inbox! Join our mailing list here.
Want to be heard 👂 and seen 👀 by over 100,000 parents in Singapore? We can help! Leave your contact here and we'll be in touch.