Before the gender of the child is determined, most parents are already thinking of names for their babies. Similar to English names, Chinese names are very profound and meaningful. However, when paired differently, Chinese characters will have totally different articulation and meaning. Therefore, the process of selecting a Chinese name is a little more complicated.
While a name's euphony (how pleasing it sounds) is extremely important in determining a good name, other factors such as meanings of the characters used, the time and date of birth are important as well.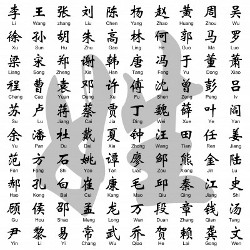 What's in a (Chinese) Name?
From the "Theory of Surnames", a person's date and time of birth, coupled with the eight characters(known as 'ba zi', 八字 in mandarin) of his or her horoscope are closely associated with the 5 elements (known as 'wu xing' 五行 in mandarin) – metal, wood, water, fire and earth.
As these 5 elements are related to one another, selecting Chinese characters need to be considered carefully, to reinforce the weaker aspects and suppress any excessive forces. The number of strokes which form each character helps balance out the overall "name", while the chosen characters are combined to bring about good luck, health and prosperity throughout one's life.
So what determines a good name?
For a name to be deemed beautiful, it must consist of 5 things: Euphony (how pleasing it sounds) of the name; pleasing to the eye; easy to read; nice to write and meaningful.
• Euphony
Euphony, derived from the Greek, is a pleasant harmonious quality of sound formed when the characters are combined. The selected name should be pleasing to the ear
• Pleasing to the eye
Structurally well-distributed, the name should look enticing and neat
• Easy to read
Reading should be smooth and the words when put together, should flow well together
• Nice to write
Writing of the name should be easy and require no thinking
• Meaningful
The selected name should represent well wishes and blessings from the parents, to the child




5 Name Boo Boo's
• Avoid characters associated with undesirable meanings
Characters with undesirable meanings will have a negative impact and influence on the name bearers. No one would want to be reminded of a name that represents something negative.
• Characters that are too complicated and rarely used
There is a reason why certain words are not commonly used. Characters that look complicated might look interesting to you, but you can be sure that your child will not appreciate it in the future especially when their peers start making fun and mispronouncing it.
• Names that are overly or commonly used
While names should not be too complicated, commonly used names may lead people to belittle the bearer and he/she will be easily forgotten due to the little impact his/her name actually has on people.
• Masculinity / Femininity of the name
Avoid giving your child a name that will create confusion for his or her gender as this may cause the bearer to be confused with his or her sexuality. Embarrassing occasions may arise due to that as well.
• Celebrity or famous personalities' names
Many parents who are in awe of certain celebrities would hope that by naming their child with the same name, their child might somewhat achieve the same achievements in that field. As each individual is different, parents may end up hindering the development of their child by having such expectations.
Born in this modern era, most of us are unfamiliar with the mystical and abstract aspects of name selections. Names are the first and direct impressions of a person, therefore it is important to act prudently when choosing a name for your child. If in doubt, it would be best to seek assistance from experts in this field.
By Taimaobi
Taimaobi is the only baby hair brush manufacturing company in Singapore. Besides the Baby Hair Brushes, we also provide the Baby First Haircut, Umbilical Cord Stamps, Baby Chinese Name Selection and wedding unique souvenirs like Couples Brush and a series of unique baby gifts. For more info, go to www.taimaobi.com.
If you find this article useful, do click Like and Share at the bottom of the post, thank you.
Stay in touch! Subscribe to our Telegram here for our latest updates.