We've heard of mummy and daddy bloggers, travel bloggers, food bloggers and fashion bloggers. But child bloggers?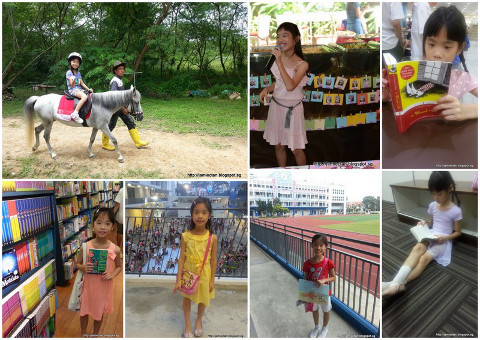 Meet 8 year old Jamie Tan. Jamie is just like your average Singaporean child. But at the tender age of 8, she has translated her love for writing to the digital platform. We caught up with her for a special interview as she shares with us her blog journey and her wish for Children's Day this year.
⇒ Related Read: What to do on Children's Day Long Weekend
1. Hi Jamie, tell us more about yourself!
My full name is Tan Jia Xuan, Jamie Claire.  I have a 3 year old brother. I love to read and write, sing, dance and draw. I have been to the audition for One Minute of Fame and it was fun singing before the judges! I love to visit the libraries all over Singapore and I have been to them all during our reading weekends. I love Japanese food. I also like to craft sometimes with my mother. We love washi tapes and origami paper and have a wide range for our crafting sessions. My crafts can be found in somw section of my blog.
2. Your blog looks really impressive! What is the backend system you use? Word press? BlogSpot?
Yes, I am using Blogger.com and the template is free.
3. When did you start blogging?
I started blogging June 2013 during the school holidays. You can read my posts at jamiectan.blogspot.sg
4. How did this idea of blogging come about?
My mother started the blog for me, taught me how to use the platform on blogger.com and also created an app on my mobile phone so that I can write because I have written so much in the notebooks she was afraid she would someday lose all my writings. This is a diary of my writing journey.
⇒ Related Read: How To Raise A Child Who Loves Writing
5. What do you like to blog about and how often do you blog?
I like to blog on ponies from Season 1-3 of My Little Ponies – Friendship Is Magic. I blog only after I have finished my homework. During holidays I can write daily. But school days I can only write twice or thrice a week, and it's always done after all my homework has been done.
6. Did you face any difficulties when you first started it? Like learning how to use the blog backend etc.
No, it is the same as typing an email. So I learnt quickly how to use the platform like adding photographs and underline a link, as well as create photo collages.
7. Do your friends know about your blog? What do they think about it?
Yes and they read it pretty often, especially on ponies and compositions, and also of my singing! They like it, I hope!
8. Do you still see yourself blogging in 5 years' time?
Yes, because I love to write. Most times I will write on paper and transfer to blog. But there are also times when I will type straight on the blog.
9. Any big plans/dreams for your blog?
I wish that I am able to write daily, but I have exams coming up and I am told to stop blogging while preparing for the exams. I will write more during the holidays.
10. If you could give a piece of advice to those kids out there who would like to start their own blog, what would you say to them?
Do it! It is fun! You can also share the blog with your brothers and sisters to make it a sibling blog, which I will do so soon once he is old enough to hold a camera. He can say what he likes and I will type them down, like a journalist, which I hope I can be when I grow up.
11. How do you normally celebrate Children's Day?
I usually celebrate Children's Day with my family. On this day, we, the children, make decisions on where to go and what to eat. My younger brother and I will look forward to some special outing with our parents.
This year will be extra special because my mother has decided to volunteer on 3rd October. She will go to my class and distribute delicious snacks for the entire class. We have designed special treat bags but have not prepared the snacks yet. I love it when my mother comes to school to be a class volunteer! You can see the gifts we made together jamiectan.blogspot.sg/2013/10/childrens-day-gifts-2013_1.html.
⇒ Related Read: 10 Out Of The Box Children's Day Gift Ideas
Some children in other countries may not be as fortunate as the children here in Singapore because we have food and shelter but they are struggling in the outdoors. I feel very sorry for them and my parents have decided to donate some clothing and food to them organized by our church. It is a meaningful activity so that we are reminded of how lucky we are here.
⇒ Related Read: Where To Donate Your Pre-Loved Toys, Books, Clothes And Home Furniture In Singapore
12. Any special wish for Children's Day?
I have two wishes for children all over the world: Firstly, that every child is safe and secure in their homes with their family. Being loved is very important to all children. Secondly, how nice if no child suffers from poverty and hunger and get all the books that they want to read at any time of the day. I will gladly share my small library of books with them!
Money cannot buy everything, it cannot buy happiness, love or friendship. So I think that children are gifts from God because they cannot be bought. They should all be cherished by their parents and family.
Happy Children's Day to everyone around the world!
We wish you all the best in your blogging journey!
If you liked this story, show some love by liking and sharing it at the bottom of the post.
Like what you read and want more? Receive our latest articles and giveaways when you sign up on our mailing list here.