Are there toys your kids have outgrown lying around at the back of your closet? Do you have pre-loved books, clothes, furniture or household linen that you no longer use but are still in good condition?
Here's our guide on where you can donate your pre-loved items to help those in need. Not only will you be doing something meaningful, but you'll also be able to declutter your home.
⇒ Related Read: How I decluttered my home the Marie Kondo way

Greensquare Textile Recycling
Photo: Greensquare Textile Recycling Facebook
About Greensquare:
Greensquare aspires to make a positive impact; their current target is to double the percentage of recycled textiles from 7% to 14% by 2020. They also provide free textile recycling services to households and organisations in Singapore and promote awareness of the 3Rs (Reduce, Reuse, Recycle) through education, with a focus on engaging youths in schools.
Items to donate:
Clean clothes
Clean and wearable paired shoes
Clean household linen (e.g. bed sheets and towels)
Accessories (e.g. belts and bags)
How and Where: Please refer to this link for a list of drop-off locations. You can schedule a collection if the minimum weight of your donation is 15kg.
Contact: Visit their website or Facebook page for more details.

Books Beyond Borders
Photo Credit: Books Beyond Borders
Books Beyond Borders is a social enterprise that generates funds from the sale of secondhand books in Singapore. They use all profits after business expenses, as well as community donations, to help improve access to education in some of the most rural parts of Nepal.
Books Beyond Borders accepts donations of adult fiction and nonfiction books written in English. Books must be in good condition, with no mould or torn pages. Popular children's and teen books, in like-new condition, will also be accepted.
To donate used books, please check the Books Beyond Borders Giving Guide for a preview of the types of books they accept. Books can be dropped off at Kong Beng Industrial Building, 41 Jalan Pemimpin #03-01E, 577186, Monday to Sunday from 11 am to 6 pm.
If donors have over twenty books in excellent condition, Books Beyond Borders can arrange for a pick-up. Contact hello@booksbeyondborders.org or use the Live Chat feature on the Books Beyond Borders website to arrange a pick-up or drop off time.
Website: booksbeyondborders.org

Angel Hearts Singapore
Photo courtesy of Angel Gowns (now Angel Hearts)
About Angel Gowns: In August 2016, a group of ladies came together to form Angel Gowns Singapore. Angel Gowns Singapore produces little garments, otherwise known as angel gowns, from donated wedding gowns to cater to the needs of bereaved families. Angel gowns are made for babies who lost their lives due to miscarriages, stillbirths or other complications in the course of pregnancy.
You can support their work in the following ways:
Donations in kind (wedding gowns, tea dresses, suits, ribbons, lace, buttons)
Volunteer to help in sewing, deconstruction, cutting, couriers etc
Monetary donation to help fund our purchases and logistics
Spread the word in any way possible
Get to know them through their work on their Facebook page.

Pass-It-On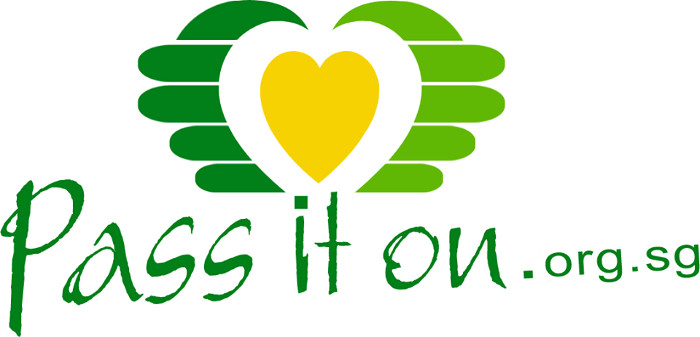 Photo: passiton.org.sg
About Pass-It-On: Pass-It-On is an organisation you can approach to give your pre-loved furniture a new lease of life. This non-profit project, managed by the Helping Hand, makes donating easier and more efficient by matching pre-loved items that the general public can offer to lower-income families in need.
Items you can donate:
Home appliances
Home furniture
Medical aids, mobility aids, and learning aids
How & Where: Voluntary Welfare Organisations (VWOs) submit requests for items that their clients need on an online portal, and you can "grant a wish" here by donating those items. Alternatively, you can also list items you'd like to donate, and a VWO will contact you directly to arrange collection if the items can be used to help the needy.
Contact: Visit www.passiton.org.sg or call +65 8511 9160 on Mondays to Fridays from 9am to 5pm.

The Salvation Army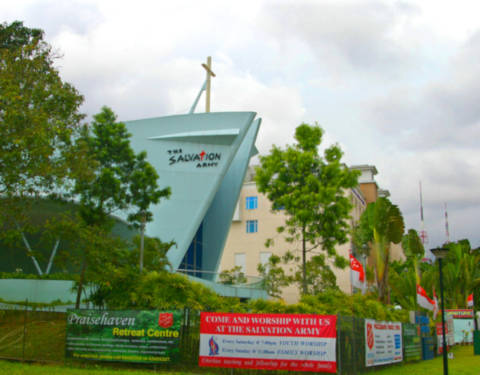 Photo: ijamestann.blogspot.sg
About The Salvation Army: The Salvation Army is probably the first thing that comes to mind when someone mentions 'thrift store', and its prominent mega family thrift store in Upper Bukit Timah is a go-to place for vintage secondhand finds for many Singaporeans.
This international charitable organisation has had a base in Singapore since the 1930s, and seeks to help the underprivileged without discrimination. You can help the local community by donating your pre-loved or unused items for resale at any of their thrift stores.
Items you can donate:
Clothing
Furniture
Household goods
Electronic devices
Toys and books
How & Where: Drop your items off at Donation In Kind booths located all over the island. Addresses of the booths can be found at www.salvationarmy.org.
If you have bulky items, you can arrange for a collection service by calling +65 6288 5438, booking online at www.redshieldindustries.com or emailing donor@SMM.salvationarmy.org with a brief description of the items you wish to donate, your collection address and contact number.
Contact: A list of all their centres and thrift stores are up on their website.

SCWO's New2U Thrift Shop
Photo: racheeng.wordpress.com
About New2U Thrift Shop: Salvation Army isn't the only organisation with a thrift store – the Singapore Council of Women's Organisations (SCWO) has one of their own too. The New2U Thrift Shop is run entirely by volunteers and has been open since 2000.
Everything sold by the store is donated and amazingly cheap – as low as a dollar! Proceeds go towards SCWO's various social initiatives, such as Star Shelter, a safe refuge shelter for battered women and children.
Items you can donate:
Clothes (men, women, and children)
Books & Toys
Bags & Accessories
Shoes
Crockery & Utensils
Note: New2U does not accept the following:

Furniture
Electronic items and electrical appliances
Used towels
Used undergarments
Old cassettes and cassette tapes
CDs, VCDs, DVDs or Blueray discs
How & Where: Items should be clearly labelled as 'Donations for New2U', and dropped off at SCWO Centre at 96 Waterloo Street, Singapore 187967 on any day of the week between 9am and 10pm.
Contact: Visit the thrift store's website at www.facebook.com/New2UShop or give the shop a call at +65 6837 0611.

MINDS Shop
Photo: unlikelyladyofleisure.wordpress.com
About MINDS' Shop: Movement for the Intellectually Disabled of Singapore's (MINDS) Shop is not just another thrift store. The exceptional thing about this thrift store, in particular, is its unique employees.
These employees are MINDS' clients, and the shop provides in-house training on how to interact with customers, as well as how to organise and tag goods for sale. This store additionally provides an invaluable opportunity for the general public to understand the challenges faced by the intellectually disabled.
Items to donate: Furniture, clothes, collectibles, housewares. For the full list, please refer to this link.
How & Where: Drop in at any one of their stores at Margaret Drive, Woodlands Ring Road, Lorong Napiri, and Rosyth Road during opening hours.
Contact: Visit their website.

Singapore Freecycle Network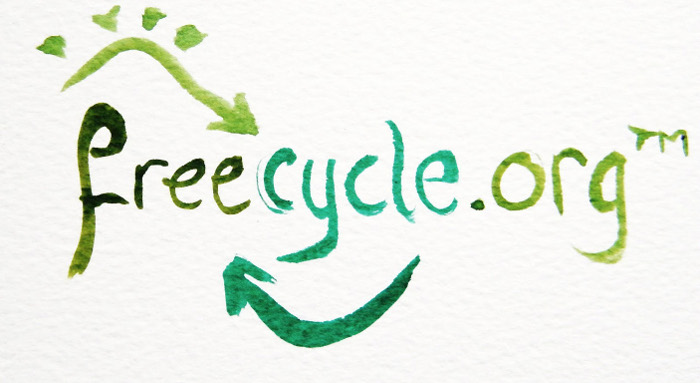 Photo: freeweekly.com
About Freecycle: As a final option, if you can't find anywhere else to donate your pre-loved goods, the Singapore Freecycle Network aims to promote recycling and keep useful items out of landfills by connecting people who are giving items to others who are seeking them. All items must be given for free in accordance to group guidelines.
Items to donate: Essentially anything and everything. As the saying goes, one man's trash is another man's treasure.
How & Where: The process takes place entirely online at www.facebook.com/groups/iamfreecycle. Post a picture of your item on the Facebook group and anyone interested can contact you directly and collect the item personally.

Tzu Chi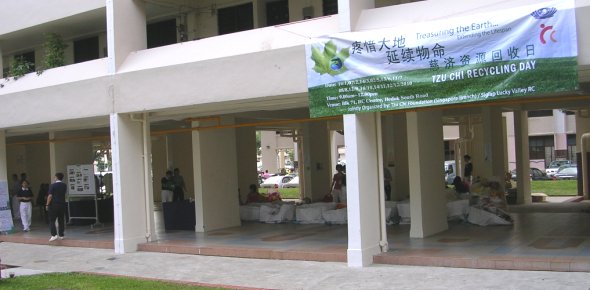 Photo: ZeroWasteSG
About Tzu Chi: Every second Sunday of the month is the designated monthly recycling day of Tzu Chi Singapore. To engage their respective communities, Tzu Chi volunteers will go around the neighbourhoods to invite residents to deliver their recyclable items to the recycling points.
Poster boards are also erected at the respective points to increase public awareness about environmental-friendly living; residents are often encouraged to try their hands at the sorting of the recyclable items too.
Items to donate:
Clothes
Electrical appliances
School bags
Leather
Belts
Shoes
Soft toys
CDs
How & Where: You can drop off your items at the various Eco Points across Singapore.
Contact: Call them at +65 829958 or drop them an email at info@tzuchi.org.sg. For more info, visit their website.

Dignity Mama Stall
Photo: Dignity Mama Facebook
About Dignity Mama: The intention of Dignity Mama Stall is to put parents with challenged youth together to manage a retail stall selling second-hand books. An initiative of Project Dignity Pte Ltd, the stall sells used books, which are managed by mothers and children with special needs.
Items to donate:
Storybooks
Comics
Management books
Encyclopedias
Magazines
Arts & craft books
Autobiographies
Please ensure that the books and magazines are in a good state as these books will be sold as second-hand books by beneficiaries of Dignity Mama Stall to members of the public to raise funds.
How and Where: You can drop off your pre-loved books at Ng Teng Fong Hospital or National University Hospital. Fill in the form on their website on the details of your book drop.
Contact: Follow them on their Facebook page for more updates. Alternatively, you can email them at enquiry@projectdignity.sg or call them at +65 8189 7678.

Willing Hearts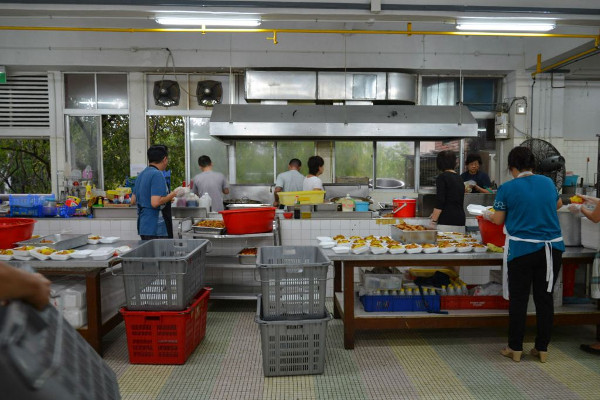 Photo: People of Singapore
About Willing Hearts: Willing Hearts is a secular, non-denominational and non-affiliated charity, that aims to provide daily meals and other support services to the underprivileged, the needy, and other marginalised members in Singapore.
They operate a soup kitchen that prepares, cooks and distributes about 4,500 daily meals to the needy, 365 days a year. Beneficiaries include the elderly, the disabled, low-income families, children from single parent or otherwise poverty-stricken families, and migrant workers in Singapore.
Items to donate:
Rice
Bee Hoon
Macaroni
Oil – preferably Canola Oil or Sunflower Oil
Salt
Pepper
Sugar – preferably Raw Sugar
Tomato Sauce
Chilli Sauce
Sesame Oil
Light Soy Sauce
Dark Soy Sauce
How & Where: You may wish to donate directly to Willing Hearts at 11 Jalan Ubi Blk 6, #01-51 Kembangan – Chai Chee Community Hub Singapore 409074 during our operating hours of 4.30 am to 3.00pm
Contact: Email them at willingheartsingapore@gmail.com or call any of the following numbers: +65 6743 0725, +65 6743 0705 or +65 6476 5822. Visit their website.

Uplift Project Singapore
Photo: Uplift Project Singapore Facebook
About Uplift Project: Uplift Project is a volunteer group founded in Australia who collect and ship secondhand and new bras, and coordinate their distribution to underprivileged women all around the Asia-Pacific region. They accept any style of bras including nursing, maternity, breastfeeding bras, mastectomy and nursing pads.
Items to donate: Preloved bras and nursing bras
How & Where: Postal addresses of where you can drop off your items will be updated on their Facebook page or website. Currently, there is no ongoing bra collection drive in Singapore. Donors can opt to post or hand carry donations directly to recipient countries. Addresses and instructions can be found here.
Contact: Email singapore@upliftbras.org to find out where your items can be dropped off.

Babes Pregnancy Crisis Support Ltd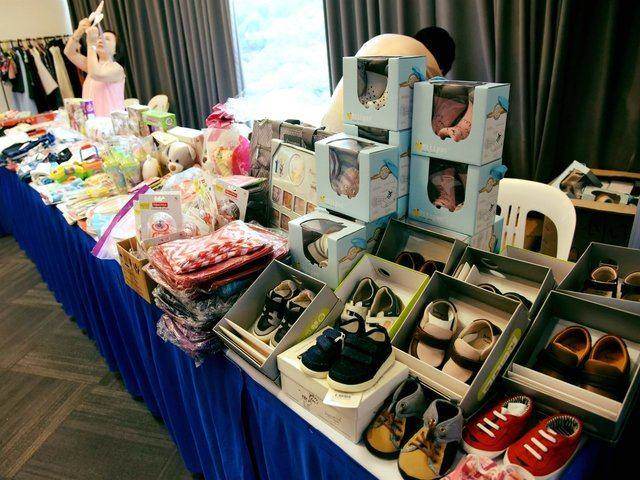 Photo: Babes Pregnancy Crisis Support Ltd Facebook Page
About Babes Pregnancy Crisis Support Ltd: Babes was launched on 22 February 2005 as a programme under Beyond Social Services. Babes was positioned as a service for teenage girls in a pregnancy crisis and they envision a more inclusive society where every pregnant teenager needing support will not feel estranged or marginalised.
Items to donate: Unexpired formulated milk powder, diapers, pre-loved babies' clothes, prams and strollers
How & Where: Email Zeenat at hello@babes.org.sg to discuss the donation in kind or call +65 6664 8591.
Contact: Visit their website babes.org.sg/get-involved/donation-fundraising or Facebook page.

Blessings in a Bag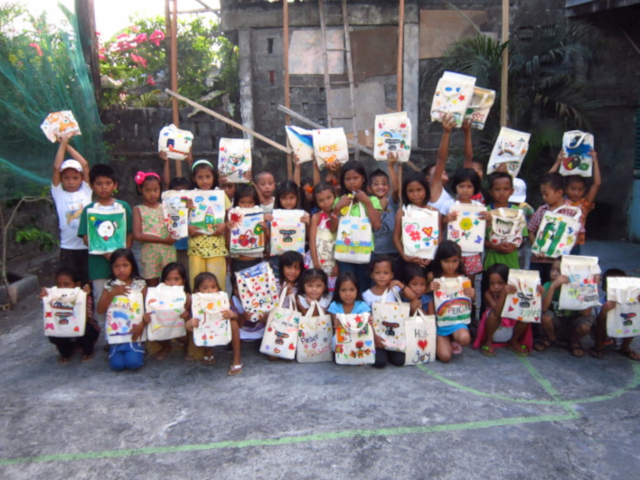 Photo: blessingsinabag.org
About Blessings in a Bag: Blessings in a Bag is a non-profit organisation, which brings bags of toys, hygiene products, clothes, and school supplies (otherwise known as "blessings") to disadvantaged children in rural villages across Southeast Asia. After you donate, suitable items will be distributed to communities in need, while the other items will be resold in Singapore and the funds collected will be used to cover operational costs.
Items you can donate:
Cushion pack (non-fabric material) – can be New or Used
Vinyl bean bags (kids-sized) – can be New or Used
Mini whiteboards (A4 size) – can be New or Used
Square post-it notes
Blu-Tac
Coloured Construction Paper
Laminating pouches (A4 and A3 sizes)
Large magnetic digital timer
Ring binder (1 or 2 inches)
Polaroid camera – can be New or Used
Polaroid camera films
Label maker
Label maker tape
Activity books
Colouring books
Children's Books – only for toddler through 12 years old – can be New or Used
Jigsaw Puzzle Sets (needs to be complete sets and tape the box down to prevent pieces falling out) – can be New or Used
Coloured pencil sets
Coloured marker sets
Cute pencils (traditional and mechanical)
Cute pens
Educational board/card games
Milo packets
Ribena packets
How & Where: Currently, they are unable to accept any donations in kind due to a lack of storage space. Please visit their webpages listed below for any updates.
Contact: Visit the organisation's webpages at www.facebook.com/blessingsinabag or www.blessingsinabag.co.

EcoBank Singapore
Photo: EcoBank Facebook page
About EcoBank: If you have something that's too good to throw away, EcoBank it! Ecobank's collection drive has started, and they are welcoming donations. The collection drive will commence on 6 January 2020 – 31 January 2020. The EcoBank Bazaar will be held from 28 February to 1 March 2020 at City Square Mall Atrium.
Items to donate (that are in good, re-saleable condition):
Toys and stationery
Clean clothes
Books
Shoes, bags and fashion accessories
Working electronics
Usable kitchenware
Household items and decor
Contact: Follow their Facebook page for more news.

Singapore Really Really Free Market
The Really Really Free Market is a temporary market based on the concept of giving and building a community based on sharing resources, caring for one another and improving the collective lives of all.
Everything is free! Come share your stuff (books, CDs, toys, food, etc) or skills (tarot card reading, hair cutting, poetry writing, singing, etc) by giving them to others who need them!
How and Where: The event is held regularly at different locations. You can check this post Singapore Really Really Free Market for regular updates.
Contact: Follow their Facebook page for more details.

FairPrice Share-A-Textbook (Usually in Oct – Nov)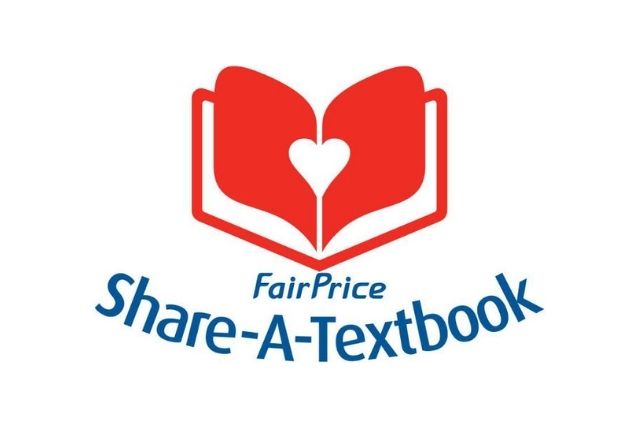 This evergreen annual project is part of our ongoing effort to help needy families provide for their children's education, promote recycling and encourage thrift among Singaporeans. Since its launch in 1983, the project has helped over 280,000 needy students save in textbook expenses, through the collection of about four million textbooks.
You can play your part by donating your pre-loved textbooks from 26 October to 30 November 2021.
You can check this post FairPrice Share-A-Textbook for more information.

By Michele See, Michelle Ang and Marinne Santiago.
* * * * *
If you find this article useful, do click Like and Share at the bottom of the post, thank you.
Want to be heard 👂 and seen 👀 by over 100,000 parents in Singapore? We can help! Leave your contact here and we'll be in touch.