Riding on horses can be a little scary for kids. That's okay, because we trotted the island to discover where you can saddle your kids up for a pony ride or horse riding lessons.
Pony Riding Singapore
1. Horse city
Horsecity is the largest riding school in Singapore and no membership is required. They conduct riding lessons from novice to advance. Rides with a handler for 2 years and above are welcome. Beside riding lessons, there are also pony rides, trail rides and carriage rides. Other facilities and services in the vicinity include a horse shop, accommodation, horse garden, yoga, child care and pet care.
Where: 100 Turf Club Road, Singapore 287992
Opening Hours: Saturday, 10am – 12pm & Sunday, 1pm – 7pm
Price: Pony rides from $10 and an opportunity to feed the ponies and donkeys on weekends.
Tel: 6463 6012 / 6463 6013
Website: www.horsecity.com.sg
2. Bukit Timah Saddle Club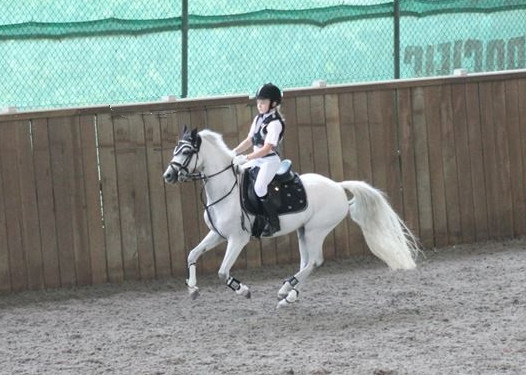 Photo: Bukit Timah Saddle Club Facebook
The Bukit Timah Saddle Club offers horse riding and equestrian sport while giving retired thoroughbred racehorses a second lease of life. Options include casual rides, lessons, school riding, dressage, horse livery and amateur races. The Beginner's Course is suitable for adults and children over 7 years. They also have pony rides for children over 3 years old every Sunday. Look out for their pony camps during the holiday period.
Where: 51 Fairways Drive, Singapore 286965
Opening Hours:
Beginners Courses: Saturdays 7am and 9am, Sundays 7am and 6pm
Pony Rides: Sundays 10.30am – 1pm
Price: For non-members (public), the horse riding lessons are sold in a package of 4 lessons. The package cost is $430/- nett for 4 lessons. For the full pricing details, go to this page
Tel: 6466 2264
Website: btsc.org.sg




3. Gallop Stable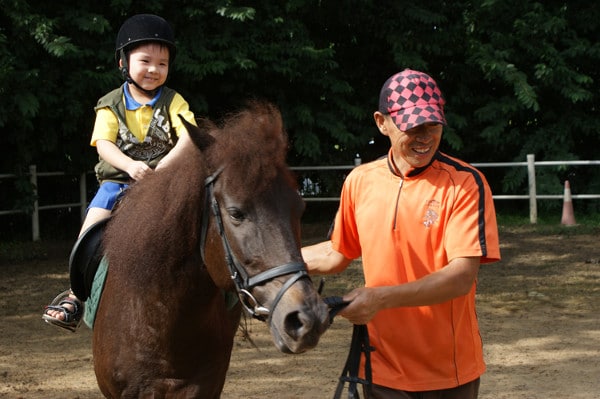 Photo: Gallop Stable
Gallop Stable was built as a horse riding provider with the people in mind thereby making riding affordable and hassle free. It started its operation at Pasir Ris Park with 13 friendly and schooled ponies stabled near the beach vicinity. Besides horse riding activities, it also offers a host of other services such as pony and carriage rides, pony feeding, one-time trial lessons, pony camps for kids, hiring of ponies or horses for private functions and more. Pony rides and lessons are available for kids above 3 years old.
Where: Gallop Stable @ Turf City, 100 Turf Club Road, Singapore 287992 (located in Horse City)
Opening Hours: Saturdays, 10am – 12pm & Sundays, 2pm – 6pm
Where: Gallop Stable @ Punggol Ranch, 900 Punggol Road, Singapore 829168
Opening Hours: Saturdays, 10am – 12pm & Sundays/ Public Holidays,  4pm – 6pm*
*Timings are subject to changes
Price: Pony trail ride for 1 child (weekdays) $45, $55 (weekend) 20 min. For the full pricing details, go to this page.
Tel: 6463 6012 (Turf City), 6387 2100 (Punggol Ranch)
Website: www.gallopstable.com
4. Singapore Polo Club

Photo: Singapore Polo Club
Singapore Polo Club offers riding classes for children 6. Children will learn the proper ways and skills of horse riding and handling. Formal riding lessons begin at age seven, where children learn to start on the lunge – this establishes their basic posture and balance. Progress is gauged by instructors who will assess whether our young riders are ready to progress to group lessons.
For children 4 years and above, they offer Pony Club rallies where children can start to learn about caring for horses. Non-members can ride up to 3 months, after that you must become a member to continue lessons.
Where: 80 Mount Pleasant Road, Singapore 298334
Opening Hours: 7am – 11pm (Riding lesson hours are 7am – 10am, and 4pm – 7pm Tuesday to Sunday)
Price: Price upon request
Tel: 6854 3999
Website: www.singaporepoloclub.org
5. National Equestrian Centre (NEC)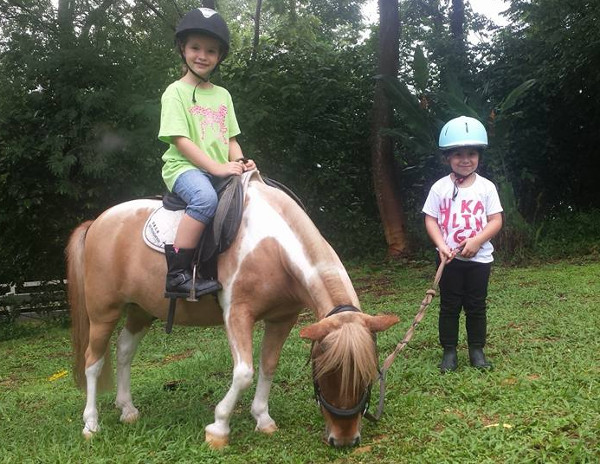 Photo: National Equestrian Centre Facebook
The centre provides riding facilities and horses to promote competitive equestrian sports in Singapore. It also offers riding lessons and programs for the general public, and works at developing the Singapore Team for international equestrian competition.
Where: 100 Jalan Mashhor Singapore 299177
Opening Hours:
Tuesdays to Sundays: 7am – 11am; 3pm – 7pm
Closed on Mondays and Public Holidays
Price: Price upon request
Tel: 9753 8739
Website: nec.org.sg




6. Singapore Turf Club Riding Centre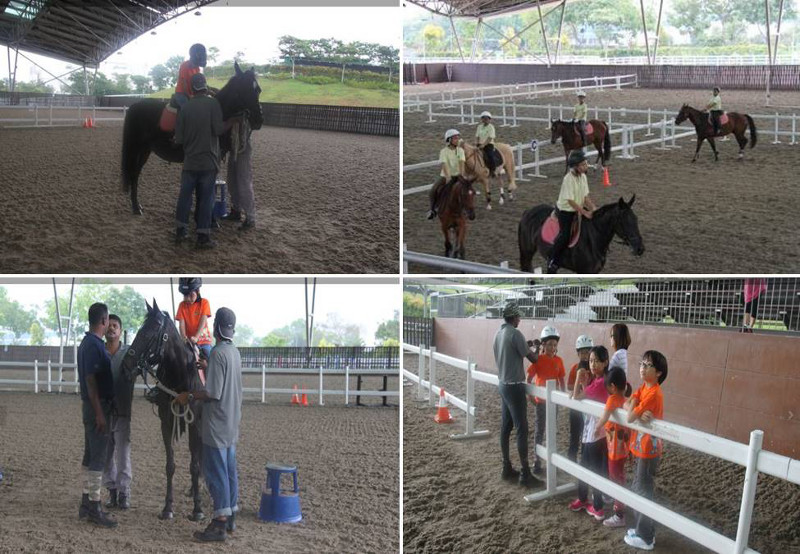 Photo: Singapore Turf Club Riding Centre
The Singapore Turf Club Riding Centre offers riding lessons for school children. It also provides recreational riding opportunities to the general public.
Where: 1 Equestrian Walk (Off Woodlands Avenue 3) Singapore 737863
Opening Hours: 9am – 8pm
Price: $88 for a group riding session (45 minutes) Refer to this page for more info.
Tel: 6879 3600
Website: www.stc-ridingcentre.com
7. Singapore Zoo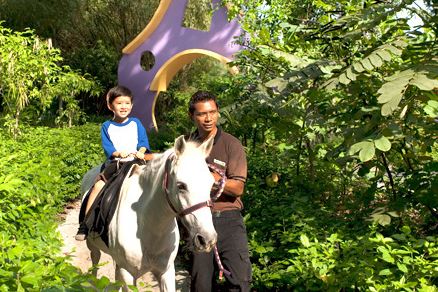 Photo: Singapore Zoo
Watch your little cowboys and cowgirls ride off into the forest trail on the backs of one of our adorable ponies. The Zoo walk-a-long guides will ensure that your little tigers are safe and that you get ample opportunity to take a keepsake photograph.
Where: 80 Mandai Lake Road Singapore 729826
Opening Hours: 10am – 12pm, 1pm – 5pm
Price: $6 (excludes the Zoo entrance fee)
Tel: 6269 3411
Website: www.zoo.com.sg/special-experiences/pony-ride.html
Did we miss a spot? Let us know in the comments below!
If you find this article useful, do click Like and Share at the bottom of the post, thank you.
Want to be featured here? Leave your contact here and we'll be in touch.