Learning Vision Solaris Review
Opened in 2012 to cater to children from 18 months to 6 years old, the centre is located within the Solaris building at Fusionopolis 2, a short walk from Buona Vista and one-North MRT stations.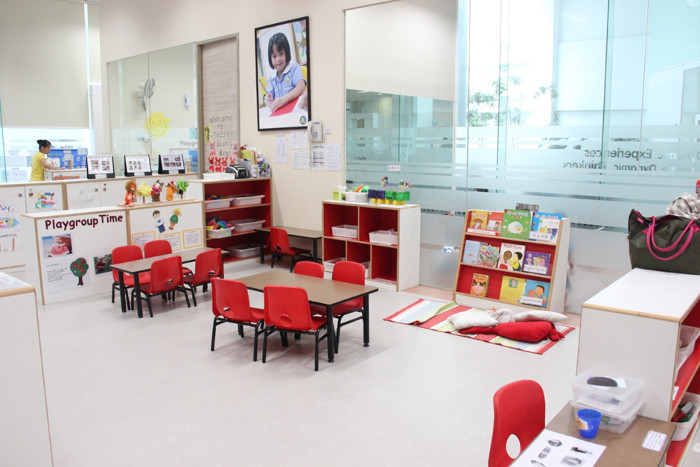 "Although Learning Vision has a fixed curriculum framework set up for all its centres around Singapore, implementation of the lessons and school activities are meticulously customised to each centre." Serene Chan, Principal of Learning Vision @ Solaris shares.
TNAP rounds up 4 strengths of Learning Vision @ Solaris.
#1 Rich and Robust Literacy Programme
If you are looking at a centre with a strong and diverse curriculum on language, the school has a progressive framework for their students.
Literacy Links: This programme focuses on the more technical aspect of the English language and develops skills such as listening, comprehension, oral language, vocabulary building, grammar and writing conventions.
Learning Vision's Literacy Links includes the following 3 programmes:
Readers Workshop: Across all levels
This is a 4-stage workshop which promotes and supports children's emerging abilities in reading, spread across their early childhood years. The workshop progresses from teacher-facilitated shared readings to teacher-guided extension activities.
As the children grow older, they progress to a peer-reading or buddy reading system, and slowly to independent reading.
Some of the skills children will learn and develop are: pre-reading (for the younger age group), reading comprehension, language, vocabulary word skill and phonics.
Letterland: N1 – K2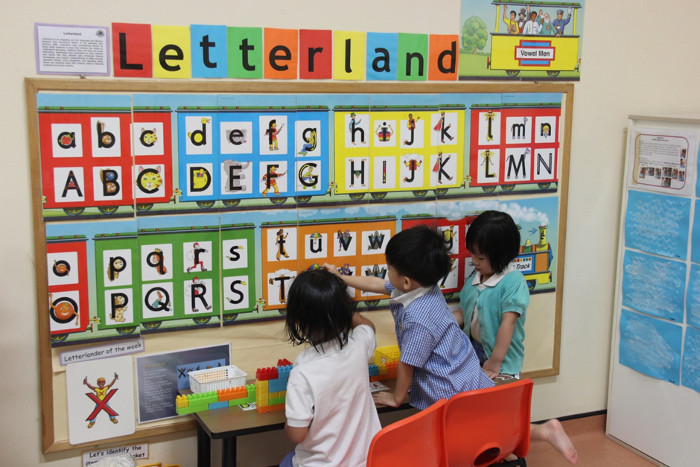 The centre adopts Letterland, a popular franchise from the UK. It is a phonics-based approach to teaching reading, writing and spelling to 3-6 year olds. The Letterland characters transform plain black letter shapes into child-friendly pictograms.
Budding Writers: K1 and K2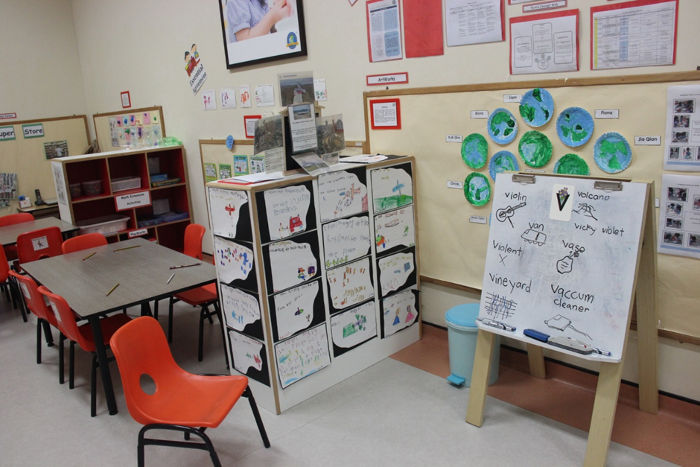 Through exploratory and hands-on experiences, children learn to acquire language and literacy skills.
Parent-Child Book Club
To instil a love for reading and encourage parents to read to their child at home, the school takes the pre-schoolers to Queenstown Library monthly to borrow books.
#2 The Environment
Clean, organised and bright. These were the three words that came to mind as Serene brought us around the centre.
Respect for children's work and space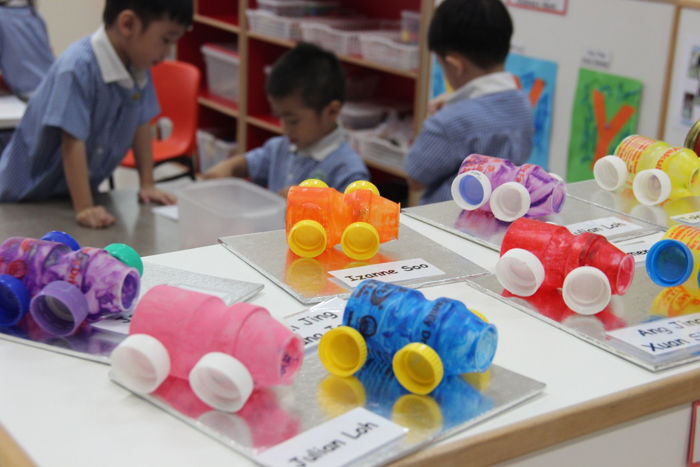 One can see a deep respect for children's work as the classroom walls are filled with children's writings, artworks and the teacher's documentation of happenings during the week. Each learning corner in the classroom is carefully thought through and prepared, inviting children to engage in conversations with their peers and teachers, and reminding them of what they have learnt through the week.
There are also spaces in the learning corners that allow individual time and group play.
Natural Light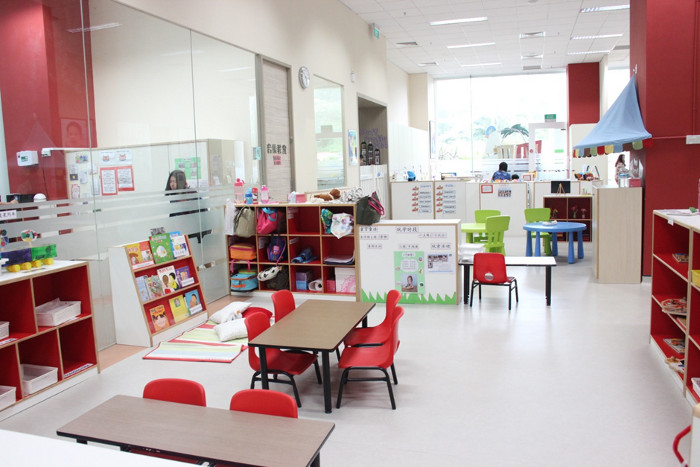 The centre is surrounded by glass panels, allowing natural light to seep in, making the learning environment bright and lively.
Print-Rich
Each classroom is decorated with children's writings and discussions.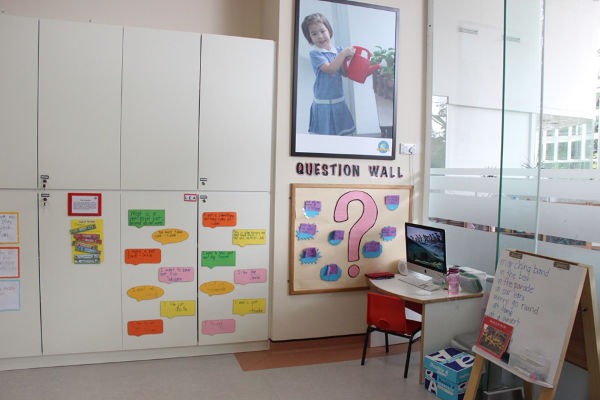 For a fuller and richer immersion of the language, the centre has a special Chinese Lab in the centre where Chinese lessons for the N2 – K2 levels are conducted.
#3 It's About the Soft Skills Too
Besides the intellectual component of learning, Learning Vision @ Solaris also emphasises on emotional and social development. Serene, who has 10 years of teaching and leading experience in Early Childhood Education industry adds, "During the course of the year, teachers will talk about different values to the children. For the Nursery 2 levels and above, there is an allocated 'EQ Time' for teachers to talk to children about emotions and values once a week. We will also look into character development such as becoming more independent and environmentally conscious."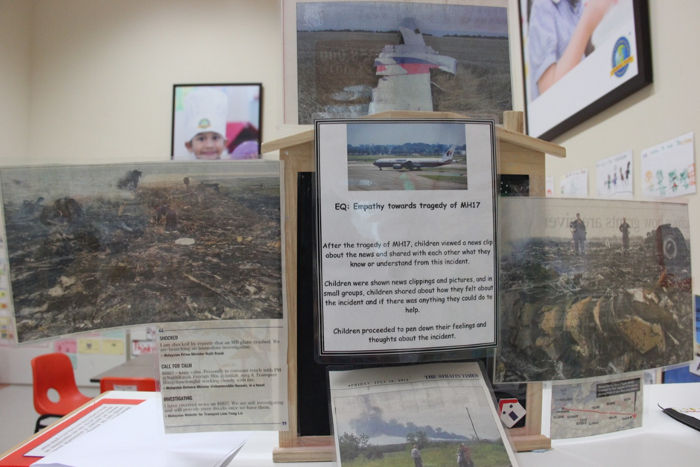 For example, the Kindergarten 1 children discussed about the recent MH17 tragedy and documented their thoughts and feelings.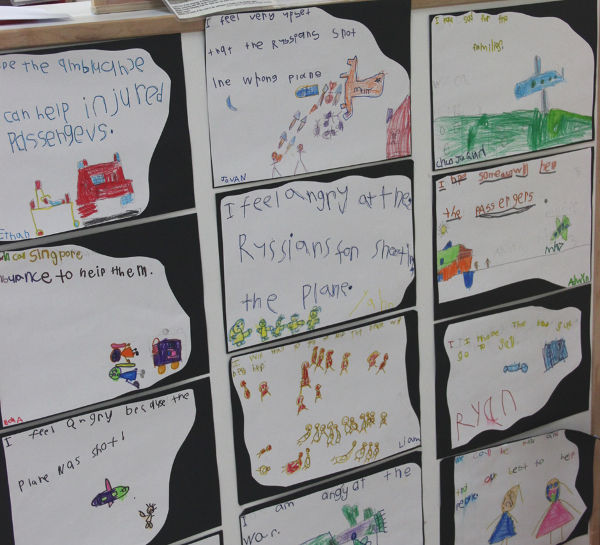 #4 Raising 21st Century Children
The Apple Bytes Programme incorporates technology as a teaching and learning tool to facilitate learning. For example, in one of their lessons, the K1 children made use of the Google search engine to source for information. Working in small groups, they worked together to type relevant keywords to obtain the information they were looking for. The K2 children also learnt to use Microsoft Word to document their work.
Other facilities include:
Outdoor Play Area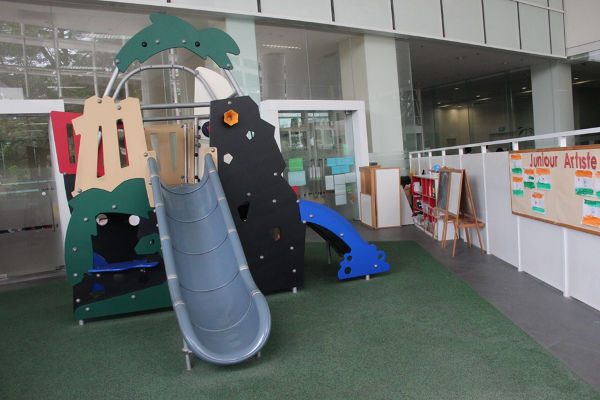 Music and Drama Room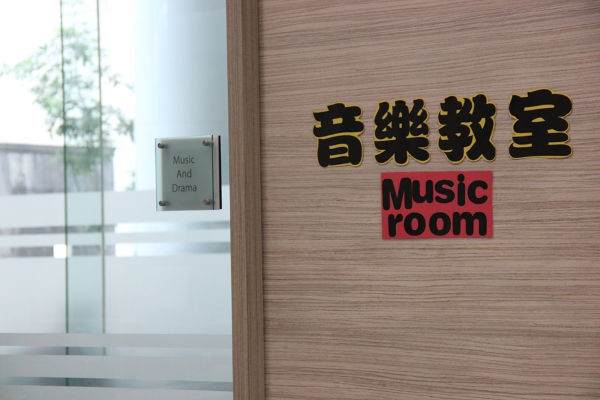 Piazza – For show and tell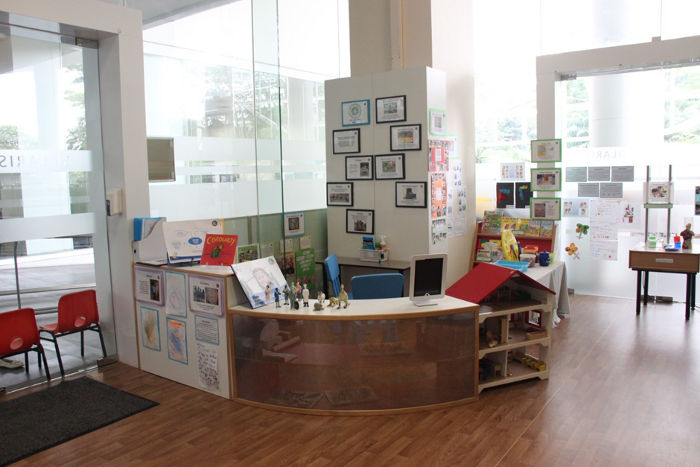 With a strong commitment to service excellence, Learning Vision has been the preferred choice for government ministries, tertiary institutions, hospitals and multinational corporations to provide high-quality early childhood education to their employees' families. Some of these organisations include:
Changi Airport Group
Hwa Chong Institution Boarding School
KK Women & Children's Hospital
Lifelong Learning Institute
Nanyang Polytechnic
Nanyang Technological University
NUH Medical Centre
Tan Tock Seng Hospital
Contact details:
Principal: Serene Chan
1 Fusionopolis Walk #01-14/15/16
North Tower, Solaris Singapore 138628
For general enquiries and feedback, please call the Learning Vision hotline at 6781 0888