Dining out as a family, it's often a huge challenge getting young kids to behave themselves appropriately in a restaurant, or even at the coffee shop downstairs! Sure there are some picture perfect meals, when the kids stay in their seat, eat their food with gusto, keep the table relatively neat, and everyone is all smiles.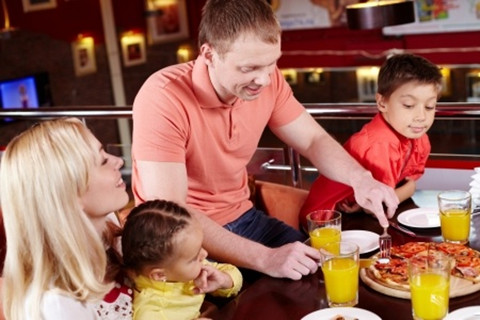 But most of the time, children just can't sit still, especially if the food is taking a while to be ordered and served. You may find your dinner hour peppered with many repetitions of stern warnings, shouts and smacks, coupled with cries of "I don't want!". As a parent, you can feel completely overwhelmed, when the situation is out of your control.
Even young children can and should be taught some etiquette at the dinner table, not just in public but back in the home too. Ultimately, it's about respecting the people around us, the ones who cooked the meal, and even the food that we are served. Here are some tips on teaching young children some basic table manners.
1. Be realistic
Little children (especially under the age of 3) just can't sit still for the duration of a meal the way an older child can be persuaded or trained to. If you can get them to sit quietly for 5 minutes, you should already be giving them and yourself a pat on the back!
Babies and young toddlers, especially, shouldn't be expected to abide to "proper dining etiquette" just yet. So instead of forcing them to stay in their seat for an hour, which will probably entail much wailing and wriggling on their part and wringing of your hands, find ways to keep them engaged while waiting for their food and after their meal, and focus on encouraging them to stay seated just for the time taken to chow down their food (15-30 minutes tops).
Related Post: Messy Mealtimes: The Road to Feeding Independence
You can bring along a favourite small toy or book, or some crayons and paper for scribbling on. Or let your partner stay at the table, while you bring your child for a short walk around the restaurant or the shopping mall.
Older toddlers and children can, of course, be expected to sit still for longer periods, and to learn proper manners like asking for food to be passed, and eating their food neatly. Just remember that children don't learn skills overnight – be patient with them, and with yourself, in the process.
2. Practice makes perfect
Your child will do outside what he or she is used to doing at home. Home, after all, is where it all begins – both good habits and bad. So make it a point to practice good table manners in the comfort of your own home.
Teach your child to sit at the table with you, encourage them to try new foods and to finish what's on their plate before taking more. Converse with them about their day, instead of silently getting the meal over and done with.
For older kids, expect them to stay at the table and talk with the family even if they finish their meal earlier than the rest – this helps to foster the environment of a family meal together, and it'll be easier for them to do the same when you're dining out.
3. Prepare your child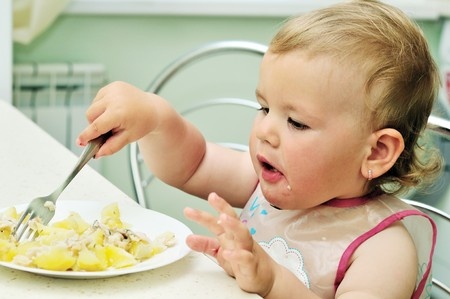 Planning is the key to success. Besides practising their table manners at home, children also need to be reminded of what they have learnt, and integrate that into their dining out experience. It will help if you go through some basic expectations with your child prior to having a meal outside.
For example, during the car ride there, or when walking to the restaurant, just remind her that "This is a place for people to eat. We have to sit at our table and wait for the food to be served, and then eat our food properly ok? If you would like to draw or read while you wait for our meal, that's okay, but no running around the place."
Sometimes, the promise of a reward for good behaviour or a punishment for bad behaviour can be very effective. But try not to do this too often, as it sets a precedent for future outings, and doesn't foster intrinsic motivation in your child to behave well.
4. Choose your venue wisely
Don't set your young child and you up for failure by dining at a posh (read: expensive and upmarket) restaurant. Search for family-friendly or cosy and casual establishments instead, where chances are the staff will be patient and experienced in understanding their young patrons, and the other diners will also expect a certain amount of mayhem to be the norm. Cafes with play areas or a nearby playground are great for families with young kids.
Try these places!
Food For Thought (

Singapore Botanic Gardens

)
Togather Café (Bedok)
Eat Play Love Craft Café (Kallang / Lavender)
Revolution Coffee (Tiong Bahru)
Bricks'n'Cubes Café (Orchard)
⇒ Related Read: Singapore Kid-Friendly Restaurants
5. Pack your bag with distractions
You certainly don't need an arsenal of every activity your child might want, but it's definitely helpful to have 1-2 simple activities stowed away in your bag, to provide some distraction for your restless kid. Here are some ideas, that won't take up too much space in your already-bursting bag!
You don't need a whole boxful of crayons, just 2-3 sticks will do!
A small box of 10-15 assorted Lego pieces should be enough to keep your child occupied for a while.
This is a great activity for the little ones, and helps train their fine motor skills as well. Just stuff a handful of straws into a small plastic bottle. Pour them out and give your child the task of putting them back in, one by one.
Toilet roll and rubber bands
The rubber bands need to go around the toilet roll. Easy for us adults to do, but this will definitely keep your child entertained for quite a while…
We hope these tips give you some handles on how to manage your child when dining out, and increase your chances for a relaxing, enjoyable meal together. Of course, do also be sensitive to your child's mood that particular day. He or she might be extra tired from a busy morning, or feeling sick, or especially hungry. It's important to be mindful of these things, so that you don't put unfair expectations or stress on your child and you during such times.
If you're not up to cooking that meal, ordering takeaway or home-delivery might be the best choice for those scenarios!
Related Post: 5 Quick and Healthy Recipes
By Dorothea Chow.
* * * * *
Like what you see here? Get parenting tips and stories straight to your inbox! Join our mailing list here.
Want to be heard 👂 and seen 👀 by over 100,000 parents in Singapore? We can help! Leave your contact here and we'll be in touch.