Teachers do more than teach. They inspire, they motivate, they inculcate. In Singapore, it seems that kindergarten and childcare teachers are expected to do more than just teach. We spoke to 6 preschool educators to share with us their trials and tribulations of being an early childhood educator, and what keeps them going on.
Not just a nanny
Early childhood teachers in Singapore are widely stereotyped. Remarks such as "What do you need to study? Don't you just change diapers?" or "Teaching children? So easy, just play with them!" is commonly heard among those with a completely false view of what early childhood teachers do. Perhaps the most common stereotype of childcare teachers is their roles as 'nannies' and their job simply consists of looking after the basic needs of the children. In fact, some parents still do not view childcare teachers as professional educators, due to the mentality that education officially begins at Primary 1.
While teachers do feed, change diapers and teach children their alphabets, they actually do so much more than that.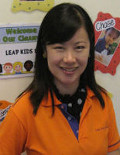 Jasmine Teo, who teaches English, Phonics and Maths at LEAP SchoolHouse shares how early childhood educators do much more than just feeding, changing diapers and playing with children. She adds, "We learn about child psychology to understand the emotional ups and downs of a child's life; we learn about first aid so that we can deal with an emergency situation and we learn about brain development so that we can develop a child's cognitive abilities."
Joranna Ang, a teacher at Learning Vision finds it very exasperating when people have such little respect for her job. She adds, "Children's pre-school years are key formative years and childcare teachers have an impact on the children's development." Yu Jie, a teacher at Between Two Trees Preschool sees her role as 'edu-carer'. She explains "The early years are when children began to form their character, learn how to build and develop relationships with others and make sense about the world around them. Our roles go beyond looking after the basic needs of the child."
More than just child's play
Contrary to popular belief, a childcare teacher's job is not as easy as ABC. Looking after children can be physically exhausting. What many people and parents do not see is the work these teachers do behind the scenes.
First, teachers have to be super 'multi-taskers'. They not only need to plan and carry out lessons, they also have to observe the different developmental areas of a child, monitor their progress towards meeting their developmental needs, meet with parents, and consolidate progress reports and portfolios. This is excluding preparation for the year-end graduation ceremony and concert.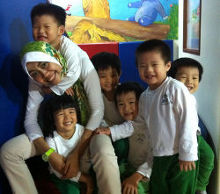 Daya, who teaches at Kinderland, believes it can be quite strenuous due to the long working hours, especially when they are big projects on hand such as rehearsing for performances and competitions.
In the classroom, there are new challenges every day as well. "The classroom management skills that we have learnt in theory may not be applicable for every child. We need to be flexible and constantly evaluate each situation." Jasmine states.
Second, teachers have to gain the trust of parents and convince them of their teaching philosophy and pedagogy. "Many parents are still not accustomed to hands-on learning and still believe that the more worksheets their child completes, the more he or she has learnt." Sangeetha, a teacher at Blossom Creative Centre wants to show her parents that there more effective ways for children to learn other than worksheet drilling.
For Huang Ying, Center Head of Chengzhu Mandarin Centre, the challenge to overcome was the language barrier. "We try very hard to create a Mandarin environment at our centre where we help the children overcome obstacles in learning a different language so that they can enjoy it with fluency." To do so, the school uses a wide variety of teaching methods to keep the language exciting and alive and build in a lot of cultural elements so that the education is broader and the language has wider relevance.
So with all these challenges faced by teachers, you might wonder why are there still people who stay so long or would love to be in this line of work.
Why teach?
For some teachers, the turning point came in later after they had a taste of teaching. "I realised how infectious the spirits of children are. Seeing how they are so innocent and how they are constantly curious in every tiniest thing makes me happy, and it helps to affirm that I made the right choice in taking this path." Yu Jie says.
For others, it was a career change. Joranna has worked in the corporate industry for more than 20 years. In 2006, she decided to pursue her passion for teaching. After taking her Diploma in Pre-School Education, she went on to pursue her Master of Science in Early Childhood Education in 2010 and took a part-time role as an adjunct lecturer with Asian International College. However she continued her full time job as a teacher. She strongly believes that "teaching a young child is, in essence, the foundation of their education."
While for some, it was a dream they fulfilled after becoming mothers themselves. "It has been my childhood dream to be a teacher although I did not join the teaching industry directly after my studies. It was only after having children of my own that I finally took the step forward to fulfil this childhood dream of mine." Jasmine shares.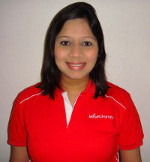 For some, it was a calling. Kavitha, a teacher at MindChamps Preschool felt teaching was a calling for her. "As a child, I faced many challenges and that had a strong impact on me to want to work with young children and make a difference in their lives. I had a strong urge to educate parents on giving their children a childhood that is fruitful, memorable and one that is filled with lots of love."
Still, teaching is tough and the common grouse of early childhood teachers is that their pay does not commiserate with the work and effort they put in, which is one reason why this field has a high turnover rate. Can passion alone sustain their motivation and satisfaction?
Is Passion Really Enough?
For most teachers, their own motivation, passion and love of children keep them going.
For Kavitha, her motivation is seeing how she has made a difference in a child. "The best part of being a teacher is when you see your objectives planned for the children on a daily basis being met. Observing the progress and growth of a child makes me feel that I have made a difference in the life of the child, which is so fulfilling." For some, the best part is to see how much the children have grown and excel in various aspects.
But beside the intrinsic factors, extrinsic factors play a part as well.
Daya is thankful to have such a supportive and understanding principal and work colleagues. "It's good to know that I can depend on my fellow teachers and work in harmony." Besides having a supportive and understanding centre manager, principal and co-workers, Joranna counts the benefits provided by the school's management (Knowledge Universe) such as recognition award for individual/team effort, and social gathering as building blocks to a loyal and committed workforce.
For Huang Ying, who has been with Julia Gabriel for 16 years, (and is now the head of the sister group Chengzhu Mandarin Centre) it was the exposure and career opportunities that kept her going. "Julia Gabriel Centre brought me into contact with a wide range of gifted teachers from different countries and cultures, who brought with them a rich diversity of competencies. These influences helped to broaden my own outlook and strengthened my ability to work within a modern and progressive team."
Before We Judge…
So the next time if you come across people who judge early childhood teachers by how much money they make or what they do, we hope you will stand up for them and say something in their defense. Because before we became who are today, they were there to clean up our mess, to witness our first scribble, to hear us utter our first words, and to show us how to say our 'please' and 'thank you's. They were there, educating and preparing the doctors, lawyers, dancers, businessman, actors, scientists and engineers of today.
By Michelle Ang.
This article was first published in The New Age Parents e-magazine.
* * * * *
Like what you see here? Get parenting tips and stories straight to your inbox! Join our mailing list here.
Running a service or business targeted for parents? Reach out to a wider audience in our Preschools in Singapore compilation. Leave your contact details here and we will get in touch with you.