Make: 7-8 crêpes
Ingredients:
50g wholemeal flour
60g plain flour, sifted
300ml milk (at room temperature)
15g melted unsalted butter (refer to note 1)
1 large egg about 64g (at room temperature)
Pinch of salt
1 tablespoon sugar (optional)
Methods:
In a large mixing bowl, combine the wholemeal flour, sifted plain flour and salt.
In another bowl, beat egg. Add in sugar and beat until sugar is dissolved.
Stir in milk and mix. Then followed by melted butter.
Make a well in the center of the dry ingredients in step (1). Fold in the wet ingredients with a hand whisk until well combined and the batter is smooth and creamy. Then change to a rubber spatula to scrap off the batter that sticks to the side and bottom of the mixing bowl.
To avoid lumps in the batter, use the back of the spoon to press it through a sieve.
Cover the mixing bowl and leave it to rest for 30 minutes at room temperature or chill in the fridge.
Heat a non-stick frying pan (20cm or 8 in) on medium heat. Lightly grease the pan with butter. Pour a ladle of mixture onto the center of the pan and swirl it to form thin layer of batter.
Cook for 1 to 1 ½ minutes until the edges begin to lift and lightly golden brown underneath. Slip in a spatula under the crepe and flip it over. Continue to cook for a further 30 seconds to a minute.
Continue with the same process until the batter is fully used up. You
Serve cold or warm with your favourite toppings and fillings.
Notes:
Rather than using a mix of plain and whole wheat flour, you can use 100% of either one.
Cut butter into large cubes and put into a small bowl. Transfer the bowl to a sauce pan filled with water. Heat up the sauce pan under medium low heat. Stir the butter occasionally. When it's fully melted, remove the bowl from the sauce pan. Set aside to cool. (refer to photo at this link)
For a short cut, you can skip step (1) to (4) and whisk all the ingredients in a blender.
It's not a must to grease the pan each time before making the next crepe.
You can make the batter in advance and stored in the fridge for overnight.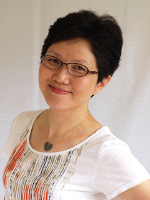 By Low Lai Kuan
Low Lai Kuan is a stay-at-home mother who is passionate about providing a well-balanced and healthy meal to her family. Since 2008, she started her food blog to share about cooking for toddlers. Several of her works had been featured in newspapers, magazine and online media. Her website is food-4tots.com
This is first published in The New Age Parents online magazine
If you find this article useful, do click Like and Share at the bottom of the post, thank you.
Like what you see here? Get parenting tips and stories straight to your inbox! Join our mailing list here