Serve: 3-4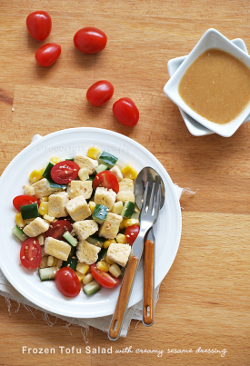 Ingredients for salad:
2 blocks frozen silken tofu – about 300g each (cubed) – note 1
1 Japanese cucumber (peeled, deseeded, diced)
½ box cherry tomatoes (halved) – note 2
½ small corn on the cob (fresh) – note 3
Handful of toasted white sesame seeds – note 4
Ingredients for salad dressing:
4 tablespoons white sesame seed (toasted and ground) – note 4
5 tablespoons mayoinnaise
1 tablespoon light soy sauce
1 teaspoon mirin (Japanese sweet wine)
1 teaspoon rice wine vinegar/ rice vinegar (白米醋)
2 tablespoons + 1 teaspoon honey (I used no water added honey)
½ teaspoon (or less) finely grated ginger
1 teaspoon sesame oil
1 teaspoon extra virgin olive oil (or any salad oil)
Pinch of salt
Dash of freshly ground white pepper
Methods:
In a small bowl, whisk together all the ingredients for salad dressing until smooth. Then cover the bowl with clip wrap and transfer to the fridge to chill until required.
Prepare all the ingredients for salad.
Assemble the salad with all the ingredients (except sesame seeds). Drizzle dressing over salad. Sprinkle toasted sesame seeds on top. Alternatively, put all the ingredients in a salad bowl and toss with the dressing.
Notes:
Frozen tofu – Prepare frozen tofu by following the steps mentioned in "How to freeze tofu". Once the frozen tofu is thawed, gently squeeze out any excess water using either your palms or something flat. Cut the tofu into small cubes about ½ inch thickness. Line a baking sheet with 2-3 kitchen towels. Spread the tofu cubes on top and cover with another kitchen towel to absorb the moisture. After 5 minutes, discard the kitchen towels. Heat up cooking pan with oil. Pan-fry the cubed tofu under medium heat. Flip once or twice until all the sides turn lightly golden brown. Set aside.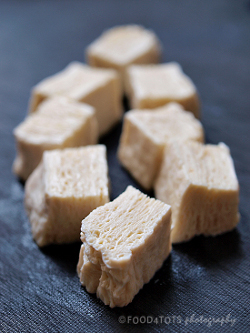 Cherry tomatoes – You can substitute with 2 normal tomatoes (deseeded and cut into cubes).
Corn on the cob – remove the outer leaves and thin hairs (silk), wash and rinse. Then, carefully run a knife from the side of the cob to cut out the corns. Steam or blanch it over boiling water until it's cooked. Then drain, leave to cool and cut out the corns. Alternatively, you can cut out the corns first and then cook.

Toasted sesame seeds –

dry fry seeds in a frying pan over a medium low heat until they are fragrant and turn golden brown. Once it's done, remove from the pan and let it cool down. Reserve a small portion for tossing. Put 4 tablespoons of sesame seeds into a food blender to grind until powdery. It's better to prepare more than the required amount and store any extra seeds in an air-tight container for later consumption.
Turn this salad into a main course – simply add some cooked pasta and poached chicken breast (steps refer to this post). Other suggested ingredients include cooked prawn, toasted seeds (sunflower or pumpkin seeds), nuts (almonds, pine nuts), salad greens (iceberg, lettuce, rocket, spinach etc) and cooked eggs.
How to freeze tofu:
Remove tofu from the packaging.
Discard any liquid from the packaging.
Drain tofu – place the tofu on a plate or coriander to let the water drain out. (refer to note 2)
Wrap the tofu with cling wrap or cheese cloth.
Put the wrapped tofu inside a plastic bag, freezer bag or any container (as a form of support).
Store the tofu in the freezer until it's ready for use. It takes at least one day to freeze the tofu. For more chewy consistency, let it sit in the freezer for several days. Once frozen, the tofu will take on a yellowish hue.
To use frozen tofu, run the tofu under tap water to remove the cling wrap/ cheese cloth. Thaw your tofu at room temperature. To speed this process, place the tofu on a stainless steel plate or pot. For an easier method, simply leave the frozen tofu in the refrigerator overnight. You can also immerse the tofu in boiling water or boil it to rehydrate the tofu.
Once the tofu is thawed, gently press out any excess liquid using your palms or something flat.
It can then be crumbled, sliced or diced depending on the recipe you want to use.
Notes:
Though you can freeze any types of tofu, the firm or extra firm (silken tofu) varieties are much easier to handle and work best.
With little moisture, the tofu will have a great capacity to soak up flavour during braising or marinating. The time may range from 10-30 minutes depending how dense the texture you want.
Tofu can be frozen up to five or six months. But, I prefer mine to be consumed within a month time.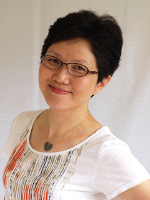 By Low Lai Kuan
Low Lai Kuan is a stay-at-home mother who is passionate about providing a well-balanced and healthy meal to her family. Since 2008, she started her food blog to share about cooking for toddlers. Several of her works had been featured in newspapers, magazine and online media. Her website is food-4tots.com
This recipe was published in The New Age Parents e-magazine
If you find this article useful, do click Like and Share at the bottom of the post, thank you.
Want more comprehensive info? Check out our e-guides here.