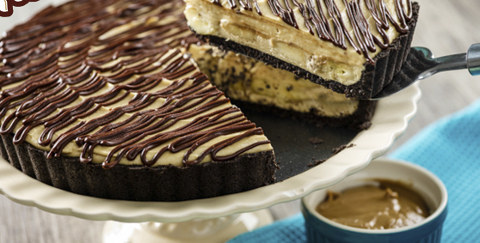 Photo credit: SKIPPY
Ingredients
Crust:
1.5 cups ground chocolate cookies (about 24 cookies)
70g unsalted butter, melted
Filling:
170g cream cheese
187g SKIPPY® Natural Creamy Peanut Butter Spread with Honey
1 cup chilled whipped cream
1/2 cup icing sugar
1 teaspoon vanilla extract
1 banana
28g milk chocolate, melted
Method
Crust
Preheat oven to 160° Celsius.
Mix ground cookies with melted butter in a bowl
Press mixture into a tart case.
Bake for 10 min or until set. Set aside.
Filling
Mix SKIPPY® Natural Creamy Peanut Butter Spread with Honey and cream cheese together in a bowl, until smooth.
Set aside 3 tablespoons of SKIPPY® mixture in a small bowl.
In a separate bowl: beat cream, icing sugar and vanilla to soft peaks.
Gently fold SKIPPY® mixture into cream mixture.
Spread half the combined mixture onto the prepared tart crust.
Press banana slices into the combined mixture.
Spread remaining cream on tart crust. Set aside.
Topping
Microwave chocolate in a alarge bowl for 1 min, or until melted.
Stir the 3 tablespoons of SKIPPY® mixture into the melted chocolate.
Using a piping bag, drizzle the mixture on the prepared tart.
Chill tart before cutting into wedges. Serve cold.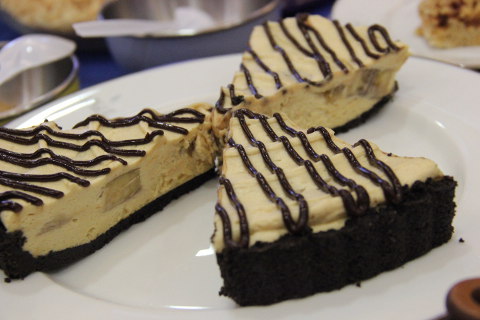 Photo: TNAP
For more yummy peanut butter recipes by SKIPPY®, go to SKIPPY Singapore Facebook Page. For more recipes, head over to our Recipes Page.
If you find this article useful, do click Like and Share at the bottom of the post, thank you.
Want more comprehensive info? Check out our e-guides here.