Source: Adapted and modified from Rasa Malaysia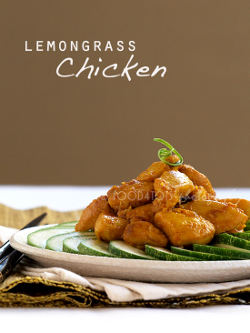 Ingredients:
1 boneless and skinless chicken breast/2 boneless chicken thigh (approx. 220g) – cut into 1-inch pieces
1 lemongrass
1 small shallot (sliced)
Seasonings (1):
2 tsp fish sauce (I use Knife brand – reduced salt)
1 garlic clove (crushed)
¼ tsp turmeric powder
¼ tsp paprika powder
½ tsp sugar
Spring onions (for garnishing)
Seasonings (2):
2 tbsp sugar
1 tbsp water + 2 tbsp hot water (use only 2 tsp caramelized sugar)
Methods:
For lemongrass, discard the outer layer, cut off the upper green stalk and use only the tender inner white bulb. Mince it finely or grind it with food processer.
In a bowl, combine seasonings (1). Add the chicken meat to coat. Cover with cling wrap and keep in the fridge to marinade for at least half an hour.
In a small saucepan (with 10cm diameter), mix 2 tbsp sugar with 1 tbsp water. Cook over high heat, stirring until the sugar is dissolved. Then cook without stirring until a deep amber caramel forms (refer to note 1).Remove from the heat immediately and stir in the remaining 2 tbsp hot water. Leave the caramel in the saucepan to cool. Do not transfer it out (refer to note 2). Set aside.
Heat a wok over high heat. Add the oil and heat until shimmering. Add the lemongrass and shallot. Stir-fry until fragrant. Only use 2 tsp caramel to the coat the chicken in step (2) before adding it into the wok for stir-frying. Stir-fry until the chicken is just cooked through and the sauce is slightly thickened. Dish out and garnish with spring onions. Best to serve with warm rice.
Note:
Be sure to watch it carefully. Once it begins to darken, it will cook very quickly. You may need to swirl the pan to ensure an even colour.
If the caramelized sugar has hardened, heat up the pan slowly to re-liquify the sugar.
Cut the chicken breast in thinner pieces so it can be cooked easily and doesn't turn hard during stir-frying.
When buying lemongrass, look for firm stalks which don't look dry or brittle. Avoid soft or rubbery stalks. Lower stalk should be pale yellow (almost white) in color while upper stalks are green. Do not purchase those with crusty or brown outer leaves.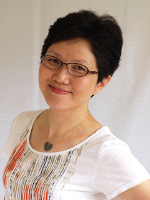 By Low Lai Kuan
Low Lai Kuan is a stay-at-home mother who is passionate about providing a well-balanced and healthy meal to her family. Since 2008, she started her food blog to share about cooking for toddlers. Several of her works had been featured in newspapers, magazine and online media. Her website is food-4tots.com
This is first published in The New Age Parents online magazine
If you find this article useful, do click Like and Share at the bottom of the post, thank you.
Like what you see here? Get parenting tips and stories straight to your inbox! Join our mailing list here