Christmas is just around the corner! Parties are always the highlight of the season to celebrate the year-end and a renewed appreciation for relationships between family and friends. It's a season not just for good food, but for decoration and for gifting too. We share with you our top 10 picks from Marks & Spencer that are the essentials of any Christmas party. Keep reading for some delicious foodie gift ideas and Christmas inspiration.
Top Picks
1. Percy & Penny Vanilla Biscuits ($24.90 each)
Christmas parties will usually start off with some games, which will probably get family and friends hungry after a while. Serve them the quintessentially charming Percy & Penny Vanilla Biscuits. Pair it with a hot mug of tea if anyone's feeling thirsty, and you're all revved up to get into the spirit of these games!
Percy is also known as everyone's favorite pig during Christmas, so it's definitely heartwarming for both adults and children alike to see this well-loved brand on the party menu.
2. Percy Musical Sweet Tin ($39.90)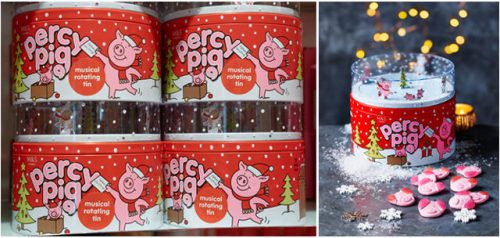 No Christmas is complete without sweets, especially sweets which are packaged beautifully to stand as a centerpiece on your dinner. The Percy Musical Sweet Tin comes with a rotating landscape that is sure to intrigue young children, and have them reach for tantalizing yet healthy sweets. As they say, one of life's greatest pleasures is dessert, so pamper your guests with an assortment of sweets that will put them in a good mood.
3. All Butter Shortbread Light-up House Biscuit Tin ($24.90)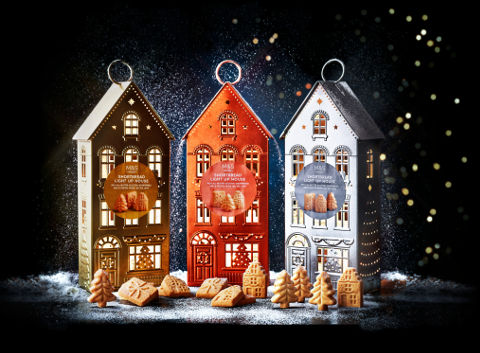 End off the party menu by savouring a Christmas classic – butter shortbread. The All Butter Shortbread Light-up House Biscuit Tin is quaintly packaged and looks like it belongs right next to the Christmas tree. Open it and you'll find an even better surprise – savoury and yummy shortbread which is bound to warm everyone's tummies. The tin even has a light-up function which is perfect for decoration. Coming in 3 colours, you can collect all 3 to make your very own festive village at home.
4. Percy Pig & His Festive Helpers Fruit Flavoured Gums ($4.90)
There's always bound to be some time to warm up before the party goes into full force. While guests are still streaming in, take this opportunity to provide yummy pre-party refreshments such as the Percy Pig & His Festive Helpers Fruit Flavoured Gums. With essential flavours that appeal to anyone, guests can make themselves comfortable with this gem!
5. Colin Advent Calendars ($39.90)
Time is of the essence in anyone's life. Give away the gift of time to all your guests with Colin Advent Calendars which are nicely sized so that anyone can bring one home very conveniently. The well-loved Colin brand has other products too such as a pencil case stuffed with chocolate biscuits, and mini Colin Caterpillar Faces ($24.90) for endless hours of amusement.
6. Advent Calendars (2 for $19.90)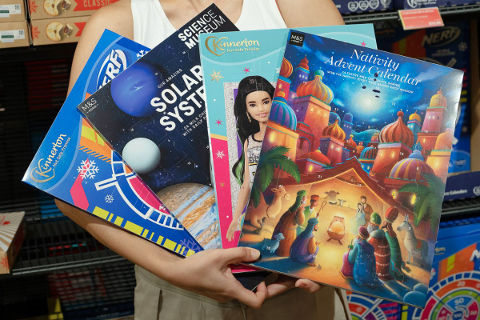 If you're looking for more cutesy calendars that kids will love, the Advent Calendars are a great option too. Get your kids a calendar to start counting down for Christmas starting from the first day of December. With the ongoing promotion of 2 for $19.90 (originally $13.90/pc), it's more affordable than ever to do your countdowns in style, while learning about different topics every day.
7. Musical House Biscuit Tin ($24.90)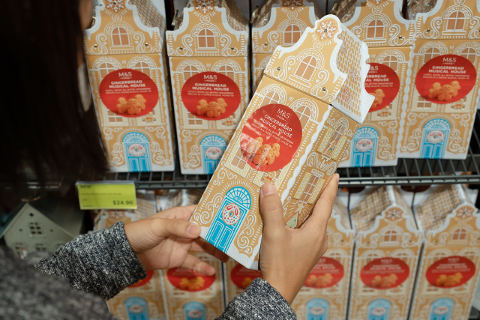 Christmas is all about good food, people, and music. Musical House Biscuit Tins are essential to display the timeless beauty of Christmas biscuits, set in intricate packaging meant to reflect the nostalgia of old European towns.
8. SnOMBALLS ($19.90)
Also known as festive mini ombles, these lovely M&S chocolates are made with luxury Belgian milk chocolate and rolled in flakey chocolatey shavings. These chocolatey treats are lovable cheeky characters who are just a bit odd but great fun for the family.
9. Christmas Cupcake Kit ($11.90)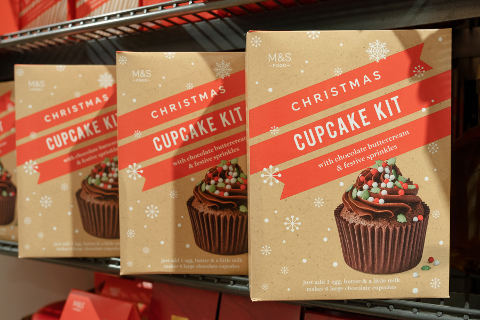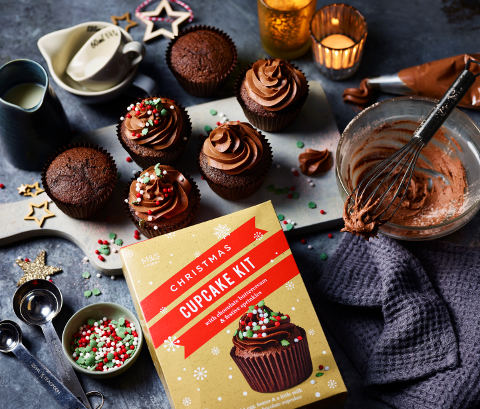 Take the stress out of baking and make some Christmas cupcakes with zero fuss. Sometimes, sweets and biscuits may not be filling enough. Get a Christmas Cupcake Kit so that you can share cupcakes with everyone this festive season. Best of all, it's suitable for vegetarians.
10. Mini Colin The Caterpillar Faces ($7.90)
COLIN is everyone's go-to party favourite! These are the perfect topper for homemade cupcakes, or a treat to munch while watching a Christmas film. Great for sharing and as a mood booster.
Final Extravaganza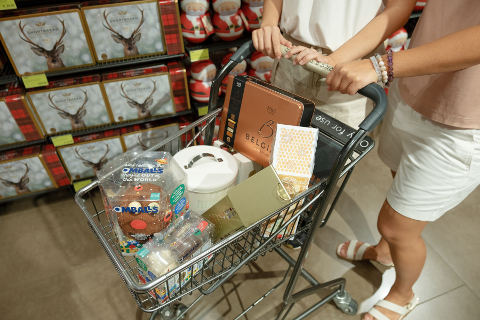 The party should be as grand as possible – check out the Ambient Celebration which presents to your guests the grandest feast ever. Savour the Shortbread Light-up House, the Gingerbread Musical House, the Indulgent Toffee Shortbread Thins, the Belgian Chocolate Biscuits (400g), the Festive Mini Ombles, and the HOHO Homble. Capture beautiful memories by taking some amazing photos of this feast. It provides a wonderful festive backdrop for family and friends to think of creative ways to take fun photos.
These are our carefully curated top picks that will spruce up any Christmas party. However, to be honest, the range of products at Marks & Spencer is simply irresistible when it comes to Christmas shopping. You've got to check it out for yourself to see what other must-buy festive treats at M&S Food await you. Shop in-store or via the M&S SG App now.
This post is brought to you by Marks & Spencer.
By Rachel Tan.
* * * * *
Like what you see here? Get parenting tips and stories straight to your inbox! Join our mailing list here.
Want to be heard 👂 and seen 👀 by over 100,000 parents in Singapore? We can help! Leave your contact here and we'll be in touch.