Chinese New Year is just a couple of weeks away. Do you wish to create the opportunities and environment that are fun and interesting for your child to learn more about the Chinese New Year Culture and Traditional Customs? We have some recommendations that you and your child can engage in during this Chinese New Year Festival!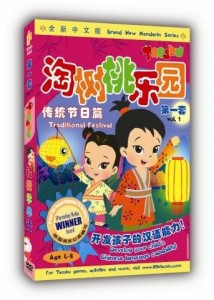 1. Learn About Chinese Tradition With Taoshu and Friends
Do you face difficulty explaining the Chinese traditional customs to your child? No fret! Taoshu and Friends has come up with a new series of Mandarin DVDs, which teaches about Chinese traditions, customs and practices in simple terms. Taoshu series will bring the kids through the journey of discovering more about the Chinese values and beliefs with songs, fun and laughter while they learn.
More information – Taoshu and Friends
2. Kidz Can Bake!
Engage in cookery session with your child at Genius R Us. During this period from 17th January 2010 to 7th February 2010, Genius R Us will conduct courses on how to bake and decorate Snail Pineapple Tarts and Peanut Butter Cookies. Grab the opportunity to impress your family with these hand-made tasty goodies!
Kidz Can Bake classes welcome children aged 4-12 years old.
Website: www.geniusrus.com
Email: info@geniusrus.com
3. Shopping at Chinatown
Bring your child to Chinatown Singapore to shop for Chinese New Year decorations and goodies, as well as to immerse them in the Chinese New Year atmosphere. They will be fascinated with all kinds of colourful decorations, food and street lights.
From 23 Jan 2010 – 13 Feb 2010, the Singapore Chinatown Street will Light-Up with decorations. You can also catch fascinating street performances in Chinatown at the Kreta Ayer Square area.
How to get there?
Take the MRT train to Chinatown Station. Look for the Pagoda Street / Temple Street exit.
4. Kids' creation – Personalize Hong Bao (Red Packet)
Kids just love craft work! How about doing something different for this new year? Instead of buying those commercialized red packets sold is the market, how about allowing your child to unleash their creativity by creating and personalizing red packets together? It is going to be simple and fun!
Suggested tools:
1. Construction papers of different colors (including red for the red packet)
2. Stickers
3. Color pencils/Magic Pens
4. Glue and scissors
5. River Hong Bao Carnival
Chinatown isn't the only place to celebrate New Year. The River Hong Bao is one of the most eagerly awaited carnivals during Chinese New Year in Singapore. You can catch street performances, shop for New Year goodie, savor a great variety of food, engage in games, take tons of pictures with lanterns and decorations and catch a beautiful sight of the blistering Fireworks on every Saturday till 13th February 2010.
It is held at Marina Bay Floating Platform / Esplanade Waterfront Promenade from 12th February – 20th February 2010. If you are coming from a non-Chinese community, the River Hong Bao is a great place for you and your child to understand about Chinese New Year customs. You will get to see these customs in action and also, signboards that explain what the actions symbolise.
Take Train to City Hall and look for Esplanade Exit.
6. Peek-a-boo!*
Great news for parents! Peek-A-Boo! Will be open daily during Chinese New Year from10.00 am to 8.30 pm. Bring your family & friends along during the festive season and have a great time together! Or simply leave your child in these play haven while you and your partner can spend quality time engaging in other indoor entertainment ranging from movies, bowling, ice-skating etc.
* Peek-A-Boo! is a fun and safe indoor playground where kids can enjoy active play in an air-conditioned environment! Drop-in services are available*
Peek-a-boo! is located at:
Leisure Park Kallang
(next to Indoor Stadium)
5, Stadium Walk, #02-12/13
Singapore 397693
Phone: 6440 8355
E-mail: info@peekaboo.com.sg
Website: www.peekaboo.com.sg
Check out our review here.
7. Chingay Parade 2010
Singapore Chingay is the biggest parade in Singapore and Asia's Grandest Street and Floats Parade. Originating as a procession to mark the Chinese New Year festivities, the parade has evolved into an international event, attracting performers from all over the world. Chingay performers are great fun. They are constantly trying to connect with the spectators, especially with children. It is a great time to expose your child to the rich multi-cultural performance!
Performance will be held on:
Friday – 19 Feb 2010 at 8.30pm & Saturday – 20 Feb 2010 at 8pm
Venue: F1 Pit Building
More information, visit www.chingay.org.sg
If you have other fun activities that you will like to share, feel free to write in to us or leave your comments! Let's have a memorable Chinese New Year for kids.