Tis' the season to be jolly! The year-end is approaching and here comes the season of giving. This is the time to be on the lookout for suitable gifts for our loved ones and friends. But we all know the hustle and bustle during this festive season and how hard it is to jostle with the crowd, looking for that perfect gift.
⇒ Related Read: An Extra Special Christmas
So, we have gone to suss out awesome Christmas gift ideas for the whole family and hopefully, they can give you some inspiration (P.S. almost all can be found online!)

For Babies and Toddlers
Combi Sugocal Switch stroller weighs only 5.7kg and is designed for a newborn right up to the year they turn 4 years old (approximately 18kg). The reversible handle is able to convert from rear to front facing, allowing for an easy and convenient switch whenever the need arises.
What is unique about the wheels is that the front wheels measuring at 14cm allows for easy swivel and the 18cm double rear wheels that come with air suspension, provide stability and protect the baby's head especially when passing through gaps and uneven ground. The high seat measuring at 54 cm is conducive and promotes interaction when you are seated at the restaurant or even during train ride.
You can get the stroller here.
For more information, visit Combi Sugocal Switch
---
2. 5-in-1 Slide Swing for Kids
This amazing 5-in-1 play centre comes equipped with a climbing ladder, slide, basketball hoop, exploration tunnels and musical box! It can be used indoors and outdoors and we're sure your child will enjoy exploring it.
The set is made of 100% sturdy and durable materials and designed with toddlers' safety in mind such as the 1.5X raised castle guardrail to protect the child from falling as well as a buffer zone design that increases the cushioning force and prevents the child from being hurt.
You can get the 5-in-1 Slide Swing here.
---
3. Combi's Nemulila BEDi Long high chair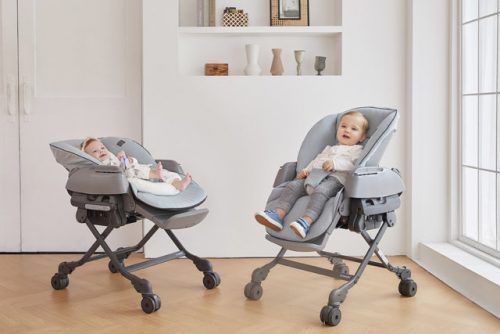 The Combi's Nemulila BEDi Long high chair is definitely a long term investment for you! With Combi's Nemulila BEDi Long high chair, you just got yourself a changing station, an auto-swing chair/bed and a high chair. We have never seen such a practical and amazing children's furniture that will support you through the initial challenging period of caring for a newborn right up to the days they start playing, learning and weaning!
Get yours here.
For more information, visit Combi's Nemulila BEDi Long high chair.

For Preschoolers
4. Mini Micro Deluxe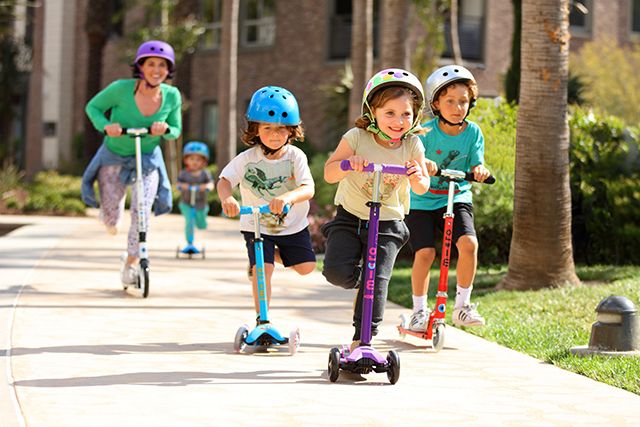 The Swiss makers of Micro scooters have scooters for every family member. Enjoy some downtime with the children and get out scooting. From toddlers to adults, Micro scooters are built with the latest in urban innovation. Helmet up and let's get scooting this Christmas. Such a great and healthy way to get around. Choose between foldable and LED models. The lean to steer mechanism promotes balance and motor skills engineered with consultation of pediatrics. The maximum weight limit for the Mini Micro is 50kg and is suitable for ages 2-6 years. The brand also has a range of fun and attractive safety helmets, protective guards and eco scooters.
You can get the Micro scooters via whiteandblacktrading.com.

Get a free Micro owl water bottle when you quote 'New Age' when ordering. Limited to the first 5 orders only.
---
Photo credit: Shopee
This magic play sand bundle comes with 2kg kinetic sand, five different sets of moulds including themes such as numbers, mini ocean, princess castle, dinosaur and motor ocean, inflatable tray and spade and tools for your child to explore. It also comes with a trolley box organiser so your child can pack up easily!
Available here.
---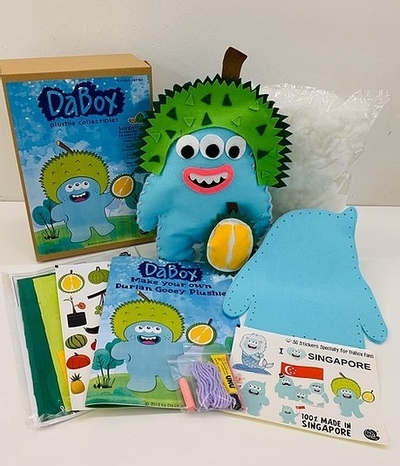 Photo credit: Da Little School
DaBox is the one-stop activity box for children that contains innovative crafts and art materials. There are many editions that you can consider such as their Christmas edition where children can explore making their very own Christmas ornaments, Zoo edition, Under the Sea and even a Make Your Own Durian Plushie edition.
Read our DaBox review for more information.
Available here.
---
7. Language Game – Match and Spell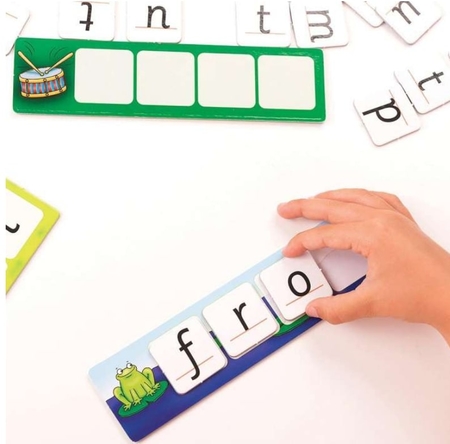 Photo credit: Lazada
Learning can be fun! This game introduces your child to letter shapes and sounds. Once your child is familiarised with letter sounds, they will progress to reading the words out loud. It helps your child to match letters to form simple words, before moving on to more complex words.
The game encourages family bonding, with up to four players so you can consider including it in one of your family bonding game nights during Christmas!
You can get this game here.

For Primary School Kids and Young Adults
8. BenQ MindDuo Eye-Care Table Lamp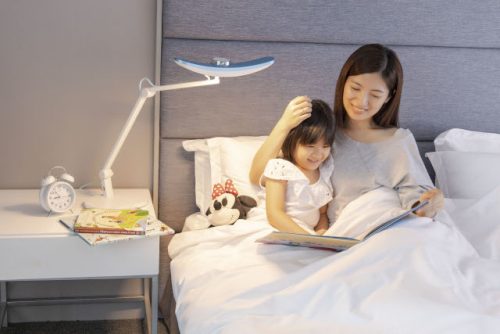 BenQ MindDuo Eye-Care Table Lamp is a multi-functional intelligent lamp for your entire family's lifestyle. Get perfect lighting anytime with various color temperatures for different activities, and smart features to automate your lighting needs.
Order today at the following online stores: Shopee | Lazada
For more information, visit BenQ MindDuo Eye-Care Table Lamp.
---
Photo: LEGO GROUP
To get families started, The LEGO Group has put together the top sets of the year across themes like LEGO CITY, LEGO Technic, and LEGO Friends to build a child's dream this Christmas!
Photo: LEGO GROUP
For those who love some action, they can choose to suit up and solve crimes with 60316 LEGO CITY Police Station, a 3-level set featuring a police dog training area as well as story-inspiring details such as a possible prison break with a rubbish truck by crooks; or help build the city with 60324 LEGO CITY Mobile Crane that mimics the real life construction cranes on the road; or make tactical decisions with 42137 LEGO Technic Formula E® Porsche 99X Electric just like a race car driver using the augmented reality app and two pull-back motors to launch the vehicle.
Photo: LEGO GROUP
Available on Shopee: LEGO CITY Police Station, LEGO CITY Mobile Crane and LEGO Technic Formula E® Porsche 99X Electric.
---
10. myFirst Fone R1
myFirst Fone R1, the all-in-one 4G LTE Music Smartwatch Phone that combines all the essential features of a phone, music player, camera, clock and fitness tracker. Most importantly, the GPS trackers keep kids safe when they are out of sight, giving parents a peace of mind!
You can get it here.
---
Is your kid a budding photographer and is hoping to get a camera for Christmas? We have the perfect gift idea that you can consider! The Kodak M35 Film Camera Set is affordable and comes in funky colours – green, yellow and purple.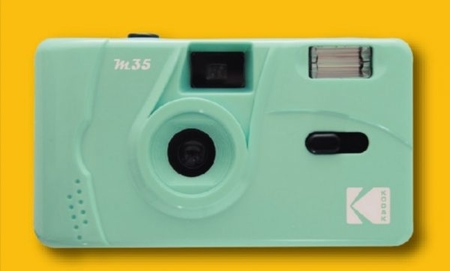 Photo credit: Shopee (silverphotosupplies)
This reusable film camera operates with 35mm films and comes with a built-in flash for shooting in low light conditions. Now's the time to let the kiddo have a go at snapping more photos, especially during Christmas!
You can get the camera here.
---
Photo credit: Shopee
Consider gifting a customised tumbler with your Secret Santa's name along with their favourite colour! Choose from colours such as rose gold, black marble, turquoise, navy, gold and many more.
Available here.
---
13. Books (and More Books)
Books as gifts never go wrong. If your child loves reading, you can consider getting them titles from Singaporean authors! It's a good cause to support our local authors and also introduces your child to many more literary options!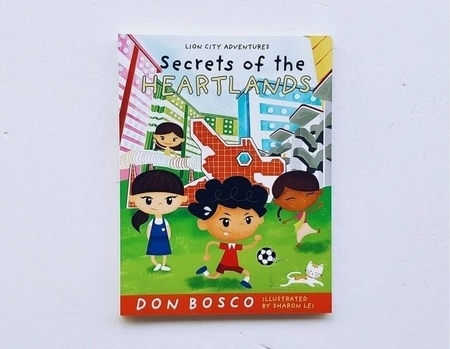 Photo credit: LocalBooks
You can consider the following online book stores that showcase our local authors:
---
14. Funky Socks
Some socks are not meant to stay hidden especially when they are this funky and eye-catching! Socks are easy for gifting due to the huge variety of designs. If your child loves different cartoon characters like Super Mario or just simple designs, we're pretty sure you can find the right 'fit'!
Photo credit: The Hole in My Sock
Your child will especially love funky sock designs that they can show off to their friends! Check out these socks websites:

For Mummies
15. OSIM uGlow Eye
Image: Shopee
With countless sleepless nights, mummies will need the OSIM uGlow Eye for the rescue! Pamper your eyes with a soothing eye massage by using the OSIM uGlow Eye. Its Sonic Vibration Technology with more than 8000 pulses per minute that simulate micro-tapping motions, prompting eye cream absorption. Not forgetting about the LED light therapy and the adjustable warmth features which all help to diminish eye bags, fine lines and dark eye circles to restore the youth in your eyes.
You can get OSIM uGlow Eye here.
---
16. Hegen PCTO™ Double Electric Breast Pump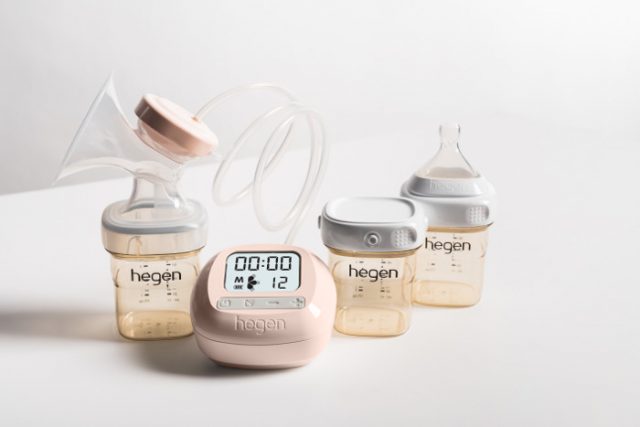 Photo credit: Hegen
It's the world's first relaxation breast pump, featuring a unique kneading massage feature as you pump! The massager helps alleviate tension from breast engorgement and helps to stimulate milk supply through the gentle cupping and kneading sensation.
The is definitely the perfect tool for mothers on the go. The breast pump device is lightweight and compact and it even has a micro-USB charging port that allows hassle-free charging.
⇒ Related Read: Breastfeeding Gadgets For Busy Mums

For Daddies
17. LUMOS TEMPO Wireless Earbuds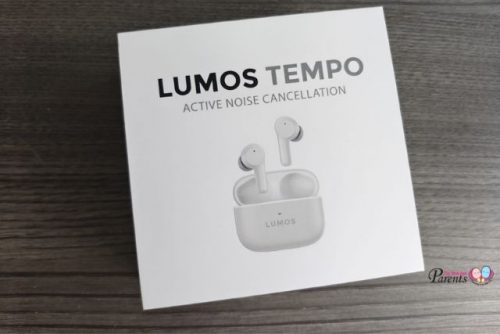 The LUMOS TEMPO earbuds pack a punch for its competitive price of only $179 with a 1-year local warranty. With an all-in-one product offering great sound quality, convenient features for busy parents, and long battery life, LUMOS TEMPO earbuds should be on your watchlist when considering a premium pair of earbuds.
Available here.
For more information, visit LUMOS TEMPO Wireless Earbuds.
---
18. Sport Trail Bike Rockrider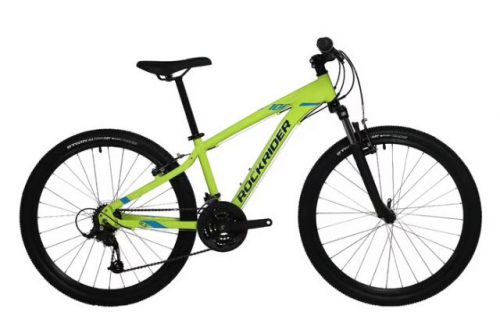 Image: Decathlon
Let's get active to stay fit! A simple light alloy frame Sport Trail Bike Rockrider ST 100 RR 27.5in 21sp is just the right equipment to help you get started! The double-walled wheels (26″1 wall in XS) with 80mm suspension fork and powerful V-brakes can bring you around on most terrain.
You can get the bike via Decathlon here.

For Your Home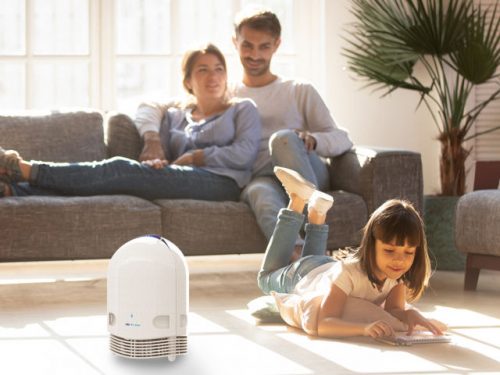 Looking for an environmentally-conscious product? The Airfree air steriliser fits the bill as well, being constructed with the use of clean, environmentally-friendly technology. The TSS technology used in Airfree products is exclusive and established in over 50 countries worldwide.
The device also generates no waste and features low energy consumption. In fact, it uses less energy than a 60w light bulb, translating to cost-savings for you as well.
Available here.
For more information, visit Airfree Air Steriliser.
---
20. Luxus Wifi Digital Gate Lock
Instead of using those bulky traditional locks and keys, this sleek Luxus digital gate lock auto-lock the gate once it's closed. It sports a simple aesthetic look but does not compromise on its security measures. You can unlock the gate conveniently using fingerprint recognition or a number-code pin. No need to fumble for the keys in your pocket anymore!
Get yours on Shopee
For more information, visit Luxus Wifi Digital Gate Lock
---
21. Aerogaz 2.7L Instant Boiling Water Dispenser
Photo credit: Shopee
With a water Dispenser at home, you can easily obtain water based on your preferred temperature and volume in just one touch! The sleek looking Aerogaz 2.7L Instant Boiling Water Dispenser offers 7 different temperature selection (Normal, 45°c, 55°c, 65°c, 75°c, 85°c and 100°c) with 5 different volume selection (000 for continuous, 100ml, 200ml, 300ml, 400ml) No special installation is required as it comes with a transparent removable water tank. Most importantly, it comes with cleaning and self-cleaning functions.
You can get it here.
---
22. Nespresso Inissia Coffee Machine
Photo credit: Shopee
Need an instant coffee fix? This coffee machine will definitely be a good-to-have in the home and we love the bright ruby red colour that it comes in as well. Compact, lightweight and equipped with an ergonomic handle, the Inissia coffee machine will be a perfect and snug fit for your home!
Available here.
---
23. Yankee Candle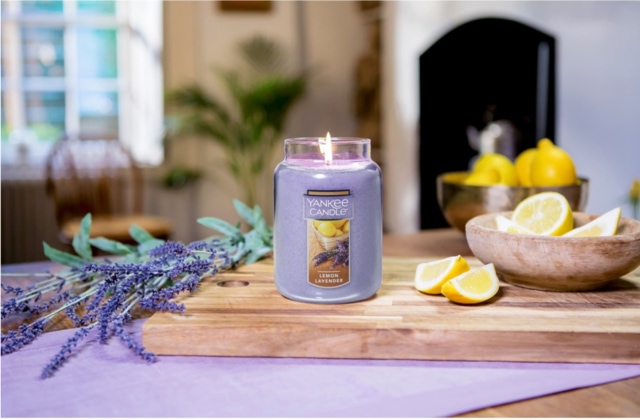 Photo credit: Shopee
Unwind and take in the calming and pleasant aroma each time you enter your home. Definitely a good gift not just for your home, but also for your loved ones and friends.
Available here.

By Marinne Santiago, updated by Jun.
* * * * *
Want to be heard 👂 and seen 👀 by over 100,000 parents in Singapore? We can help! Leave your contact here and we'll be in touch.
Stay in touch! Subscribe to our Telegram here for all our latest updates.