Christmas at home is not the same without the magical centrepiece – a beautifully decorated and lit Christmas tree. Whether it's a real or artificial Christmas tree, we're sure it has the same magical touch to it, bringing warmth and comfort as you're gathered with loved ones and friends.
Here is our guide on where to get the perfect Christmas tree for your home.
Real Christmas Trees
#1 Cold Storage
You can purchase these trees at a Cold Storage store near you (except the following stores: Altez, Alocassia, Aperia, Clementi Arcade, Greenwood, Harbourfront Centre, NUS Kent Vale, Star Vista and UE Square)
Price: From $69 (5 – 6 ft)
#2 Tangs
Equipped with its own sturdy stand, the Ermineton Pine Christmas Tree is a beautiful yet easy-to-maintain artificial tree you can look forward to decorating for many holiday seasons to come. You can decorate this tree with your own lights, whether white, clear or colored, to fit your mood, personality or interior decor. The attached pinecones bring a natural, fresh-from-the-forest appearance to a tree
Price: From $134 (1.5m)
Location: 310 Orchard Road Singapore 238864
#3 IKEA
#4 Candy Floriculture
Fresh Noble Fir Christmas Trees in various sizes!
Price: From $150 (5 – 6 ft)
Location: 567 Thomson Road Singapore 298183
#5 Corona Florist and Nursery
To be confirmed.
#6 Giant
---
Artificial Christmas Trees
#1 IKEA
Lifelike artificial flowers and plants don't smell like the real thing, but they'll give your home a real boost. They never wilt and look fresh year after year. And if you keep a few silk flowers stored away, you can change them up with the seasons or brighten up a room anytime you want.
Price: From $19.90 (140cm)
#2 Spotlight
Enjoy the most wonderful time of year with this Fibreoptic Christmas Tree from Jolly & Joy. Available in white or green, this 90 cm tree is everything you need for a magical Christmas. Get your festive season right this year with the colourful and extensive Jolly & Joy range!
Price: From $32.90 (90cm)
#4 Robinsons
#5 Cold Storage
#6 Giant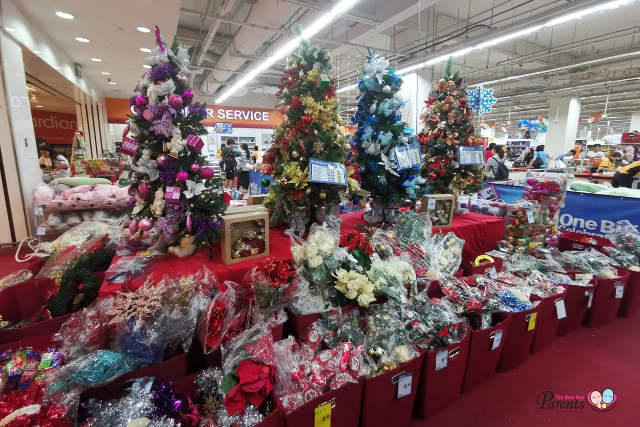 #7 NTUC XTRA
#8 Amazon
#9 Takashimaya