Why is the Log cake only sold during Christmas? And why do we eat log cakes?
We did a little digging to find out the history behind log cakes.
This came from a tradition of burning the Yule log in the Nordic region during the medieval times. An enormous log of freshly cut wood would be fetched, carried into the house and burnt on Christmas Eve.
While the ceremony was carried out, it was compulsory for all family members to sit on the log before it was burnt, and for people to sing Christmas songs and say prayers.
The burning of the Yule log was believed to bring good fortune for the family and to ward off evil spirits. After the Christmas celebrations, a piece of the Yule log was kept in a safe place to be used to relight the next year's log.
Today, this tradition is now replaced by putting a small, decorated 'log' in the centre of the table as a Christmas decoration. The Yule log has become a traditional pastry people eat during Christmas.
A usual log cake is made with a chocolate sponge roll layered with cream and covered with chocolate to resemble a bark-covered log. But more bakeries have now come up with interesting twists and flavours to the traditional log cake.
Here are our picks for interesting and special log cakes in Singapore!
#1 Truffle Yule Log from PrimaDeli
Best-selling flavour of luscious chocolate sponge cake filled with rich chocolate truffle cream.
Price: $44.80 (Regular) | $55.80 (1kg)
Website: www.primadeli.com
Photo: PrimaDeli
*******************************************
#2 Cat Mountain King (CMK) Durian Log from Pine Garden
Lots of bitter sweet CMK durian flesh between vanilla sponge and topped with freshcream. 0.8kg log includes 2pcs of CMK Durian Choux, and 1.2kg log includes 5pcs.
Price: $80.10 (Usual Price: $89)
Website: www.pgcake.com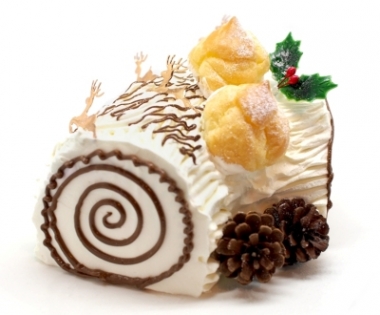 Photo: Pine Garden
*******************************************
#3 Chocolat De Beau from Bakerzin
A delectable blend of textures, the Yule log is dressed with rich chocolate slats and a shimmering dusting of icing sugar. Each slice comes with crunchy rice krispies and a soft marshmallow centre for an addictive classic sure to delight your guests.
Price: $50.42 (Usual Price: $56) ~ Approx. 1.2kg
Website: www.bakerzin.com
Photo: Bakerzin
*******************************************
#4 Night of Noel Log Cake from Butter Studio
This artisanal delicious creation resembling a stack of wood fire logs is just the perfect treat for loved ones! Decadent handcrafted Valrhona Chocolate sponge filled with delicious chocolate praline, coated in luxurious, smooth chocolate ganache and decorated with a beautiful hand-piped Poinsettia buttercream flower.
Price: $68 ~ Approx. 1kg
Website: www.thebutterstudio.com
Photo: Butter Studio
*******************************************
#5 Scarlet Earl Grey Log Cake from Cedele
The new Scarlet Earl Grey Log Cake is a luxurious earl grey-infused dark chocolate truffle log rolled with a light red velvet cake, finished with earl grey mascarpone cream.
Price: $68
Website: www.cedelemarket.com.sg
Photo: Cedele
*******************************************
#6 Taro Coconut Yule Log Cake from Crowne Plaza Changi Airport
Some of the most popular Asian desserts are made with taro and coconut. The Taro Coconut Yule Log Cake, a delicious purple yam roll-up cake filled with coconut cream, will certainly be a hit with the whole family.
Price: $48.75+ (Usual Price: $65+)
Website: crowne-plaza-changi-airport.myshopify.com
Photo: Crowne Plaza Changi Airport
*******************************************
#7 D24 Durian Christmas Log Cake from Goodwood Park Hotel
A perennial favourite, this 1-kg treat promises lashings of creamy durian goodness within layers of vanilla sponge.
Price: $88
Website: goodwoodparkhotel.com
Photo: Goodwood Park Hotel
Want to be heard and seen by over 100,000 parents in Singapore? We can help! Leave your contact here and we'll be in touch.