In our earlier blog post on Why Is Coding The New Literacy For Your Child, we discussed how our children grow up interacting with new technologies, but a lot less so of creating and expressing themselves using these new tools. In this article, we explore how coding education can benefit your child's development.
Technology has become so commonplace today, it's hard to ignore its existence. As mentioned in our first article,­ children born after 1997 (or 1998 as when Google was first invented), are known to be Centennials, the Digital Natives of today's world. Yet, we still come across this question: "Why is it so important that my children should learn to code?"
"While teaching your child how to code, not only will it help them understand the various technologies they are using, you're helping them develop Computational Thinking."
Our Educational System is Still Playing Catch-up
Looking back on 10 years ago, various educational systems largely ignored the immense growth of computing, technology and the Internet. Instead, opting to teach students how to make simple slide-shows in a PowerPoint, or create a locked-down Blogger site. This created a large group of people who were aware of technology and knew how to use it but was not aware of how to harness it to create or innovate.
Although in recent times, computer programming courses become available in schools, there is still a long way to go as we're still debating on what are the various teaching methods to teach these young people. But thanks to thousands of contributors online, resources on the Internet such as MIT's Scratch and Code.org have become available, along with the development of "Code Schools" much like ours, that allow you to take over the wheel and give your child the opportunity to learn the proper skills since young.
It Isn't Just About Understanding Technology, It's the Mindset of A Creator
While teaching your child how to code will definitely help them understand the various technologies they are using, you're developing their Computational Thinking. At a very basic level, this means developing and improving your child's problem­-solving, logical deduction and general thinking skills. These not only allow them to code better but could also increase their ability in understanding the Sciences, Technology, Engineering and Mathematics -­ commonly known as STEM.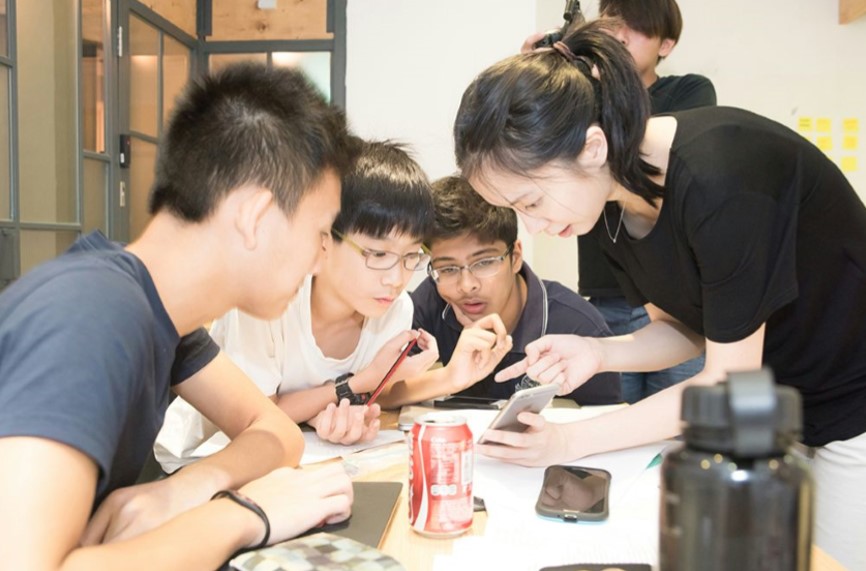 Students learn how to think and solve problems through learning to code.
Inevitably, as children delve deeper and wider into Computer Science, they will inevitably come across problems which will require them to explore other domains. As we quote Dan Crow (The Guardian), "Fields as diverse as mechanical engineering, fluid mechanics, physics, biology, archaeology and music are applying the computational approach." For example, the algorithms that computers use to analyse data on health are at the very core, multiple lines of mathematical formulas and calculations put together. If you're a fan of heavy reading, try looking at Berkeley's Computer Science Introduction to Algorithms with Numbers to give it a go.
It Looks Hard, But the Best Time To Start Learning Is Now
Language itself is a hard subject to master properly, but we do so because being illiterate in a modern society would make it challenging for us to compete in an ever-­connected, globalised world. Now imagine the same for code – it is the language that computers use and software is built on ­it. It will become the new universal standard of communication and productivity.
Learning to code isn't just about learning how to write C++ or Java, it involves understanding the structure and logic that is required to make software and computers work. Will every job involve or require it? Definitely not. But it doesn't hurt to give your child a skill they could probably use for life.
"I think everybody in this country should learn how to program a computer because it teaches you how to think." ­ Steve Jobs, Founder of Apple
Learn To Think, By Learning To Code
Code, or rather Computational Thinking, is definitely a skill that kids can and should be learning. Even though your child may not be aspiring to join the rapidly ­rising Tech industry or become a Professional Software Engineer, she will still benefit from knowing how to think like a Computer Scientist. This way of thinking enables a young child to understand and master technology in all its various forms, in order to come up with solutions almost regardless of discipline.
Article contributed by First Code Academy.
* * * * *
Like what you see here? Get parenting tips and stories straight to your inbox! Join our mailing list here.
Running a service or business targeted for parents? Reach out to a wider audience in our Best Coding Classes in Singapore compilation. Leave your contact details here and we will get in touch with you.